Random Morning Thoughts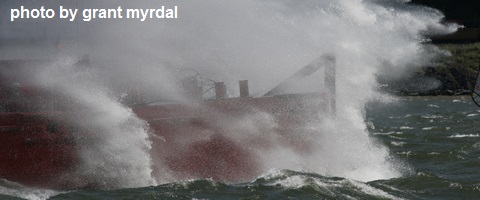 I was having an evening at home last night after a very social day with my friends from Seattle. I got on The Facebook, where I saw that my friend Cassie was looking for '80's tunes to entertain her for the evening. I gave her a bunch of New Wave songs, and then I couldn't resist throwing in a cheesy tune from the first concert I ever attended: Tiffany. Yeah. So here you go, folks, the tune for your day: I think We're Alone Now by Tiffany.

Thank you for using this forecast! Please donate to support it!
Thank you to everyone for using this forecast. Does it save you time, gas money, or help you find more wind, powder, or just plain fun stuff to do? Please consider making a donation to keep it going! Use it here for free or make a donation and get on the mailing list for wind for the summer and Mt. Hood snow in the winter. It's not $99/year. Not $50/year. No, just $12.34 or more gets you on the list for 12 months. Do it via PayPal/CC by clicking on my happy photo below. Don't PayPal? You can send a check to Temira @ PO Box 841 in Hood River. Thank you for your support, and thank you for trusting my forecast. You guys mean the world to me.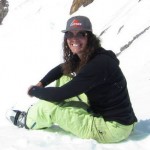 ---
Gorge Wind
Today is the last day of offshore upper level low pressure (ULL) systems influencing our weather here in the Gorge. Offshore low pressure has the cross-Cascades gradient at .04 this morning. Today looks much like yesterday: expect light wind this morning, slowly building to 15-18 by mid-afternoon from Stevenson to Mosier.
The ULL moves south of the PNW tomorrow morning, clearing the way for NW flow and a weak weather system to move through. We'll start off with way more marine clouds and west wind at 21-24 early in the morning, probably strongest from Swell to Mosier, but possibly filling in at the Rowena stretch early. As this weather system moves east, the wind will climb to 26-30 from Stevenson to Doug's, then filling in mid-afternoon at Rufus and late at Arlington. One thing to keep in mind: passing weather system do tend to make the wind gusty and unreliable near Hood River and Rowena about 70% of the time. So just keep that in mind: if you see much stronger wind at Stevenson than at Swell, Swell is not the place to be.
The rest of the week, through Friday, currently looks very similar to Tuesday, with weather systems passing through at various times. The wind will generally be 23-26 for Dawn Patrol and 26-30+ in the afternoon. It's not quite a Classic Gorge Setup (the weather systems are not ideal), but we do have strong high pressure off shore and low pressure in the desert. So, enjoy the windy week!
At the coast today, you can expect the following (north/central/south): 15-20/20-25/25-30, NW swell 5@10. Tomorrow: light/5-10/30-40, NW swell 8'@9. Wednesday: light/10-15/25-30, NW swell 6'@9.

Today's Gorge Wind – these are ranges for the average speed, not a predicted wind range. =)

Your favorite beach
Dawn
Patrol
9am-
11:30a
11:30a-
3pm
3pm-
dusk
Rooster's Rocks
last
day
without
clouds.
Steven's Locks
light
light
13-16
15-18
Hatchery/White Salmon Sandbar (minus a few for Hood River)
8-11
8-11
11-13
15-18
Doug's, etc.
8-11
8-11
11-13
15-18
Rufus, etc.
light
light
10-13
or less
10-13
or less
Roosevelt, etc.
light
light
light
light
Temira's sail: 35-40: 2.9 / 30-35: 3.2 / 26-30: 3.5
23-26: 4.0 / 20-23: 4.5 less than 20: something bigger!
Tonia's kite: 35-40: 4m / 30-35: 4-6m / 26-30: 5-7m
23-26: 7-9m / 20-23: 8-10 / 15-20: 10-12 / 10-15: 13-15.
Advertising Worth Reading
Hood River Adventures: fishing tours, mountain bike shuttles, brewery and winery tours

Hood River Adventures is a local company owned by Drew Scharns, master guide specializing in fishing tours, mountain bike shuttles, and well as brewery and winery tours. Biologists predict this is going to be the biggest salmon run since 1938. Get some of it: Spend a day with Drew on the Columbia fishing for salmon, steelhead, and sturgeon or try fly fishing on the Klickitat. Feeling active? Head to the trails for shuttle laps with end-of-day car retrieval. Want to taste the local libations? Take a brewery or winery tour with HRA: no more arguments over who's going to be the designated driver – that's Drew's job!
Gorge Weather
It's another beautiful, sunny morning here in the Gorge. We'll see temps in the low 60's this morning and low 90's this afternoon. Tomorrow looks sunny with a few high clouds as a weak weather system moves through. Temps will be in the low 60's early and low 80's in the afternoon. Wednesday looks a little cooler with another round of intermittent high clouds. Expect temps in the upper 50's early and mid 70's in the afternoon.

White Sprinter Van of the Day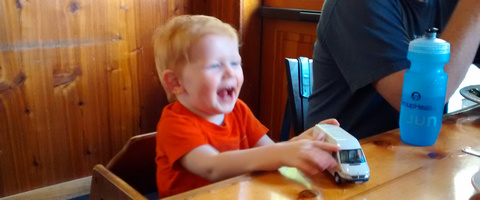 Road and Mountain Biking
Yet again, it's a lovely morning for a bike ride. Nice and cool. Get out early, because it's going to be hot this afternoon.


The Clymb: free membership. Cheap gear.
Temira approves. Click to join.
River Levels / Cheezburger update
The John Day Dam is reading 98-117kcfs. The Dalles Dam is putting out 92kcfs. The White Salmon is around 2′. If you plan on running the White Salmon yourself, remember that there is a riverwide log about 150 yards below Cave Wave. The Columbia River is 72 degrees.

Events – email me if I've missed any outdoor-related events
It's Monday, and that means the Ride Around the Gorge folks have their weekly bike ride. They'll be meeting at Mayer Park by the boat ramp at 5:30 and riding to Mosier. At 6:30 in White Salmon, there's free (or by donation) community yoga at Yoga Samadhi.
Tomorrow night there's outdoor music at the Ruin at Springhouse (free and all ages before 7pm, $3 and 21+ after 7pm). There's triathlon practice with the Hood River Tri Club at Mayer Park at 6:15. There's pickup rugby at the Hood River Marina at 5:30, there's a downriver whitewater kayak race at 6:30 at Husum, and there's $12 Prime Rib at Cebu Lounge from 5pm-9pm. I also have a note that Dave Kalama is giving a talk at Big Winds tomorrow night, time TBA, meaning I'd probably better figure out what time that's happening!
Coming up this weekend, it's the Naish Columbia Gorge Paddle Challenge. Friday is the Positively Kai kids SUP event. You'll want to get your kids signed up before it fills up. Saturday is the Bigfoot Bash and Bounty at Home Valley. The O'Pen Bic Unregatta is in Cascade Locks this weekend, and the Oregon Enduro Series continues at Ashland.
Have an awesome day today!
Temira