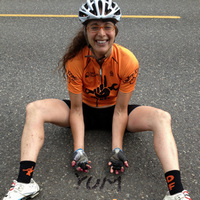 This is Temira!
Thank you all for your donations and kind words during last month's pledge drive. Whew. Glad that's over. I always feel a little weird asking for donations. That said, should you like to get on the daily email list (where you can occasionally win cool stuff), please take the time to click on the sun below and make a donation of $12 or more. That gets you a year's subscription, and it makes me smile, because I know then that the hard work I put into this is worth a lot to you. Thank you for reading my work, and thank you for donating. Have a wonderful day!

Random Thoughts you may or may not regret reading…
Gosh do I love it when it rains in the middle of summer. Especially when that rain falls on wildfires and mountain biking trails.
Wind forecast guess paragraphs
There's not much to predict in the way of wind for the next few days. With an upper level low stationed a couple hundred miles off the Oregon Coast and low pressure along the coastline, the wind we do see will be gusty and frontally-driven. Expect light and variable wind this morning with a .01 E gradient switching to W at some point. As a front approaches the coast this afternoon, the wind picks up to W 14-17 from Stevenson to The Dalles.
Tomorrow sees the coastal low pressure amplify. We'll see light and variable wind early, becoming light E, then switching to W 10-13 in the afternoon. Wednesday looks like a carbon copy of Tuesday. The weather will warm up a bit Tue/Wed, but you can still expect clouds and muggy air.
Don't forget: It's time to nominate folks for the Gorge Windsurfing Awards.
You can do that at CGWA's website through the 28th. Your award choices are: Dale Cook (big air), Grom of the Year, Windsurfer of the Year, Most Selfless Windsurfer, and Most Stoked. Also, don't forget that new windsurfing windows are 15% off this month at Northwave.
Today's Gorge Wind

Your favorite beach
Dawn
Patrol
9am-
11:30a
11:30a-
3pm
3pm-
dusk
Steven's Locks
E 10-13
LTV
W 5-10
W 14-17
Hatch (subtract a few mph for Event Site)
light
light
5-10
14-17
Doug's / Rowena / Lyle
light
light
5-10
14-17
Maryhill / Rufus / The Wall
light
light
light
10-13
Arlington / Roosevelt
light
light
light
10-13
The Clymb: free membership. Cheap gear. Temira approves. Click to join.
Sports, activities, and other stuff
I am going to issue a tack alert for the upper Post Canyon area, and I'm going to go confirm that tack alert this afternoon. I do believe we had enough rain yesterday to tamp down the dust and create perfect dirt. Only one way to know: go ride! Speaking of riding, Nestor Peak is also riding great – I climbed up there yesterday. Sure, the trails were dry, but they weren't washed out and dusty like so much of Post Canyon right now. And remember, everything north or west of the 44 Road is still closed, as is Kitchen Sink (sad, because I bet all those trails would be perfect with this rain).
For you road cyclists, there are two rides tonight – the Ride Around the Gorge, which used to be mellow, but isn't any more. Check their Facebook page for more information. If you just want a really mellow ride, grab any bike and meet at Mountain View Cycles at 6:30 for a cruise to Mosier and back.
Coming up tomorrow night, it's the Columbia Gorge Tri Club's weekly workout at Mayer Park at 6pm. The Hood River County Recreation Trails Committee meeting is at the OSU extension office from 5-7, and there's pickup touch rugby at the Hood River Marina at 5:30.
Fire Information
The Mt. Hood National Forest has closed the following trails: Surveyor's, Oak Ridge, 8 Mile, Zig Zag, Da Kine, Knebal, Bottle Prairie, Dog River… basically, anything north of the 44 Road is closed. The 17 Road between Surveyor's and the 44 Road is closed, as is part of Pine Mont Road and the Kitchen Sink trail.. The not-yet-open SuperConnector trail is also closed. Closure map is here.
Have an awesome day today!
Temira