Please support this forecast by clicking on the photo of the forecaster and making a donation via Paypal!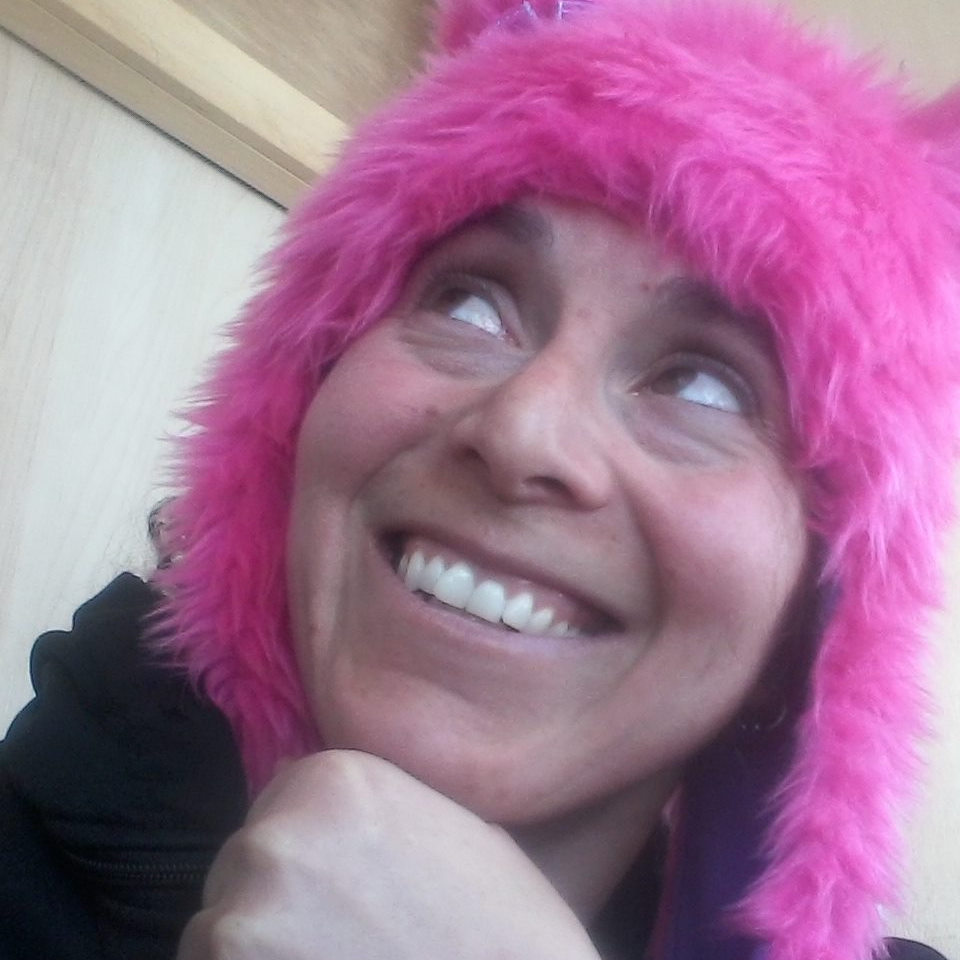 Your forecaster. Click on her to donate. Thank you!
Thank you for using this forecast. Please tell your friends about it. And if you or your friends think this service is awesome/useful/saves you gas money/makes your life more fun (that's the important part), make a donation by clicking on my photo above. Is more fun worth $50/year? $20/year? More? Less? Donate what it's worth to you (and thank you!), but $12 minimum gets you on the email list (with occasional giveaways) for a year. Don't use Paypal? You can mail a check to Temira at PO Box 841 in Hood River, 97031. Thank you!
If you would like to help Matt Klee's dear, sweet, hilarious wife, please sign up to help feed her and her family and friends a meal sometime in the next month. You'll get an email reminder the day before, so you don't have to remember. Also, if you have been by Dirty Fingers Bike Repair in the last couple of days, you've seen grown men in tears. Matt was a brother to those guys. If you would like to show a local bike shop that they have the support of the community (the same way they've created a community for many of us), please sign up to take them lunch one day in the next couple of weeks.
Random Morning Thoughts
I have so much gratitude for Dirty Fingers bike shop right now. I grew up in a family that didn't care, and have never had a family to call my own. For the first time in my life, I feel like I have a family, and that's because of the community that Dirty Fingers created. Matt's death is devastating, but this time, the grief of losing a good friend isn't bottomless. I feel the support of the mountain bikers. Thank you, Dirty Fingers, for creating a family that took me in. I can't tell you how much that means to me. I can just tell you that for the first time in my life, I don't feel alone.
Today's Gorge Wind

Your favorite beach
Dawn
Patrol
9am-
11:30a
11:30a-
3pm
3pm-
dusk
Rooster's Rocks
light
5-10
5-10
5-10
Steven's Locks
0-10
15-18
21-24
24-27
Hatchery (minus a few for Hood River)
8-11
15-18
21-24
24-27
briefly
Doug's, etc.
8-11
13-15
20-23
24-27
briefly
Rufus, etc.
6-10
13-15
20-23
gusty
23-26
Roosevelt, etc.
5-10
13-15
20-23
24-27
Gorge Wind
So far we're looking at 2/2 for windy days in June. It may not be windy this morning, but it's going to be windy this afternoon as a weak disturbance (no, not me – I'm a strong disturbance) moves in. Disturbances tend to make for gusty wind, so don't expect yesterday today. I went windsurfing yesterday, and I left because I was tired. Not because the wind died. Hooray. That's how I determine if it's a good day.
Anyway, expect a repeat of yesterday tomorrow. But think of yesterday in a manic state. Or on crack. However you like to think of it.
Today you can expect the wind to slowly rise during the day, hitting 15-18 near Hood River by 11am, and hitting gusty 24-27 by 2pm-ish from Stevenson to Hood River. I suspect the "good" wind will be shortlived around Hood River, but it will fill in all the way between Stevenson and Arlington late in the afternoon or early in the evening. Stevenson will be windiest longest today.
Tomorrow looks (insert f-bomb) windy. Stable air mass. Big marine push. High pressure off the coast. Sun in the desert. You couldn't ask for a better setup. I declared a WIND EMERGENCY and cleared my schedule. It's really just a matter of where the clouds end up, and I'm guessing the answer to that question is "just past Hood River". But we'll see. 30+ on Tuesday east of the clouds with periods of 30-35 early in the afternoon, with the wind filling in all the way out to Arlington in the afternoon. Every beach should be windy. Woot woot! Don't forget your smallest gear.
Wednesday starts off with 23-26 and picks up to 28-32. Maybe +, with the clouds a little less dense, meaning Hood River looks like a likely windy place to be. Right now Thursday looks lighter with easterlies possible, but I'd place a bet on that forecast changing.
Gorge Weather
Today will be sunny, with a chance of afternoon thunderstorms, meaning Parkdale will be a pretty place this afternoon, as will White Salmon, where you have a great view of the building clouds over Mt. Hood. Expect temps in the mid 50's early and upper 70's in the afternoon with increasing west wind during the day.
Hood River may end up partly cloudy Tuesday morning. Temps will be in the low 50's early and low 70's in the afternoon with nuking west wind. Wednesday starts will a little less wind but becomes a "why is it so damn windy here?" kind of day by afternoon, with temps in the upper 40's early and low 70's in the afternoon.
Road and Mountain Biking
The White Salmon is at 3.5′. The Hood is at 4.2′, the Klickitat's at 1860cfs, and the Columbia is at 362kcfs at John Day. The Dalles Dam is reading 351kcfs.
The Clymb: free membership. Cheap gear. Temira approves. Click to join.
River Levels
The White Salmon is at 3.75′. The Hood is at 4.2′, the Klickitat's at 1830cfs, and the Columbia is at 315kcfs at John Day. The Dalles Dam is reading 320kcfs.
Events – email me if I've missed any outdoor-related events
Tonight's Monday, and that means there's pickup Ultimate Frisbee at May Street Elementary at 6pm. That's free and open to everyone, including beginners. Also tonight, happening in Portland, it's the first night of the PIR mountain biking short track race series. Coming up tomorrow night, there's pickup rugby at the Hood River Marina at 5:30pm and triathlon practice at Mayer Park in Rowena at 6:15.
Coming up next weekend, it's national trails day on Saturday. And then it's all bikes, all the time: there's a shuttle day benefiting the Sandy Ridge trail system. There's the Portland Naked Bike Ride. It's the Oregron Enduro series in Post Canyon both days Next Sunday is the Gorgeous Gals road ride, benefiting Haven of the The Dalles.
Looking ahead a little further, the Backyard ½ Marathon takes place in White Salmon on June 14th. This is a fundraiser for the White Salmon XC team, so you want to do this race.
Have an awesome day today!
Temira