Please support this forecast by clicking on the photo of the forecaster and making a donation via Paypal!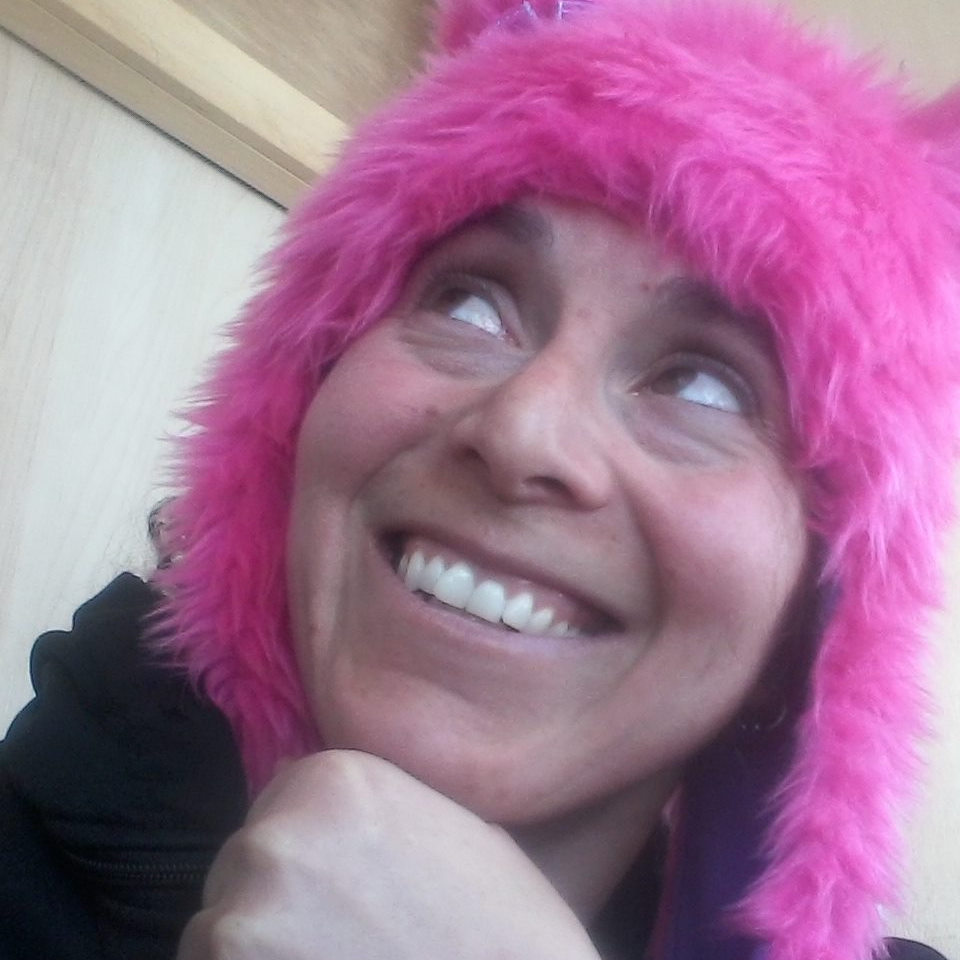 Your forecaster. Click on her to donate. Thank you!
Thank you for using this forecast. Please tell your friends about it. And if you or your friends think this service is awesome/useful/saves you gas money/makes your life more fun (that's the important part), make a donation by clicking on my photo above. Is more fun worth $50/year? $20/year? More? Less? Donate what it's worth to you (and thank you!), but $12 minimum gets you on the email list (with occasional giveaways) for a year. Don't use Paypal? You can mail a check to Temira at PO Box 841 in Hood River, 97031. Thank you!
Random Morning Thoughts
Every time I swear that I'm not a hippie, something happens to make me believe in more hippie stuff. Now I have a guardian angel, of all things. Except he didn't believe in angels and gods and other unprovable stuff when he was alive. He just believed in love. So I guess I just have a guardian who loves me. If this hippie stuff keeps happening, I'm going to have to stop shaving my legs and pits and start eating granola and smoking weed.
Today's Gorge Wind

Your favorite beach
Dawn
Patrol
9am-
11:30a
11:30a-
3pm
3pm-
dusk
Rooster's Rocks
W 5-10
W 5-10
W 5-10
W 5-10
Steven's Locks
5-10
5-10
8-11
10-13
Hatchery (minus a few for Hood River)
5-10
10-13
13-16
13-16
Doug's, etc.
5-10
10-13
13-16
13-16
Rufus, etc.
5-10
10-13
13-16
13-16
Roosevelt, etc.
5-10
5-10
8-11
10-13
Gorge Wind
It's a light wind morning in the Gorge as an upper level low off the coast keeps gradients light (.02 and .04, if you were wondering). As the upper low moves away from the coast, high pressure will slowly build this afternoon, giving us westerlies at 12-16 this afternoon, strongest east of the low clouds.
Tomorrow sees a better setup as sun in the desert combines with high pressure in the Pacific. Models tend to underestimate wind with this setup. I think we'll see 8-13 early, rising to 21-24 late in the afternoon, strongest from Stevenson to Mosier, perhaps also Doug's and Rowena and Lyle.
Wednesday doesn't look quite as classic now, but it should still be a good day. I think we'll start with 19-23 near Hood River, with the wind picking up to 24-28 midday from Stevenson to Mosier and filling in near Lyle and Rowena in the afternoon.
The river is 56 degrees right now, in case you were wondering.
Out on the coast, there's not much happening today, but Tuesday and Wednesday could get interesting. Expect 15-20 on the north coast both days, 25-30 on the central coast, and 30-40+ on the south coast with a 3′ SW swell at 17 seconds. When is three feet not three feet? When it's at 17 seconds and it's coming out of the south. Tuesday and Wednesday could be pretty fun days out there in the ocean.
Gorge Weather
The basic gist of the forecast for the next few days is decreasing clouds, warming temps, and increasing west wind. But before we get into the details… did anyone see a rainbow yesterday? I got caught in a sunny downpour while I was riding my bike, but I didn't see a rainbow. Somebody must have!
Anyway, we'll see a mostly cloudy day today with a chance of showers. Rainbow chances are down to about 15% today. As an upper low moves south along the coast, high clouds will decrease late in the day. Low clouds, however, will stick around due to atmospheric instability, so we may see showers and rainbows in the afternoon. Temps will be in the low 50's this morning and upper 60's this afternoon with light wind.
Tomorrow sees low marine clouds in the western Gorge, but probably no precip, and hence no rainbows. Temps will be in the low 50's early and low 70's in the afternoon with increasing west wind as the day goes on.
Wednesday sees marine clouds in the western Gorge in the morning. No rain. No rainbows. Temps will be in the upper 40's early and mid 70's in the afternoon with pretty strong wind.
Road and Mountain Biking
I went for a ride in Post Canyon yesterday after 2pm, when I had said it was going to to start raining after 2pm. My friend and I got caught in a downpour for the first 30 minutes and got soaked, and then the sun came out and dried out the trails, and the dirt was perfect, top to bottom. So, if it didn't rain too much on Post Canyon last night, the dirt will be fantastic today. I'm sure Whoopdee is good too.
And a note on Surveyor's: the main part of the trail is good, but the doubletrack between Dog and Surveyor's has lots of downed trees, so you'll probably want to skip that section and take the road instead.
The Clymb: free membership. Cheap gear. Temira approves. Click to join.
River Levels
The White Salmon is at 4.25′. The Hood is at 4.9′ and the Klickitat's at 2740cfs. The Columbia at John Day is 334,000cfs.
Events – email me if I've missed any outdoor-related events
Coming up next weekend, it's the targeted date for opening Skibowl's Adventure park, with slides and bike trails and all sorts of other cool stuff. I think we here in the Gorge always forget about Skibowl, but they have a lot of fun stuff going on there. Plus, the PR dude over there is one good dude. On Saturday morning in The Dalles, it's the Zombie Run 5k at Sorosis Park at 9am, brought to you by Northern Wasco County Parks and Rec.
Next weekend in Maupin, it's the 8th annual Riverfest. Besides free mini rafting trips, there's a 5k/10k race on Saturday and a half marathon on Sunday, along with a river cleanup on Sunday with a free BBQ for volunteers.
Have an awesome day today!
Temira