Please support this forecast by clicking on the photo of the forecaster!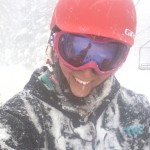 Your forecaster. Click on her to donate. Thank you!
Thank you for using this forecast. Please tell your friends about it! And if you or your friends think this service is awesome/useful/saves you gas money/makes your life more fun, make a donation by clicking on my photo above. Is more fun worth $50/year? $20/year? Donate what it's worth to you (and thank you!), but $12 minimum gets you on the email list (with occasional giveaways) for a year. Thank you for your support, and have fun today!
Random Morning Thoughts
I do believe that today is The Second Tanning Day of the Season.
Mt. Hood Snow Forecast
No. No snow for you. Just sun and really warm temps.
Today's Gorge Wind

Your favorite beach
Dawn
Patrol
9am-
11:30a
11:30a-
3pm
3pm-
dusk
Rooster's Rocks
E 10-15
E 26-30
E 26-30
E 22-25
Steven's Locks
E 10-15
E 22-25
E 22-25
E 18-23
The rest of Da Gorge
E 0-5
E 5-10
E 8-13
E 8-13
Gorge Wind
The east gradient sat at .06 at 6am, enough for low teens on the water. Expect the easterlies to pick up to 21-24 at Stevenson and 26-30 at Rooster today. Same tomorrow. A few miles per hour less on Thursday. The central Gorge and upper valleys will see easterlies at 10-15.
The coast will be warm and sunny today and tomorrow, but there won't be all that much wind. Expect temps between 70 and 80 on the north coast today and tomorrow with light north wind and a 4′ swell at 10 seconds. The central coast sees a little more wind – N 15-20 late in the day – both Tuesday and Wednesday. It may be just windy enough to mess up the surf and not windy enough to kite or windsurf, but I thought I'd mention the coast with those warm temps predicted out there. Maybe you can just go to the beach and get a tan.
Gorge Weather
Expect sunshine for the next 3-4 days. Zero percent chance of rainbows, expect for those seen in sprinklers. Temps will be in the low 40's this morning, rising to the mid 70's in the afternoon. Light east wind. Tomorrow starts in the mid 40's and hits the low 80's. Light east wind. Wednesday starts in the upper 40's and gets to the upper 80's. Light east wind. Thursday may break 90 degrees.
Road and Mountain Biking
Today's dirt will be epic. Today's road biking will be epic. Maybe you should do both?
The Clymb: free membership. Cheap gear. Temira approves. Click to join.
River Levels
The Hood is at 5.5′, the Klickitat's at 2210 cfs, and the White Salmon is somewhere around 4.5′.
Events – email me if I've missed any outdoor-related events
Today is Monday, and that means you can play pickup Ultimate Frisbee at 6pm at May Street Elementary. Registration is open for Ultimate Frisbee summer league. Sign up by visiting GorgeUltimate.com. Tomorrow night is pickup touch rugby at the Hood River Marina at 5:30pm.
Coming up this weekend, Saturday is the last day of ski season at Meadows, it's the first day of windsurfing racing at the Hood River Event Site, and Sunday is the second swap meet of the season at Windance.
Have an awesome day today!
Temira