Please support this forecast by clicking on the photo of the forecaster!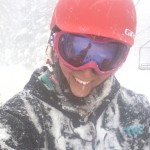 Your forecaster. Click on her to donate. Thank you!
Thank you for using this forecast. Please tell your friends about it! And if you or your friends think this service is awesome/useful/saves you gas money/makes your life more fun, make a donation by clicking on my photo above. Is more fun worth $50/year? $20/year? Donate what it's worth to you (and thank you!), but $12 minimum gets you on the email list (with occasional giveaways) for a year. Thank you for your support, and have fun today!
Random Morning Thoughts
What should I eat for breakfast?
Mt. Hood Snow Forecast – 5000′

4a-8a
8a-12p
12p-4p
4p-8p
8p-4a
Monday
Tuesday
Wednesday
Mt. Hood Snow Forecast
Today will, start off sunny on Mt. Hood, but high clouds will move in late in the day. We may see a few snow flurries overnight. The freezing level will be 10,000 for much of the day, falling dramatically overnight and ending up at 1500′ or so by Tuesday morning. Wind will be WSW 10 in the morning, SW 25 in the late afternoon and WNW 30 in the wee hours of Tuesday.
Tuesday starts off partly cloudy with some light snow showers possible all day. Clouds and snowfall increase after 5pm, for a possibility of .1-.2" water value for 1-2" of snow overnight. The snow level will be 1500′ early, rising to 3500′ during the day and falling back to 2500′ overnight. Wind will be WNW 30 early, NW 30-40 midday and NW 25-30 in the evening.
Wednesday looks partly cloudy with increasing chances of light snow or light rain after 2pm. The snow level will be 2500′ early, 4000′ midday and 6000-6500′ overnight. Thursday, at this point, looks showery, or maybe wet-snowy (aka "snainy") with light wind.
Gorge Wind
The thing that was supposed to give us strong west wind today is taking its sweet time getting here. In the meantime, it's blowing E 35mph at Rooster. Expect fading east wind during the day, followed by a switch to W 15-18 by mid-afternoon. That wind will increase to W 24-28+ after 5pm, probably hitting 28-32 near Lyle, Maryhill, and possibly as far east as Arlington. We'll probably see a couple hours of gusty 25-28 near Hood River as well, late in the day. It's going to be quite windy overnight.
Tuesday looks partly cloudy in the western Gorge, so the strongest, steadiest wind will be from Mosier (maybe) to Maryhill. Expect relatively steady W 26-30 for much of the day in the near east Gorge with 11-14 near Hood River. At this point, Wednesday looks like W 10-15, but I wouldn't be surprised to see that number go up as we get closer.
Gorge Weather
We're starting off sunny and chilly today, but it'll warm up this afternoon. We'll see some high clouds late in the day coupled with increasing west wind. Temps today will be in the mid-30's early and mid-60's in the afternoon. There's a slight chance of a few showers tomorrow all day long, although I suspect it will just be partly cloudy. So call it a minimal chance of rainbows. Temps tomorrow will be in the low 40's early and low 50's in the afternoon with strong west wind. Wednesday looks partly cloudy, becoming just-plain-cloudy late in the day. Temps will be in the low 40's early and upper 50's in the afternoon with moderate west wind.
Road and Mountain Biking
Word has it that the trails are getting dry and dusty. If you can make it rain, please do. That would make us all very happy. Just a quarter inch would be perfect. If you'd prefer road biking, this morning will be good, probably until 2pm or so when the west wind will pick up. Tomorrow looks very windy, but Wednesday and Thursday look pretty good for road biking.
River Levels
The Hood is at 4.9′, the Klickitat is at 2290 cfs, and the White Salmon is at 4.something feet.
The Clymb: free membership. Cheap gear. Temira approves. Click to join.
Events – email me if I've missed any outdoor-related events
On Monday nights (that's tonight!) you can play Ultimate Frisbee at May Street Elementary at 6pm. Tomorrow night you can play rugby at 5:30 at Collins Field, or you can eat Prime Rib from 5-9pm for $12 at Cebu. Or do both. Coming up this weekend, Riverkeeper has a cleanup at Mayer Park on Saturday from 10am to 2pm. If you're interested in participating, shoot them an email at volunteer@columbiariverkeeper.org
Have an awesome day today!
Temira