Please support this forecast by clicking on the photo of the forecaster!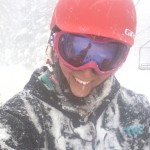 Your forecaster. Click on her to donate. Thank you!
Thank you for using this forecast. Please tell your friends about it! And if you or your friends think this service is awesome/useful/saves you gas money/makes your life more fun, make a donation by clicking on my photo above. Is more fun worth $50/year? $20/year? Donate what it's worth to you (and thank you!), but $12 minimum gets you on the email list (with occasional giveaways) for a year. Thank you for your support, and have fun today!
Random Morning Thoughts
When I grow up, I want to have the free time and curiosity of a child and the wisdom and financial resources of an adult.
Mt. Hood Snow Forecast – 5000′

4a-8a
8a-12p
12p-4p
4p-8p
8p-4a
Monday
Tuesday
Wednesday
Mt. Hood Snow Forecast
The skiing yesterday was really quite fantastic. And this morning should be quite nice too. The free air freezing (FAF) level will be 3000′ early, rising to 6000′ this afternoon. We'll see clear to partly cloudy sky in the morning, becoming cloudy this afternoon with flurries overnight. Total precip will be .1-.2" water value (WV) tonight, for an inch or so of dense new snow. Wind today will be S 10-20 all day, but south winds don't tend to hit our resorts, so expect light wind despite the model predictions.
Tuesday brings light snowfall during the day, becoming partly cloudy overnight. The snow level will be 4000′ early and 5500′ in the afternoon. Total precip will be .2-.3" WV for 2-3" of new snow. Wind will be SE 10-15 early and E 10 in the afternoon.
Wednesday starts off clear or partly cloudy, becoming more cloudy in the afternoon with a chance of snow in the afternoon and evening. The snow level will be 5500′. No significant accumulation. Wind will be NW 15-20 all day.
Wednesday looks clear, becoming cloudy in the afternoon with the snow level around 5000′ and increasing SW wind.
Gorge Wind
Today's early morning gradient is E .07, enough to give us 25-29 at Rooster and less at Steven's Locks. Expect that wind to fade to E 15-18 this afternoon. A weak front approaching tomorrow afternoon gives us gusty W 15-18 at Stevenson and Hood River. Wednesday starts with light east wind and switches to light west wind late in the day.
Gorge Weather
I just stepped outside and noticed that there's some sort of cloud to the west and clear sky to the east. I suspect that's a bit of an inversion cloud, given the east wind, but I'm too lazy to stretch my wings and fly up there and check it out. Perhaps if someone brought me another cup of coffee? My coffee is unpleasant: cold, three days old, and lacking in cream. Anyway, we'll see partly cloudy weather today, becoming high overcast with a chance of some light sprinkles tonight. Temps will be right around freezing early (my car is frosty) and in the mid 50's this afternoon. Light wind.
Tomorrow looks partly cloudy with a few sprinkles possible early (meaning a slight chance of rainbows). We should see clear sky in the afternoon. Temps will be in the low 40's early and low 50's in the afternoon with light west wind.
Wednesday looks partly cloudy with temps around 40 early and in the upper 50's late with light east wind becoming very light west wind in the afternoon.
Road and Mountain Biking
I betcha anything there's some fantastic mountain biking dirt happening today. And some great road riding with the forecast for east wind. Actually, the biking looks good the next three days. Not much precip and not much wind in the forecast. Enjoy!
The Clymb: free membership. Cheap gear. Temira approves. Click to join.
Events – email me if I've missed any outdoor-related events
It's Monday. That means there's indoor Ultimate at Horizon Christian School at 8pm. Tomorrow nigth is $12 Prime Rib night at Cebu. It's also Rugby at Collins field at 5:30.
Have an awesome day today!
Temira