Please support this forecast by clicking on the photo of the forecaster!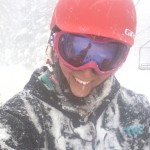 Your forecaster. Click on her to donate. Thank you!
Thank you for using this forecast. Please tell your friends about it! And if you or your friends think this service is awesome/useful/saves you gas money/makes your life more fun, make a donation by clicking on my photo above. Is more fun worth $50/year? $20/year? Donate what it's worth to you (and thank you!), but $12 minimum gets you on the email list (with occasional giveaways) for a year. Thank you for your support, and have fun today!
Random Morning Thoughts
When someone says, "Please fill out this form," I don't think they meant, "Please take this form, completely alter it using Inkscape, and then fill it out." Oh well. I guess I don't follow directions well. Besides, the form was depressing me the way it was written. Just thought I'd share.
Mt. Hood Snow Forecast – 5000′

4a-8a
8a-12p
12p-4p
4p-8p
8p-4a
Monday
Tuesday
Wednesday
Mt. Hood Snow Forecast
As anticipated, today is a powder day on Mt. Hood. A storm skiing powder day, but definitely a powder day. Thanks, St. Patrick. Thanks leprechauns. We'll see the snow level around 1500-2000′ today with continuing flurries, becoming more peppered with sunbeams as the day goes on. We've already got the majority of the snow – we'll just see another inch or two today at most. Expect strong wind: NW 40 for much of the day, becoming WNW 30 this afternoon and NNW 30 overnight.
Tuesday looks partly cloudy with flurries possible overnight, but no real accumulation, as the next system is projected to stay north of us. The snow level will be 2000′ early, 3500′ in the afternoon, and then will rise slowly to 5000′ by Wednesday morning. Wind Tuesday will be N 15 in the morning, NW 10 midday and W 10 in the evening.
Wednesday looks partly cloudy with snow starting sometime between 2pm and 5pm. The snow level will be 5000′ early, dropping to 3000′ mid-morning, 2500′ in the evening, and 1000′ overnight after the system passes. We'll see .3-.5" water value (WV) Wednesday night, for 3-5" of new snow by Thursday morning. Wind Wednesday will be W 20 in the morning, slowly building to W 40 in the afternoon and becoming WNW 40 overnight.
Thursday brings orographic snow flurries with the snow level around 2000′ and moderate NW wind.
Gorge Wind
Do you like wind sports? You're going to like the next few days. It's blowing 30+ in the eastern Gorge this morning with monster gradients: .13 (pdx-dls), .19 (dls-psc), .43 (n.bend-psc). Why is it so awesome on the river right now? Well, there's a cold front moving through, but more importantly, there's high pressure building off the coast. Expect 28-32+ east of The Dalles this morning with gustier 17-23 in the western Gorge. The wind will back off a bit this afternoon, but we should be in the upper 20's east of The Dalles all day. River water temp is 43 degrees.
Tomorrow brings west wind at 15-18 through much of the Gorge for much of the day. Another system swings through Wednesday afternoon, giving us a carbon copy of today, and taking us from a light wind start to a 28-32+ afternoon east of The Dalles with gusty 17-23 under the clouds in the western Gorge. Expect westerlies in the upper teens to low twenties, possibly more, on Thursday.
Gorge Weather
We're going to start off today partly to mostly cloudy with a chance of showers, and you know what that means: RAINBOWS!!! Why do I forecast rainbows? Because they're pretty. That's why. Expect a few sprinkles today with temps in the low 40's early and upper 40's late with strong west wind.
Tuesday brings partly cloudy sky with temps in the mid-30's early and low 50's late with light west wind. Wednesday brings starts off partly cloudy with light wind. As a front comes in during the afternoon, we'll see increasing showers and strong west wind. Temps will be in the upper 30's in the morning and upper 40's in the afternoon.
River Levels
The Hood is at 6.5′, the Klickitat is at 3650cfs, and the White Salmon is somewhere in the mid to upper 4's. And even if you're not a boater, consider going rafting, because these are really nice river levels.
Road and Mountain Biking
Given how much it rained last night, the trails are likely muddy today. And that's a bummer, because SDS and Steve Dunn reopened Whoopdee yesterday. Woot woot! Speaking of Whoopdee, Steve's looking for volunteers for the next phase, a gravity trail that will bisect the current loop. You want pure awesome downhill flow? Then volunteer to help Steve, because he can't do it alone. You can email me and I'll put you in touch with him.
The Clymb: free membership. Cheap gear. Temira approves. Click to join.
Events – email me if I've missed any outdoor-related events
It's Monday, and that means you can play pickup Ultimate Frisbee at Horizon Christian school at 8pm. Tomorrow is $12 Prime Rib night at Cebu, and it's Rugby night at Collins Field at 5:30pm. At 6pm tomorrow, Gorge Grown shows the movie Food, Inc., at Columbia Center for the Arts. Come watch an intriguing documentary showing you how food is just big business here in America. Yet another reason to have a garden. You can plant your peas, lettuce, watercress and arugula now. And other stuff too. Mmm…. garden produce.
Have an awesome day today!
Temira