Please support this forecast by clicking on the photo of the forecaster!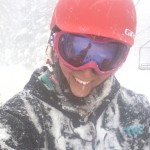 Your forecaster. Click on her to donate. Thank you!
Thank you for using this forecast. Please tell your friends about it! And if you or your friends think this service is awesome/useful/saves you gas money/makes your life more fun, make a donation by clicking on my photo above. Is more fun worth $50/year? $20/year? Donate what it's worth to you (and thank you!), but $12 minimum gets you on the email list (with occasional giveaways) for a year. Thank you for your support, and have fun today!
Random Morning Thoughts
My right brain and left brain had an argument at 4:40am over my morning work. I was frozen for about 5 minutes while they duked it out. Exhausted left brain capitulated. Emotional and triumphant right brain celebrated. And wrote.
Cool Local Business – Please Support It
The Best Western Plus Hood River Inn has great ski and stay packages for Mt. Hood, starting at $209 for a one-day ski & ride package for two people. Multi-day ski packages are crazy good deals. Save yourself the snowy, stressful drive home and stay in the Hood! For all you visitors and locals, show this add and Buy one entrée, get second entrée HALF PRICE for lunch or dinner, Sunday-Thursday through February 28th. And don't forget about the awesome M-F 4-6pm Happy Hour and Tuesday $12 Prime Rib!
Mt. Hood Snow Forecast – 5000′

4a-8a
8a-12p
12p-4p
4p-8p
8p-4a
Monday
Tuesday
Wednesday
Mt. Hood Snow Forecast
There's not much going on for Mt. Hood over the next few days. It's drizzling up there this morning, and the orographic drizzle will continue today, with the snow level around 8000′, increasing to widespread drizzle for a few hours after 1pm. We'll see .1-.3" water value (WV) by Tuesday morning. Wind today will be WSW 30ish early, becoming W 25 in the afternoon.
Tuesday looks partly cloudy during the day, becoming clear overnight. The free air freezing level will be around 9000′ with 5000′ temps in the low 40's. Wind will be S 10-15.
Wednesday starts partly cloudy and becomes more cloudy in the afternoon. The free air freezing level will be 8000-9000′. The wind will be S 15-20.
At this point, it looks like the snow level on Thursday will be 5500-6000′ or so with some light flurries or drizzle and light wind. But again, that's a ways out. And further out, there's not much to see either, as we enter a split flow regime with AK and CA getting the moisture while Mt. Hood stays relatively dry.
Gorge Wind
Here comes another round of nuking east wind, continuing the "Windiest Winter Ever" label for 2013/2014. Easterlies at 28-32 this morning at Rooster rise to 40-50 this afternoon. Expect 50-60 Tuesday morning, dropping to a measly 40-50 Tuesday afternoon. Wednesday starts at E 30-40, dropping to the upper teens in the afternoon.
Gorge Weather
The cold air is taking its sweet time filtering in from the east side, so we're still above freezing with no freezing rain or snow this morning. Boring. But, the temp has dropped 3 degrees in the last 90 minutes, so that's exciting. But I want snow and freezing rain. It makes me feel better about tearing up the roads with my Nokian Hakkapeliitta 7 studded tires.
Anyway, we'll see temps start in the low 40's today and steadily drop, hitting the upper 20's tonight. The morning looks dry, but we'll see a trace of freezing rain (if it gets cold enough) or rain (if it doesn't) after 1pm, ending in the wee hours of Tuesday. Tuesday starts with temps in the upper 20's, rising to the low 30's in the afternoon with low clouds. Wednesday starts with temps in the upper 20's to low 30's, rising to the upper 30's in the afternoon, maybe, depending on what the cold pool does. We'll probably see low clouds to start the day Wednesday with some sunbreaks in the afternoon.
There's not much precip in the forecast, as we're moving into a split flow pattern, but if the long range models are correct, we're in for some very chilly temps next weekend. That'd be quite late in the winter for such silliness, but silliness is fun, so I'm all for it.
Road and Mountain Biking
Wow. Syncline really got hammered by all that rain we had the last couple of weeks. It's not all that muddy, but the doubletrack is eroded like crazy from the inches and inches of running water. Bummer. And that is why trails are outsloped 5-10 degrees. Moab is riding great, and so is Maui. I'm sure the Petersburg Loop will be lovely today, if you hit it before the afternoon eastern Gorge easterlies bring in wind and colder air.
The Clymb: free membership. Cheap gear. Temira approves. Click to join.
Events – email me if I've missed any outdoor-related events
There's pickup rugby tonight at 8pm at Horizon Christian School. There is no requirement that you be a Christian. Or have any faith in anything other than your ability to toss a disc.
Have an awesome day today!
Temira