Please support this forecast by clicking on the photo of the forecaster!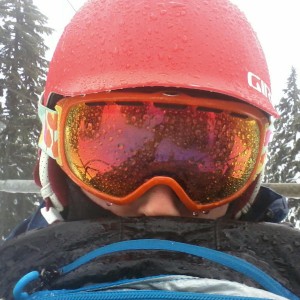 Your forecaster. Click on her to donate. Thank you!
Thank you for using this forecast. Please tell your friends about it! And if you or your friends think this service is awesome/useful/saves you gas money/makes your life more fun, make a donation by clicking on my photo above. Is more fun worth $50/year? $20/year? Donate what it's worth to you (and thank you!), but $12 minimum gets you on the email list (with occasional giveaways) for a year. Thank you for your support, and have fun today!
Random Morning Thoughts
Crystal Mountain had 20" of new snow at 5am today. I'm having some serious FOMO. God I love that place. In other news, one lane of I-84 eastbound has reopened and the Mt. Hood snowtel site is at 85% of normal now.
Mt. Hood Snow Forecast – 5000′

4a-8a
8a-12p
12p-4p
4p-8p
8p-4a
Monday
Tuesday
Wednesday
Mt. Hood Snow Forecast
Temps were in the upper 20's on Mt. Hood at 6am, so it looks like we're going to sneak by with no rain out of this system. Just snow. Glorious snow. The snow level, around 5000′ early, will fall to 2000′ around 10am and 1500′ tonight. We'll see 1-1.5" of water value (WV) today, for 10-14" of new snow, mostly before noon. Wind today will increase to WSW 70 (crushing T-line, which takes the brunt of a SW wind) as the big blob on the radar hits Mt. Hood, and then switch to a punishing W 45-50 (bashing Meadows) mid-morning, holding through late afternoon, when it'll swing back to WSW 40-45.
Tuesday starts off cloudy, quickly becoming snowy. The snow level will be 3000′ early, rising to 5500′ around 10am, and then falling to 2000′ around 4pm and falling to 1000′ overnight. We'll see 1.3-1.7" WV between 7am and 4pm. Precip type is a super tough call, with one model suggesting we hover right at 5500, and one suggesting we see temps at 2-3C at 5500′. Either way, the snow will be wet and heavy. So, let's call this 3-5" down low with 10-14" at 6500′. After the snow level drops, we'll see another .4-.7" WV, for another 5-8" of new snow by Wednesday morning. Wind on Tuesday will be WSW 40 early, SW 50 mid-morning, and W 45-50 in the afternoon.
Wednesday morning brings orographic snowfall with the snow level around 1000′ or less. We'll see .3-.6" WV from 4am-4pm, for 4-8" of new snow. Wind will be W 40 early and WNW 40 from midday on.
Thursday looks very windy and very snowy with lots of water value and cold-enough temps.
Gorge Weather
We're going to see a very wet morning in the Gorge followed by a partly cloudy and showery afternoon with some west wind. Expect temps in the mid-40's today. Tomorrow looks very wet for much of the day with temps in the upper 30's early, rising to near 50 degrees in the afternoon with west wind. Wednesday looks showery with rainbows and temps in the low 40's with moderate westerlies.
Gorge Wind Forecast
We have a bunch of weather systems moving through over the next few days, and that will give us gusty and relatively strong west wind. As today's very, very wet front moves through this morning, expect a brief jump to 30+ in the eastern Gorge, backing off to gusty 24-27 this afternoon. The western Gorge will see gusty 23-26 for a couple of hours, maybe. There's a lot of south in this system.
Tomorrow starts off light and picks up to gusty 23-26 through much of the Gorge, best out east, as another front moves through. Wednesday sees an upper level low move across Washington, giving us 30-35 in the eastern Gorge mid-afternoon with gusty 18-23 in the western Gorge.
Road and Mountain Biking
I've seen some really disturbing long trainer rides put up by my friends on Strava. You people need counseling. I've also seen some 50 miles put up during the pouring rain by friends in Portland. How do you people keep your hands warm?
Boating
The Hood's at 6.8′ this morning. Watch it rise dramatically today as this system hits. The Klickitat's at 2710 cfs.
The Clymb: free membership. Cheap gear. Temira approves. Click to join.
Events – email me if I've missed any outdoor-related events
There's indoor Ultimate tonight at Horizon Christian at 8pm. Tomorrow night is pickup rugby at 5:30pm at Collins Field, Kayak Polo at 8pm at the Hood River Pool, a HRATS meeting at the fire station at 5:30pm, and $12 prime rib at Cebu. Tomorrow night is also the night when Terry returns from Bali.
Have an awesome day today!
Temira