It's fall now, and that means it's time for the snow forecast!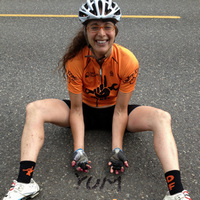 Your forecaster.

That's right. Use my snow forecast. Tell your friends. And if you or your friends think this service is awesome/useful/saves you gas money/makes your life more fun, make a donation by clicking the sun below. Is more fun worth $49/year? $20/year? Donate what it's worth to you, but $12 minimum gets you on the email list (with occasional giveaways) for a year. Thank you for your support, and have fun today!
Random Morning Thoughts
First, I forgot yesterday that the time switch meant the weather models switched an hour early, and missed the entire model run. No model run to look at means no forecast. Sorry.
Second, it's National Gratitude Month. I think we can all agree that we're grateful to have access to the beauty and recreational opportunities of the Columbia Gorge. But on a grander scale, please take a minute or two each day this month to be grateful for something. And make the word a better place by telling one person in your life each day why you are grateful for them.
Cool local business – please support them!
There are some businesses that are just plain awesome. Dirt Hugger is one. Too much food waste at your business or municipality? Dirt Hugger will take it away! All that food waste becomes food-for-your-garden compost. Temira's guerilla garden agrees: Dirt Hugger compost is the best! Pick it up or have it delivered. Call them today, and make your garden happy with a winter layer of compost: 541.9four6.347eight.
Wind guessings, prognosticatings and musings
I hope everyone enjoyed the strong, cold west wind this weekend. I sat jealous at my conference Saturday as friends texted me Arlington descriptions. Next chance for something similar is Friday this week. In the meantime, you can expect light west wind this morning, picking up a bit to 13-15 from Stevenson to The Dalles mid-morning, and fading to nothing by late afternoon. Tomorrow starts off light, picking up to W 22-25 from The Dalles to Arlington as a front moves through midday. The western Gorge will see gusty 13-16 under the clouds. Wednesday looks light.
Mt. Hood Snow Forecast – 5000′

4a-8a
8a-12p
12p-4p
4p-8p
8p-4a
Today
Tomorrow
Two days from now
Mt. Hood Snow Forecast
Snow flurries continue on Mt. Hood this morning, with the snow level somewhere around 2500-3000′. We'll see .1-.2" water value before sundown, for 1-2" of new snow. Unfortunately, this incoming warm front will bump the snow level to 6000′ by 10pm, and 8000′ by Tuesday morning, and the warm front will be accompanied by heavy precipitation. Wind today will be NW 15-20 all day.
Expect the next round to start as snow around 10pm, switching to a mix of sleet, freezing rain, and rain overnight, for 1" of water value by Tuesday morning. 1-3" of snow is possible but unlikely before the switch happens. During the day Tuesday, the snow level will be 8000′ with another .3-.4" WV of mixed precip. The snow level will fall to 3500′ in the evening, but most of the precip will be gone before that happens. Wind on Tuesday will be W 40 in the morning, fading to W 25-30 in the late afternoon.
Wednesday looks dry in the valleys, but there may be enough orographic forcing to drop some precipitation on Mt. Hood. The snow level will be 5500′ early, 8000′ in the afternoon, and 5500′ overnight. Wind will be NW 10 early, W 20 midday and W 35 in the evening.
Plain Old Local Weather
We've transitioned into a cool, showery, it's-not-summer-any-more-Dorothy weather pattern. Today will be cloudy with a chance of a few sprinkles while the sun is up. Come tonight, heavy rain hits. Expect rain tomorrow, heavy in the morning, backing off to sprinkles in the afternoon. Wednesday looks dry, but will probably be cloudy.
The Clymb: free membership. Cheap gear. Temira approves. Click to join.
Biking
Upper-elevation trails are done unless you have a Fat Bike (Clint H, I'm talking about you). That means upper-elevation road rides are done as well.
Events – email me if I've missed any outdoor-related events
Indoor Ultimate Frisbee starts tonight at the Hood River Armory. 8pm-9pm. Tomorrow night is $12 prime rib night at Cebu, and it's also the Hood River Saddle Club's monthly meeting at 6:30pm.
If you haven't purchased a ski pass to Meadows, the deadline for pre-season purchase has been extended by one day. So, you can still get a pass for $499. If you need a pass photo, Meadows will be at the Skylight Theater on Friday at the Warren Miller movie There are two showings, and both are all-ages. There's a raffle benefiting HRVMS (I know one of you will email with more details).
On Wednesday night, kayakers head to Portland for the PDX Kayaker Film Festival at the Wonder Ballroom. Wednesday night is also Kayak Polo in Hood River. Not sure how that's going to play out… On Thursday in Portland, local photographer Jock Bradley has a show opening at Gallery 903. This is his first show, and he's a stellar human being. If you are in Portland on Thursday night for First Thursday, please make sure to stop by and say hello.
Coming up this weekend, it's the Mt. Hood Independent Film Festival at various venues in Hood River. $35 gets you a three-day pass to choose from 100 movies. $15 gets you a day pass. More information is available at Columbia Arts.
Have an awesome day today!
Temira