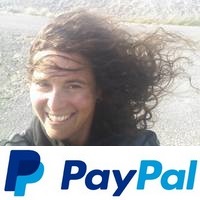 Thank you for using this forecast. I offer it freely so you can have more fun and plan your life. It does take significant time and energy to produce. If you find yourself using it often, or if you feel your life is more awesome because of my work, please make a donation. You can get this forecast via email by donation. The email subscription isn't $99/year. Not $50/year. Donating $12.34 or more gets you on the list for 12 months. Thank you for your support and thank you for trusting my forecast.
Click here to donate using a credit card.
Click here to donate via PayPal.
Venmo: @theGorgeismyGym
Snail Mail: PO Box 841, Hood River, Oregon 97031
Get the email version free through the end of August – try it out! Click here.

Today's Gorge Wind – these are ranges for the average speed, not a predicted wind range. =)

Your favorite beach
Dawn
Patrol
9am-
11:30a
11:30a-
3pm
3pm-
dusk
Rooster Rock
naked
picnic
buns
weather
Steven's Locks
13-16
16-20
24-28
24-28
Hatchery/Wunderbar
17-20
20-28
28-32
26-30
Doug's, Lyle, Rowena
16-19
22-28
28-32+
28-32+
Rufus, etc.
10-13
18-23
28-32+
28-32+
Roosevelt & Arlington
10-13
18-23
28-32+
28-32+
Gorge Wind Forecast
It's Friday morning, and it seems the marine air hasn't quite made it to Hood River (it was 77 degrees at 5:45am). Cooler air is in Portland, leading to the conclusion that it will be windy today. Gradients agree, with .13 (pdx to dls) and .02 (dls-psc). As an offshore low moves closer, driving more marine air into Portland, the wind will pick up. We'll have 28-32 from Stevenson to Threemile this afternoon. If that marine push really pushes, even stronger wind is possible. River flow is 171kcfs and temp is 71 degrees. Oh, one other thing: convection and thunderstorm potential east of the Cascades this evening could have a detrimental impact on the wind field. Do keep an eye on the sky and stay west of any developing thunderheads for the best results.
Marine clouds push all the way past Hood River Saturday morning, and actual, real-live rain falls in the western Gorge. All this happens because a weak upper low moves inland. The GFS suggests max wind of 24-27 Saturday, but gut instinct senses the possibility of more. So… we start with 5-10 in the drizzly western Gorge. Areas east of the low clouds, probably Lyle east to Threemile, start the day with 22-25. The GFS thinks we'll max out with 24-27. I think 27-30 is likely from Mosier to Arlington.
Quick-building high pressure thwacks down the wind on Sunday: we start with 10-13 from Viento to Doug's. By afternoon, the wind will probably back off to 5-8, and that only from Stevenson to Swell. Monday looks like E 15-20 and Tuesday looks light and variable. After that, there's ginormous divergence in the models, so any forecast beyond that is mere guesswork, and poor guesswork at that!
BONUS: Jones Friday: 10-13. Saturday: nope. Sunday: 5-8. Sauvie's Friday: 11-14. Saturday: nope. Sunday: 10-13 late. Coast (north/central/south). Friday: nope/nada/nope, W swell 2′ at 11 seconds. Saturday: S10/nope/N15-20, W 2′ @ 10. Sunday: 15-20/20-25/30+, NW 5′ @ 9.


Random Morning Thoughts
These are still on retreat.

Mt. Hood Mountain Weather Forecast
It's another warm day on Mt. Hood: it was 68 degrees top of Cascade (8300′) at 6am today. It'll be a clear day with a chance of convection in the afternoon. Free air freezing level (FAF): 17,000′ early, falling to 14,000′ after midnight. Wind: SSE 20 in the morning, SSW 30 in the afternoon and evening. Saturday starts off clear and ends up partly cloudy. FAF: 14,000′ early and 12,000′ in the afternoon. Wind: SSW 30 morning, WSW 25 afternoon, W 15 overnight. Sunday looks clear. FAF: 13k rising to 15k. Wind: W 15 dropping to W 10.

Gorge Weather Forecast
It's quite warm this morning, and I'm guessing we may have set a new high-low record with a low of 77 degrees. It'll stay hot and muggy today, with highs near 90. Strong west wind. No rainbows. Chance of thunder east of the Cascades tonight. Saturday starts off much cooler with low clouds. Those break up in the afternoon, to be replaced by mid-level partly cloudiness and a slight chance of thunder west of the Cascades. Temps will be in the low 60's early and mid 70's in the afternoon. Strong west wind east of HR. Rain west of HR. 2% chance of rainbows. Sunday looks cloudy to start and sunny later. Temps will be in the upper 50's early and mid 80's in the afternoon. Light wind. No rainbows. The smoky/haziness will stick around through Saturday afternoon.

For weather specifically directed at travel through the Gorge, please visit Temira's Awesome Travel Advisory Service on Facebook.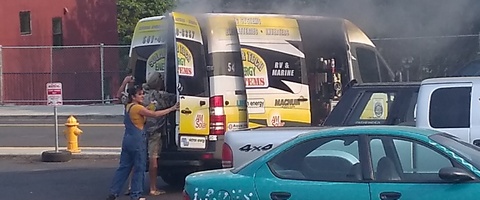 Click here for the White Sprinter Van map of the world!!!
Road and Mountain Biking
Trails on private timberland (Hospital Hill, Whoopdee, Underwood, and anything else on Kreps, Stevenson, Weyerhauser, etc.) will remain closed to ALL uses until the end of fire session (significant rainfall). Gorge 400 from Wyeth to Herman Creek has reopened. There are about 7 trees down. Plains of Abraham is open. Trails in Hood River County are now closed to motorized use due to fire danger. Bicycles are fine. The Petersburg Loop east of The Dalles has reopened for road biking. Some dum-dum started a fire on Orchard Road in Odell yesterday, so that one's probably closed right now.

Upcoming Events
Today's events are the Kickstand free coffee and free donut run at 7am. Mountain View Cycles has a shop ride at 5, and Cascade Locks Marine Park has Despicable Me 3 tonight. Then we're on to the busy weekend.
Vintage Dufur Days runs both days, all day long. There's a windsport swap meet at the Luhr Jensen Parking lot Saturday morning. There's a Post Canyon trail run from the bottom of Post at 8, a road ride from Mountain View Cycles at 9, and a parking lot sale at Big Winds all day. Outdoor movies tomorrow are Robin Hood in Hood River, and Guardians of the Galaxy 2 in The Dalles.
On Sunday, the Bridge of the Gods run will close the Bridge of the Gods for an hour in the morning.

Click here for the full events calendar.
Have an awesome day today!
Temira