Random Morning Thoughts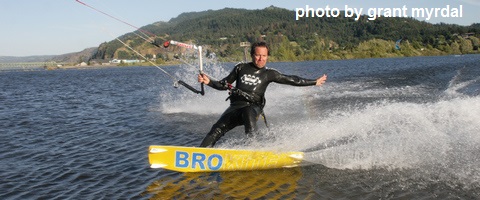 I sat at my desk for about 10 minutes this morning thinking of something to say in the random thoughts. And I couldn't come up with anything, so I guess I'm just going to go with shameless marketing and mention T-shirts. I have about 100 "The Gorge is my Gym" T-shirts. I have women's in hot pink, purple and a very pretty gray. I have men's in denim blue, aqua blue, brick red, and black. I don't have that many, and I'm completely incompetent at setting up e-commerce and inventory on my website, so if you are interested, please inquire about availability before ordering.
The shirts are $23.45 if you live in the US and $28.76 if you live in Canada. Price includes shipping (I first typed "whipping", but I don't sell those), t-shirt and a "The Gorge is my Gym" sticker. You can also find the shirts for $20 at 2nd Wind, or you can find me and I will sell you a shirt out of the back of my car for $20.
End of shameless marketing. I feel vaguely ashamed for doing that.

Thank you for using this forecast! Please donate to support it!
Thank you to everyone for using this forecast. Does it save you time, gas money, or help you find more wind, powder, or just plain fun stuff to do? Please consider making a donation to keep it going! Use it here for free or make a donation and get on the mailing list for wind for the summer and Mt. Hood snow in the winter. It's not $99/year. Not $50/year. No, just $12.34 or more gets you on the list for 12 months. Do it via PayPal/CC by clicking on my happy photo below. Don't PayPal? You can send a check to Temira @ PO Box 841 in Hood River. Thank you for your support, and thank you for trusting my forecast. You guys mean the world to me.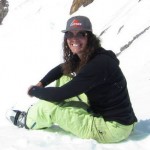 ---
Gorge Wind
Despite the innocuous appearance of the sky this morning, today's forecast is actually quite tricky. The blue sky hides an upper low moving into the east side of the PNW, and that low will affect our wind this afternoon. At 7am, the gradients were .08 (pdx-dls) and .01 (dls-psc). That'll be enough for 15-18 this morning from Hood River to Mosier, with Steven's Locks and the Lyle stretch joining in around noon. As the low fires off some convection this afternoon (maybe), the wind will get increasingly gusty and will pick up to 22-25ish from Stevenson to The Dalles (maybe, assuming the convection doesn't get out of hand and kill the wind). See? Complicated.
That low pressure system moves east of our forecast area tomorrow, leaving us with westerlies at 8-13 or less first thing in the morning. The light wind will hold during the day, possibly even fade to glassy, and then pick up to 10-13 late in the day from Stevenson to Mosier.
Sunday also starts with light wind, at 8-13 or less, and Sunday also sees the wind pick up late in the day, possibly hitting 15-18 from Stevenson to Mosier. Once again, we see the uselessness of the long-range models: three days ago they said east wind Sunday. Then they said 15-18. Then 24-28. Now 15-18.
Out on the coast today, you'll see (north/central/south) light/5-10/25-30, W 3'@5. Tomorrow: light/5-10/25-30, NW 4@7. Sunday: light/10-15/30-35, NW 5@7.
I have no idea where Grant was shooting yesterday. But I know he was shooting.

Today's Gorge Wind – these are ranges for the average speed, not a predicted wind range. =)

Your favorite beach
Dawn
Patrol
9am-
11:30a
11:30a-
3pm
3pm-
dusk
Rooster's Rocks
eyes
above
waist
leve,
please
Steven's Locks
light
8-13
15-18
22-25
Hatchery/White Salmon Sandbar (minus a few for Hood River)
13-15
15-18
gusty
22-25
gusty
22-25
Doug's, etc.
5-10
8-13
20-23
gusty
22-25
Rufus, etc.
light
light
light
thunder
Roosevelt, etc.
light
light
light
thunder
Temira's sail: 35-40: 2.9 / 30-35: 3.2 / 26-30: 3.5
23-26: 4.0 / 20-23: 4.5 less than 20: something bigger!
Tonia's kite: 35-40: 4m / 30-35: 4-6m / 26-30: 5-7m
23-26: 7-9m / 20-23: 8-10 / 15-20: 10-12 / 10-15: 13-15.
Advertising Worth Reading
Hood River Adventures: fishing tours, mountain bike shuttles, brewery and winery tours

Hood River Adventures is a local company owned by Drew Scharns, master guide specializing in fishing tours, mountain bike shuttles, and well as brewery and winery tours. Biologists predict this is going to be the biggest salmon run since 1938. Get some of it: Spend a day with Drew on the Columbia fishing for salmon, steelhead, and sturgeon or try fly fishing on the Klickitat. Feeling active? Head to the trails for shuttle laps with end-of-day car retrieval. Want to taste the local libations? Take a brewery or winery tour with HRA: no more arguments over who's going to be the designated driver – that's Drew's job! (541)4zero0-1216 hoodriveradventures.com
Gorge Weather
It's a beautiful, blue sky morning, but that will change today if the models are correct at all. A low pressure system is moving in to eastern Oregon and Washington, and that will set off a round of convection this afternoon with clouds and possible thunder and a 47% chance of a colorful sunset. Expect temps in the low 60's this morning and upper 70's this afternoon. Tomorrow may start off with some lingering clouds, but it will likely clear by afternoon. Temps will be in the upper 50's early and low 80's in the afternoon. Sunday looks a lot like Saturday.

White Sprinter Van of the Day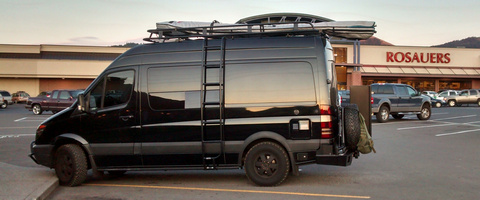 Road and Mountain Biking
No news is good news, I guess. Everything except Whoopdee and Syncline are open. Those trails are closed due to fire danger.


The Clymb: free membership. Cheap gear.
Temira approves. Click to join.
River Levels / Cheezburger update
The John Day Dam is reading 104-133kcfs. The Dalles Dam is putting out 131kcfs. The White Salmon is around 2′. If you plan on running the White Salmon yourself, remember that there is a riverwide log about 150 yards below Cave Wave. The Columbia River is 72 degrees. I think Cheezburger may have been eaten by the snowy owl, because I haven't heard from him in days.

Events – email me if I've missed any outdoor-related events
If you've got kids, take them to the Hood River Waterfront Park this afternoon for the Postively Kai kids Standup Paddle Event. Registration, according to the website, opens at 2pm, and the event runs from 4 to 6. Give Big Winds a call if you need more information.
After that, take the kids to Movies in the Park in Cascade Locks where the Disney movie Frozen is showing. And if you can't make tonight's movie, Holes is showing tomorrow night in Hood River.
During the day tomorrow, it's the Bigfoot Bash and Bounty celebration of all things Sasquatch in Home Valley. It's also the Oregon Enduro Series in Ashland, so if the bike trails seem empty, that's why. This weekend, both days, it's the Naish Columbia Gorge Paddle Challenge with the world's best Standup Paddlers in town testing themselves against our locals. Good luck to all the racers!
Have an awesome day today!
Temira