Random Morning Thoughts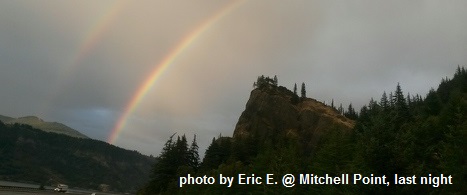 Know what I love? Super-awesome private landowners (like the Kreps and SDS) who let me ride bikes, pick mushrooms, and glean apples and pears and chestnuts. Know what else I love? The fact that Oregon's laws protect landowners who let people ride bikes, hike and randomly recreate on their land.

Thank you for using this forecast!
Please donate to support it!
Thank you to everyone for using this forecast. Does it save you time, gas money, or help you find more wind, powder, or just plain fun stuff to do? Please consider making a donation to keep it going! Use it here for free or make a donation and get on the mailing list for wind for the summer and Mt. Hood snow in the winter. It's not $99/year. Not $50/year. No, just $12.34 or more gets you on the list for 12 months. Do it via PayPal/CC by clicking on my happy photo below. Don't PayPal? You can send a check to Temira @ PO Box 841 in Hood River. Thank you for your support, and thank you for trusting my forecast. You guys mean the world to me.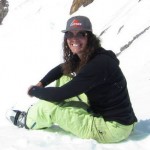 ---
Gorge Wind
There's not going to be much wind this weekend, as mother nature cooperates with the organizers of Hops Fest to not knock down the tents and intoxicated people. We'll see light and variable wind this morning becoming W 8-11 this afternoon from Stevenson to The Dalles. Tomorrow starts with light and variable wind, and picks up to W 10-13 in the afternoon from Stevenson to Hood River. Expect a light and variable start on Sunday with W 10-13 in the afternoon.
At this point, it looks like we'll see stronger westerlies on Monday as a front swings through, for gusty 20-something wind, and we'll probably see westerlies Tuesday too in the wake of the front's passage.

Today's Gorge Wind – these are ranges for the average speed, not a predicted wind range. =)

Your favorite beach
Dawn
Patrol
9am-
11:30a
11:30a-
3pm
3pm-
dusk
Rooster's Rocks
do people
go here
in
the rain?
Steven's Locks
light
light
5-8
8-12
Hatchery/White Salmon Sandbar (minus a few for Hood River)
light
light
5-8
8-12
Doug's, Lyle, Rowena
light
light
5-8
8-12
Rufus, etc.
light
and
variable
LTV
Roosevelt, etc.
light
and
variable
LTV
Temira's sail: 35-40: 2.9 / 30-35: 3.2 / 26-30: 3.5
23-26: 4.0 / 20-23: 4.5 less than 20: something bigger!
Tonia's kite: 35-40: 4m / 30-35: 4-6m / 26-30: 5-7m
23-26: 7-9m / 20-23: 8-10 / 15-20: 10-12 / 10-15: 13-15.
Gorge Weather
NOAA managed to get their radar working again last night, so now we can see if it's raining, rather than walking outside. I was quite disappointed to see a HUGE swath of rain… just to the north of Hood River. Nothing beats the sounds of raindrops and the smell of wet dirt. Anyway, expect a mostly cloudy morning with a few showers. Temps will be in the low 50's this morning and low 70's this afternoon. Rainbow chances are 13% in Hood River. There was a rainbow in Cascade Locks last night.
Tomorrow may bring an inversion cloud in the morning, but sunshine is likely in the afternoon. Temps will be near 50 in the morning and in the mid 70's in the afternoon. Sunday looks just like Saturday.

White Sprinter Van of the Day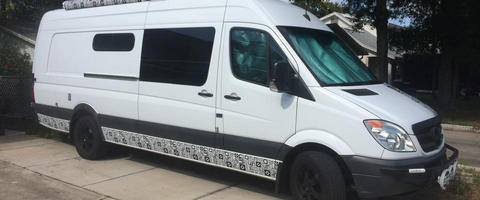 Road and Mountain Biking
SDS and Kreps lands have reopened! That means you can now ride Hospital Hill and Whoopdee, but keep in mind that there's logging in the Evergreen Highway area, so that piece of Kreps land is still closed. I just got off the phone with Hood River County Forestry, and they, as of 6:17am, were still closed to motorized use. We may have more information later today, or they may want to take the weekend to see how much it dries back out before opening for the season.
Looks like we'll see stellar road biking over the next three day: light wind, relatively cool temps, and morning clouds. Yummy.


The Clymb: free membership. Cheap gear.
Temira approves. Click to join.
River Levels / Fish Counts/Cheezburger Update
The John Day Dam is reading 67-73kcfs. The Dalles Dam is putting out 71kcfs. There are two river-wide logs on the White Salmon: 1 just below Cave Rapid on the Middle and one below Cave Wave on the Lower. The White Salmon is at 1.6′, according to John L. I didn't talk to Cheezburger yesterday, I did not remember to buy fish yesterday, and the fish counts from Bonneville were not yet posted this morning.

Events – email me if I've missed any outdoor-related events
Hood River Hops Fest is happening for most of the day on Saturday, combining the town's two favorite things: craft beer and the outdoors. And if that's not your gig, head to the Deschutes on Saturday for the Wasco Salmon and Steelhead fishing contest.
The Hood River Running Club has their weekly trail run at 8 in Post Canyon tomorrow. There's community yoga, free or by donation, at yoga samadhi in White Salmon Sunday at 9, and there's pickup rugby at 3 on Sunday at the Mosier School and Ping Pong at 5 on Sunday at the Hood River Armory.
Finally, a list-minute announcement: Cooper Spur Race Team's annual fundraiser is Saturday evening at Springhouse Cellars. It's a Hoedown: Mechanical Bull, live music, and a silent and live auction. I think it's probably worth going just to see Hood River's finest ski mommies and ski daddies on a mechanical bull.
Have an awesome day today!
Temira