…Random Morning Thoughts…
Please take some time today to think positive thoughts for our cherry farmers. This much rain and this little wind is not good. The only good thing is that the weather is not hot.
Today's Gorge Wind – these are ranges for the average speed, not a predicted wind range. =)

Your favorite beach
Dawn
Patrol
9am-
11:30a
11:30a-
3pm
3pm-
dusk
Rooster's Rocks
bring
your
umbrella
to the
nudie
beach
Steven's Locks
light
light
gusty
8-11
gusty
8-11
Hatchery (minus a few for Hood River)
light
gusty
8-11
gusty
10-13
gusty
13-15
Doug's, etc.
depends on
clouds
today
gusty
18-23
gusty
22-25
Rufus, etc.
light
8-13
gusty
18-23
gusty
22-25+
Roosevelt, etc.
light
8-13
gusty
18-23
gusty
22-25+
…Gorge Wind…
We have basically no wind and no gradient through the Gorge this morning. The wind will pick up to 8-11 after this first weather system moves through mid-morning, and then it will pick up to gusty 21-25 mid-afternoon after another weather system moves through. With this much cloudiness around, those highest readings are probably going to be east of The Dalles today, possibly, although not probably, filling in near Lyle. In the western Gorge, under the clouds and rainbows, we'll see 10-13 at most.
Tomorrow starts off light, but as high pressure starts building off the coast in the afternoon, we'll see 22-25, probably from Lyle to Maryhill, with 11-14 likely from Stevenson to Mosier.
High pressure pushes inland on Saturday, for light wind early and 13-16 late in the afternoon as thermals kick in. Next chance for nuclear force wind appears to be on Wednesday as the high pressure breaks down. I already cleared my schedule, a very risky thing to do given my feelings about long-range forecasts. If you like lots of wind, take the same risk as me, and we'll all see together if it pays off.
Did you find that forecast useful?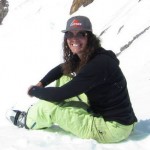 Click on Temira to donate.
Thank you!
Thank you for using this forecast. Please tell your friends. Think this service is awesome/useful/saves you gas money/makes your life more fun? make a donation by clicking on my photo. Is more fun worth $50/year? $20/year? More? Less? Donate what it's worth to you. A $12 minimum gets you on the email list (with occasional swag) for a year. Don't use Paypal? You can mail a check to Temira at PO Box 841 in Hood River, 97031. Thank you!
Advertising Worth Reading
The Mt. Adams Country Bike Tour is this Saturday. Just to make sure it was still one of the awesomest bike rides on the planet, I rode all of it over the weekend. Yep. Still awesome. And still a great thing to do on Saturday. Good food, great support (and you'll want support on those remote, car-free roads). The ride benefits local charities such as the Trout Lake, BZ and Glenwood Fire Emergency Services, the Trout Lake Grange and School Projects. You can choose from the 11.5 mile Family Fun Ride, the 51 Mile Glenwood Loop or the 54 Mile Forest Loop. Or go big with the 105 Mile Infinity Ride. Sign up now and put "bicycling Trout Lake is bliss" in your comment box, and get a free copy of Bicycling Bliss. First 10 people win the books.
…Gorge Weather…
It's a rainy start to the day today, and judging by the radar, the rain will continue for a while this morning. And then a secondary system this afternoon may kick off more rain. So, expect a day filled with showers, and once this first system moves through, rainbows. 83% chance today of rainbows. Temps will be in the upper 50's early and upper 60's in the afternoon. In case you were wondering, we've already had .25" of rain out of this system.
Tomorrow brings continued shower potential under partly cloudy skies, for a 54% chance of rainbows. Temps will be in the mid 50's early and upper 60's in the afternoon.
Sunday looks mostly sunny with temps in the low 50's early and low 70's in the afternoon.
Please send your "rainbow of the day" photos to twomirrors@gmail.com.
…Road and Mountain Biking…
Well. I guess this will do it for making the trails ride better. We've had 1/4" of rain in Hood River proper already, so more has probably fallen in Post Canyon. With this system coming out of the west, the 44 Road trails should get some rain as well. And St. Helens. And Hospital Hill, Syncline and Whoopdee. As a matter of fact, I'm going to go out on a limb and say that Post will probably be too muddy today, especially up high. But tomorrow morning, oooohhhh yeah…

The Clymb: free membership. Cheap gear.
Temira approves. Click to join.
…River Levels…
The White Salmon is at approximately 2.9′. The Klickitat is at 1290cfs. The John Day dam is putting out 220-312kcfs and The Dalles dam is reading 246kcfs. Columbia river temp is 61 degrees at The Dalles Dam.
…Events – email me if I've missed any outdoor-related events…
In events today, the Maryhill Festival of Speed continues, with less wind and more downhill skateboarding. The skateboarding continues through Sunday, so if you're missing it today, don't worry. There's more action all weekend.
Even if it's not all that windy this weekend, there's plenty going on. There's windfest at Hood River's Event Site, with free windsurfing demos, free beginner lessons, and free clinics. There's a family-friendly mountain bike campout at the EasyCLIMB in Cascade Locks on Saturday night.
The Mt. Adams Country Bike Tour is Saturday and The Six Hours of Skibowl mountain bike race is Sunday. Also on Sunday, from 7-1 at Luhr Jensen in Hood River, there's a Columbia Gorge Windsurfing Association all sports swap meet. Come on by and pick up some new gear, and while you're at the swap meet, join your local windsurfing advocacy organization.
Finally, don't forget that you can watch all the world cup games at Skylight Theatre on the big screen!
Have an awesome day today!
Temira