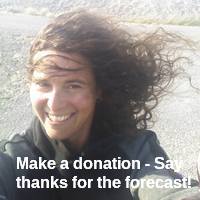 Get the email free through the end of March – try it out! Click here.

Thank you for using this forecast. I offer it freely so you can have more fun and plan your life. It does take significant time and energy to produce. If you find yourself using it often, or if you feel your life is enhanced by this information, please make a donation. Click right here to donate. I count on your support to pay my bills, and am deeply grateful to you for choosing to help support me. You can get this forecast via email by donation. The email subscription isn't $99/year. Not $50/year. Donating $12.34 or more gets you on the list for 12 months. Don't PayPal? Send a check to Temira @ PO Box 841 in Hood River. Thank you for your support and thank you for trusting my forecast.
Mt. Hood Snow Forecast – 5000′

4a-8a
8a-12p
12p-4p
4p-8p
8p-4a
Friday
7000′->8000′->3500′
Saturday
3500′->5500′->4000′
Sunday
4000′->500′??
---
Mt. Hood Snow Forecast

Friday's starting off clear and beautiful on Mt. Hood. A series of weak weather systems will move in over the next few days, increasing the clouds and adding a couple inches of snow to the snowpack late Sunday.
For Friday, expect a clear start that turns partly cloudy or cloudy by midday. The free air freezing level (FAF) will be 7000′ early, 8000′ in the afternoon, and 3500′ overnight. No precip. Wind will be WNW 25-30 all day and W 10-15 after midnight.
Saturday starts off with high clouds and turns partly cloudy in the afternoon and clear after midnight. The FAF will be 3500′ early, 5500′ in the afternoon, and 4000′ overnight. Wind will be W 10-15 all day and WNW 25 after midnight.
Sunday starts off clear. Clouds move in midday and light snowfall starts up mid-afternoon. The snow level will be 4000′ early, 2500′ in the afternoon and evening, and as low as 500′ after midnight (depends on the model). Models disagree on how long the snow will continue – the GFS ends it early Monday, and the Euro takes the snowfall through Tuesday morning. Anyway, light snowfall Sunday night brings in .1-.2" water value for up to 2" new snow. Wind Sunday will be WNW 25 early, W 35-40 in the afternoon, and W 35 overnight.
With the lack of model agreement for Monday, it's impossible to write a forecast. Models are in better agreement later next week, bringing in some form of warm, wet weather. The exact path of the pineapple express isn't apparent yet, so we'll have to wait and see how this shakes out.

Random Morning Thoughts
Yup… once again I have a super busy day. That's spring break for ya – trying to get caught up on everything before school starts up again. I hope you have a wonderful Friday!

Disclaimer required by my grad school program: I am not your therapist, but I am seeing clients at this time at Comprehensive Healthcare in White Salmon. In the meantime, I am your weather forecaster. Take everything I say with a grain of salt, and consult with your actual therapist about your mental health issues. One other thing: I plan to keep doing this forecast indefinitely. Forecasting and counseling are both deeply meaningful and nourishing to me.

Gorge Wind Forecast
It's Friday. A series of weak weather systems over the next few days will keep the gusty westerlies blowing. For Friday, expect 14-18 from Viento to Rowena to start with 10-13 farther east. In the afternoon, the wind will pick up to gusty 19-23 between Viento and Rufus with 10-13 east and west of those locations. Saturday starts off calm and stays that way through early afternoon. West wind picks up to 10-13 from Stevenson to The Dalles after 2pm. A cold front approaching on Sunday gives us another round of moderate westerlies: 19-23 everywhere to start the day and gusty 20-25 from Mosier to Arlington after 11am. There may be a brief period of 24-28 from Mosier to Rufus early afternoon, but that will fade quickly. River temp is 44 degrees.

Gorge Weather Forecast
The sky was clear early this morning, but clouds will move in today. Temps will be in the upper 40's early and near 60 in the afternoon. Moderate west wind. No rainbows. Saturday looks cloudy in the morning and partly cloudy in the afternoon. Temps will be near 40 early and near 60 in the afternoon. Light wind. No rainbows. Sunday looks clear in the morning, cloudy in the afternoon, and sprinkly from late afternoon on. Temps will be in the upper 30's early and upper 50's in the afternoon. Moderate west wind. 13% chance of afternoon rainbows.
For weather specifically directed at travel through the Gorge, please visit Temira's Awesome Travel Advisory Service on Facebook.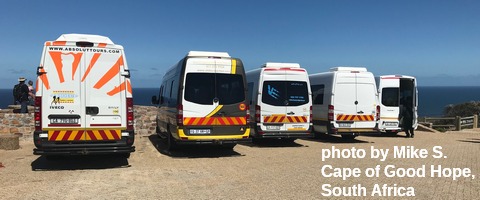 Click here for the White Sprinter Van map of the world!!!
Road and Mountain Biking
There's brown pow out there. Definitely going to be a nice day on the trails. It'll be windy on the road, but not too windy, and with temps nearing 60 degrees today, you'll have a nice ride there too. In case you were wondering, the Hood River Valley is not in bloom yet.

Upcoming Events
It's Friday, and that means the Kickstand Coffee Run is at 7am. Jog or walk 4.1 miles and get a free cup of coffee and a donut. There's another trail run tomorrow morning in Post Canyon at 8am. No coffee or donut with that one.
Coming up Sunday, Dirty Fingers has a group gravel ride at 9am followed by viewing of the Tour de Flanders at 3pm. Looking ahead to next weekend, there's a garden party at Pacific Hermitage starting at 10:30am on Saturday – potluck meal followed by garden work followed by tea time with the monks.

Click here for the full events calendar.
Have an awesome day today!
Temira