The best snow forecast for Mt. Hood. The best wind forecast for the Gorge.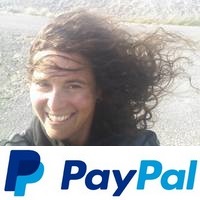 Thank you for using this forecast. Like it? Find it useful? Support it (and me!) by sending some cash my way. What's it cost to support me and get the email version? Not $99 a year. Nope. Not $49. Just $19.99 or more gets you a year. People are added to this list on Thursday and Sunday. My day job is crisis mental health, and I don't have time on other days. Thanks for your patience! Click below to contribute. Thank you!!
| | |
| --- | --- |
| | |
| | Auto-renewing subscription. Easy. Awesome. Set and forget! |
Thank you for contributing and keeping this forecast going! I appreciate your support!
The Forecast
Today's Gorge Wind – these are ranges for the average speed, not a predicted wind range. =)

Your favorite beach
Dawn
Patrol
9am-
11:30a
11:30a-
3pm
3pm-
dusk
Rooster Rock
E 5-10
E 5-10
calm
calm
Steven's Locks
E 5-10
E 5-10
calm
W7-11
Swell-Hood River
calm
calm
calm
W7-11
Lyle to Doug's
calm
calm
calm
calm
Rufus, etc.
calm
calm
calm
calm
Roosevelt & Arlington
calm
calm
calm
calm
Gorge Wind Forecast
After a long, long stretch of westerlies, the wind is basically going to take a break for a few days. This will give you an opportunity to learn to ride a foil behind a jet ski, and it'll also give you a chance for a swap meet! That's right – Mosier Fest has a swap meet on Sunday morning out in, you got it, Mosier. All proceeds benefit their fire department. Same time as the usual swap – sellers at 7, buyers at 8, and "no early birds, please". Please show up and support!
So, high pressure is settling in over the inland areas, and a heat low is building on the west side. This is our typical heat wave setup and will essentially shut down the wind. Easterlies at 5-10 from Rooster to Viento this morning turn calm by midday. There's a decent chance we could see westerlies at 7-11 this evening from Stevenson to Swell or perhaps Hood River. That's not really enough for windsports, but it's not calm either. River flow reading are 116-152kcfs, river temp is 70F, and high temp forecast is 85F.
Saturday will be calm to start, Easterlies pick up to perhaps 10mph between Rooster and Viento midday. They disappear in the afternoon leaving us with calm wind. High temp: 89F. Sunday starts with E 15-20, fades midday, and turns calm by 2pm. You'll probably be best served by going to the swap meet and selling or buying stuff. High temp: 94F.
Models tend to be a bit too aggressive on ending heat waves, so it's hard to tell if the westerlies will return on Monday as forecast. Probably. This will be another not-ideal exit from the heat wave pattern – a low pressure system is forecast to hang off the coast through Wednesday, cooling things down but disrupting the atmosphere. That said, westerlies should pick up into the low or mid 20's to start the week. Have a great weekend! PS: not much point in forecasting tomorrow, so I'll take the day off, get in an early bike ride, and return on Sunday.
Jones, Sauvie's, Coast
Coast forecast (north/central/south, waves). Swell forecast provided by NWS. Wind direction northerly unless otherwise noted. Friday: 20-25/20-25/depends on how far north the heat pushes, NW swell 5′ @ 9 seconds. Saturday: 15-20/15-20/LTS, NW 5′ @ 8. Sunday: 15-20/SW10/S10-15, NW 4′ @ 7. Jones Friday: 12-15. Saturday: 7-10. Sunday: 8-12. Sauvie's Friday: 15-18. Saturday: 11-14. Sunday: 11-14??
Mt. Hood Snow Forecast – Back on vacation until next fall
Hood River Weather Forecast
Clear sky starts the day and ends it. Temps will be in the mid 50's early and mid 80's later. Light and variable wind. No rainbows. Saturday will be sunny all day. Temps will be in the mid 50's early and upper 80's later. Light and variable wind. No rainbows. Sunday also will be clear all day. Temps start in the low 60's and end in the mid 90's. Light easterlies early. Calm later. No rainbows.
Looking for a complete Columbia Gorge forecast? Looking for more humor in your weather? Obscenities? You're looking for my TATAS: Temira's Awesome Travel Advisory Service on Facebook.
Local-ish Events
Please let me know of outdoor-related local-ish events. If you don't tell me, I don't know! Mosier Fest is Sunday. The festival starts at noon. Prior to that, starting at 7am (sellers) and 8am (buyers), there is a multi-sport swap meet.
Ferment's Tuesday night 4-mile walk/run is at 6pm. At 7:15am on Wednesdays, there's a run from the White Salmon Bakery. At 7am on Friday morning, you can get a donut and coffee for going for a run at Kickstand Coffee. The Small Boat paddlers have a group paddle at 6pm on Thursday at the Hatchery. Post and Pint happens Thursday evenings at 5:30. The women's Post-and-Pinot ride is Wednesday evening at 5:30.
Cycling
Falls Creek is open. 44 Road trails are open. Plains of Abraham is open. The road connecting Plains of Abraham to Smith Creek closes at noon Monday-Friday and will not be open to bikers during that time. Courtney Road (the road that goes up above Syncline) is closed until October. Do not attempt to use it to access trails. If you're riding Post Canyon, you will need a parking pass. Those can be purchased at many local shops or online.
Sprinter Van of the Week!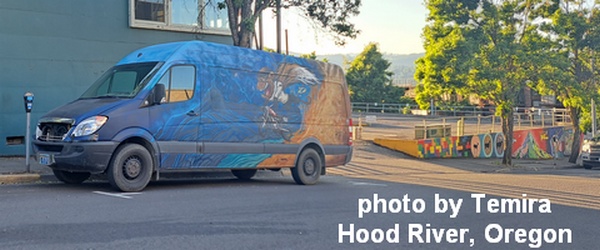 Click here for the Sprinter Van map of the world!!!
Have an awesome day!