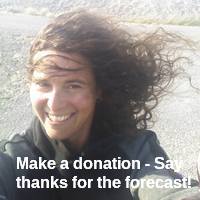 Get the email free through the end of January – try it out! Click here.

Thank you for using this forecast. I offer it freely so you can have more fun and plan your life. It does take significant time and energy to produce. If you find yourself using it often, or if you feel your life is enhanced by this information, please make a donation. I count on your support to pay my bills, and am deeply grateful to you for choosing to help support me. You can get this forecast via email by donation. The email subscription isn't $99/year. Not $50/year. Donating $12.34 or more gets you on the list for 12 months. Click on my photo to donate. Don't PayPal? Send a check to Temira @ PO Box 841 in Hood River. Thank you for your support and thank you for trusting my forecast.
Mt. Hood Snow Forecast – 5000′

4a-8a
8a-12p
12p-4p
4p-8p
8p-4a
Friday
1500′->500′
Saturday
500′->6500′
Sunday
6500′->10000′
---
Mt. Hood Snow Forecast

We have delightful news in today's forecast. The models have taken a dramatic turn for the better, sending tomorrow's weather system much farther north than yesterday's model runs. Thsi means we avoid the torrential drenching that was in yesterday's forecast. Hooray! We'll still see a period of light rain Sunday night and warmth on Monday, but we'll be back into snow Monday night.
Friday looks like a fantastic powder day on the mountain with cold temps and snow falling all day. The snow level will be 1500-2000′ today and 500′ overnight. About .3" water value (WV) falls by 4pm, for 3-4" of light, fluffy powder. Another 1" WV falls tonight, for an additional 9-11" of snow that becomes denser as the night progresses. Wind Friday will be WSW 30-35 early, WSW 20-25 in the afternoon, SW 40 around midnight and a blistering WSW 50+ after midnight.
Saturday starts off with strong wind and heavy, dense snowfall. The weather clears (with the potential for orographic precip and sunbreaks) late morning. Clouds return in the evening with light rain starting around 7pm. The snow level will be 4500′ in the morning, and 6500′ from late afternoon on through Sunday morning. The mountain will pick up .6" WV of dense snow in the morning, for 4-6" of new. Light rain starts up around 7pm with 1/3" to 1/2" rainfall overnight. Wind will be wickedly strong: WSW 50+ during the day, W 55 in the afternoon and evening, and WSW 30 overnight.
Sunday starts off with very light rain and quickly turns clear and warm. The free air freezing level will be 6500′ for the first half of the day and 10,000′ in the afternoon and overnight hours. Just 1/10" rain falls in the morning, followed by dry weather. Widn Sunday will be WSW 30-35 all day, turning to SW 20 overnight.
Looking long range, the GFS and Euro agree we're back to snow late Monday night, with somewhere around 6-10" by Tuesday morning. The weather stays cold and snowy through Wednesday afternoon, after which high pressure may build in, for warm, dry weather on the hill.

Random Morning Thoughts
Buddhist philosophy posits that the root of suffering is desire, desire for things to be different or even desire for things to stay as they are. No matter your faith tradition, there's something to learn from this.
Stop for a moment and notice if there's some way that you want things to be different in your life. Notice what emotions this brings up. Notice if there's frustration, anger, helplessness or other painful emotions around the way things are right now. These are unskillful ways to handle the desire for change.
If, on the other hand, you think about the ways you want life to be different with a sense of hope, calm, peace, or other soothing emotion, you are approaching change in a skillful way. The difference lies in how you are relating to the present.
Wanting change is not inherently bad. As a matter of fact, working for a better, happier, more peaceful life is wise. What will cause you suffering is fighting against the way things are right now. Peace lies in balancing acceptance of the way things are with a commitment to make things better. The two can exists side-by side. Take a look at how you want life to change. Take a look at how you relate to life right now. See what sort of life-affirming balance you can create. Have an awesome day.

Disclaimer required by my grad school program: I am not your therapist, but I am seeing clients at this time at Comprehensive Healthcare in White Salmon. In the meantime, I am your weather forecaster. Take everything I say with a grain of salt, and consult with your actual therapist about your mental health issues. One other thing: I plan to keep doing this forecast indefinitely. Forecasting and counseling are both deeply meaningful and nourishing to me.

Gorge Wind Forecast
For Friday, we'll have west wind at 10-13 through the entire Gorge in the morning. After 1pm, the wind will die off. Saturday starts with E 15-20. After noon, a low pressure system moves onto Vancouver Island and turns the wind westerly. You can expect gusty 23-28 through the entire Gorge after noon. Sunday and Monday both look calm.

Gorge Weather Forecast
We'll have a showery Friday. Temps will be in the low 40's all day. Snow level 1500′ or so. Light west wind. 87% chance of rainbows. Saturday might start off with a bit of wet snow or snow mixed with rain. The precip will stop after 9am or so, leaving the rest of the daylight hours dry and partly cloudy. Temps will be in the mid 30's early and mid 40's in the afternoon. East wind early, west wind after noon. 99% chance of rainbows. Sunday has a few sprinkles in the morning with a 99% chance of Nothing. Above it will be sunshine. Temps will be near 40 early and near 50 in the afternoon. Calm wind. 50% chance of rainbows.
For weather specifically directed at travel through the Gorge, please visit Temira's Awesome Travel Advisory Service on Facebook.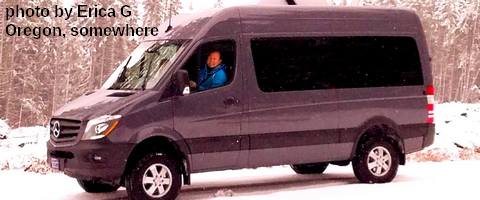 Road and Mountain Biking
Post Canyon is currently closed to all users to protect the trails from damage. Whoopdee is closed to bikes and horses for the same reason. Syncline remains mobbed. I'm not sure about the upper half of Nestor, but the Horse Camp section is in good shape with one tree down.

Upcoming Events
For Friday, we have the Kickstand Coffee Run. Walk or jog 4.1 miles and get a free cup of coffee and a donut. 7am. At Kickstand. On Saturday, there's an "unguided" run in Post Canyon (on the roads because the trails are closed) at 8am. The Dirty Fingers Cold Lap mixed surface ride is at 3pm at Dirty Fingers.

Click here for the full events calendar.
Have an awesome day today!
Temira