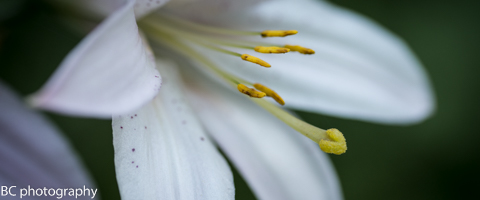 Random Morning Thoughts
I woke up at 3:50 this morning before my alarm went off, and the concept of resistance was on my mind. I think about resistance a lot. When we resist things, we end up enmeshed in struggle. For example, if we crash on our bike or kite or windsurfer and tense up, we're more likely to get hurt. If we're arguing with someone, and we resist seeing their point of view (not accepting it, mind you, but making points against it), the argument escalates. If we're stressed out or depressed or angry, and we resist that (by saying, "I don't want to be (insert emotion)"), then we're more stressed out.
I'm not saying that resistance is always bad, mind you. It's important for us to have clear boundaries. But fighting things we can't change only creates more upset in our lives. I think this ties into the concept of flow, too. When we ride or run or do whatever without fighting the effort, the muscle tension, or whatever, we experience ourselves at our best. Flow = lack of resistance, maybe?
Anyway, I'm kinda obsessed with the concept of resistance. See if you can notice when you are resisting things. See what happens if you just go with the flow.

Thank you for using this forecast!
Click on my photo to support it with a donation.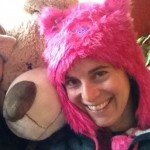 Thank you for using this forecast. Does it save you time, gas money, or help you find more wind, powder, or just plain fun stuff to do? Please make a donation to keep it going! Use it here for free or get on the mailing list for wind for the summer and Mt. Hood snow in the winter. Just click on my photo to donate. The email isn't $99/year. Not $50/year. No, just $12.34 or more gets you on the list for 12 months, and sometimes there are cool prizes. Donate via PayPal/CC by clicking on my happy photo below. Don't PayPal? You can send a check to Temira @ PO Box 841 in Hood River. Thank you for your support, and thank you for trusting my forecast. You guys mean the world to me.
---
Mt. Hood Snow Forecast – 5000′

4a-8a
8a-12p
12p-4p
4p-8p
8p-4a
Today
Tomorrow
The day after
Mt. Hood Snow
In the last 12 hours on Mt. Hood, it snowed, then rained, then snowed again. We'll see flurries and sun breaks today, with the flurries decreasing as the day goes on. No additional accumulation. Okay, maybe an inch. Maybe. The snow level will be 3000′ early, with the temp rising to right around freezing up to 6500′ this afternoon. Wind will be W 40 this morning and NW 15 this afternoon. Clouds move in tonight.
Saturday starts off cloudy and rainy. The snow level will be 6000′ early, rising to 9000′ during the day. We'll see 1.5"-2" water value (WV) fall as rain during the day (okay, we might see a little snow at first, but that won't last long). Then we'll see another 1.5-2" rain overnight. Wind will be SW 25 early, rising to SW 40 in the afternoon and SW 50-60 overnight.
The snow level will be around 5500′ Sunday morning, and then will drop to 3000′ midday. We'll see orographic (terrain-enhanced) snow flurries during the day. Models suggest .3-.4" WV during the day, followed by another .3-.4" WV overnight, but I think that's a bit optimistic. Let's call it 2-3" of snow during the day Sunday, followed by another 1-2" Sunday night.

Gorge Wind
As I was writing this, there was a touch of an easterly breeze in the western Gorge. In other words, it is NOT nuking in the Gorge this morning. The east breeze won't last long. We'll see gusty westerlies at 23-27, maybe a bit more, east of Mosier all the way to Arlington today, strongest in the morning. Steven's Locks to Mosier will get gusty 13-16 today. River water temp is mighty cold, 39 degrees.
Expect east wind at 30-40 tomorrow morning, backing off to 20-23 in the afternoon. Expect gusty west wind at 23-27 on Sunday.

ReRack Portland
Uniquely Portland ReRack is a great resource for all your car rack needs. ReRack buy, sells and trades all Yakima and Thule parts. Free advice and basic installation is always part of the deal. Right now ReRack is having a truckload sale on new Yakima Rocketbox Pro models get a great deal on a new box while they last. All Rocketbox Pro models feature double sided opening, quick mounting hardware and a lifetime warranty. Rocketbox Pro 12 now just $199! Rocketbox Pro 11 now just $279 great for skis. Rocketbox Pro 14 just $299 great for snowboards! Email Temira with "lock me up" for a chance to win 4 locks for a Yakima or Thule rack.
Gorge Weather
It is raining this morning, but the sky is already partially clear and showers will decrease as the day goes on. You know what that means? RAINBOWS!!! Temps will be in the mid 30's early and the upper 40's this afternoon with a 99% chance of rainbows.
Tomorrow starts out cloudy and rainy, and continues that way all day long. Temps will be in the mid 30's early and the low 40's in the afternoon. It will rain and rain and rain through Sunday morning. Rainbow chances are 11%.
Sunday looks partly cloudy with showers. You know what that means? Uh-huh. RAINBOWS! Temps will be in the low 40's early and the upper 40's in the afternoon. 99% chance of rainbows. Looks like the Nothing will return on Monday.

White Sprinter Van of the Day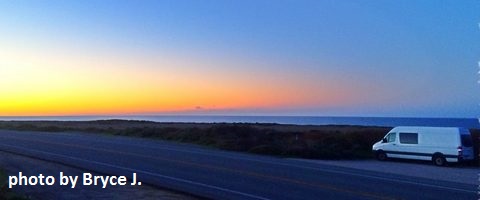 Road and Mountain Biking
I suspect it's rather muddy out there.


The Clymb: free membership. Cheap gear.
Temira approves. Click to join.
Upcoming Events
Friday morning is the Sunshine and Rainbows 10 Speed Coffee run. Every Friday, 7am, 10 Speed Coffee at 13th and State. If you complete the rather fun 4.5 mile run (including stairs and the Indian Creek Trail), you'll earn a free cup of coffee and a donut. Tomorrow morning at 8am, there's a trail run at Post Canyon. At 10, it's the Run like a Dog 4-miler at Skamania Lodge, benefiting Sophie Miller's breast cancer fund. At 4pm tomorrow, there's the cold lap cyclocross ride at Dirty Fingers.
Coming up Sunday, there are free gear demos happening at Meadows from 9am-2pm. Then on Monday, it's Rotary Night, with $15 advance purchase night skiing that benefits the Hood River Rotary Club. Even if you're not going, buy a ticket to support Rotary.
Have an awesome day today!
Temira