Random Morning Thoughts
The other day I was listening to an audiobook about conflict resolution and management theory. The author talked a lot about positive feedback and its effect on productivity. In order for a person to be their best at the workplace, to be self-actualized at work, to get all techy-term on you, they need to have certain needs met. Remember, we spend about 20% of our time at work, so our needs can be met outside work, but they need to be met in that environment too.
If a person doesn't feel a sense of belonging and a sense of respect at work (see Maslow's hierarchy of needs), they aren't going to perform their best in the workplace. According to this author, studies have shown that folks need at least a 4:1 positive feedback to negative feedback ratio for peak productivity at work. I think about this a lot, because I do take on jobs other than this forecast (but the "why" of that is a different discussion), and I'm highly responsive to positive feedback or lack thereof.
Anyway, the moral of this is to be good to your employees, the people you manage and also to your coworkers. A simple "thank you" or "good job" or "here, I bought you this little thing because you do such great work" can go a long way toward meeting that 4:1 ratio and making for a happy work environment.

Thank you for using this forecast!
Please donate to support it!
Thank you to everyone for using this forecast. Does it save you time, gas money, or help you find more wind, powder, or just plain fun stuff to do? Please consider making a donation to keep it going! Use it here for free or make a donation and get on the mailing list for wind for the summer and Mt. Hood snow in the winter. It's not $99/year. Not $50/year. No, just $12.34 or more gets you on the list for 12 months. Do it via PayPal/CC by clicking on my happy photo below. Don't PayPal? You can send a check to Temira @ PO Box 841 in Hood River. Thank you for your support, and thank you for trusting my forecast. You guys mean the world to me.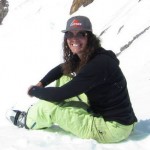 ---
Mt. Hood Snow Forecast – 5000′

4a-8a
8a-12p
12p-4p
4p-8p
8p-4a
Today
Tomorrow
The next day
Mt. Hood Snow
Things are about to get wild on Mt. Hood. Today starts with clouds and the snow level around 6000′. We'll see a rain/snow mix, or maybe even wet snow, starting around 1pm, at which point the snow level will climb to 9000′. A couple of inches or less will fall before a switch to rain. Expect 2-2.5" water value (WV) to fall as rain. Around 10pm, the snow level will start dropping, falling to 4500′ by midnight and 3000′ by 4am Saturday. We'll see 1" WV in that period, for 4-8" of new snow. Wind today will be SW 20-25 early, SW 40-50 this afternoon and WNW 40-45 overnight.
Tomorrow starts off with the snow level around 3000′ with heavy orographic (terrain-enhanced) snowfall. We'll see around 1" WV between 4am Saturday and 4am Sunday, for 10-14" of new snow. Wind on Saturday will be WNW 35-45 all day and all night, so expect heavy drifting.
Sunday starts off with the snow level around 3000′ and light snow flurries, maybe even some sunbreaks. A band of heavier snowfall moves in late morning through late afternoon, for .5-.7" WV and 6-8" of snow. We'll see partly cloudy sky after that snow moves through. Wind on Sunday will be W 40-50 all day.
So, total snowfall over the weekend looks to be around 1.5-2.5 feet.
That's lovely, and will make for some fantastic hiking and shredding. Enjoy it, because much warmer temps coupled with rain arrive Monday night through Wednesday, likely followed by some sort of high pressure and drier weather for the holiday. But that's a long ways out to be forecasting.

Gorge Wind
The east wind continues today, with 24-28 all day long at Rooster with 19-23 at Steven's Locks. The Columbia is now 48 degrees. Tomorrow brings westerlies at 24-28 east of The Dalles, strongest in the morning and afternoon with a break midday. You'll find gusty 16-19 from Hood River to Rowena tomorrow. Sunday looks windier, with 26-30 possible east of … Mosier? The Dalles? Anyway, your best bet Sunday will be somewhere east of Mosier, wherever you can find clear sky on the radar image.

Gorge Weather
Looks like Hood River is going to sneak by without freezing rain today, with a 5:30am temp reading of 33 degrees. Expect a cloudy and dry start to the day with temps right above freezing. Brrr. Rain, heavy rain, will start around 1pm, continuing all the way through Sunday morning. We may see some sleet or very wet snow mixed into the freezing rain, and if it doesn't warm up fast in Parkdale, they'll see some freezing rain before the air warms up. High temps today will be in the upper 30's. Rainbow chances are minimal, at 2%.
Tomorrow looks rainy all day. The rain will be coupled with a nice west breeze, and that will scour out all this cold, icky continental air. Expect temps in the mid 30's early and mid 40's in the afternoon. Rainbow chances are 31% in Hood River and much higher in The Dalles.
Sunday looks cloudy, with a break in the rain possible in the morning, followed by rain in the afternoon. Temps will be in the upper 30's early and the mid 40's in the afternoon. West wind will give an opportunity for sunbreaks, so rainbow chances stand at 64%. At this point, Monday looks dry for much of the day, with rain in the evening and overnight.

White Sprinter Van of the Day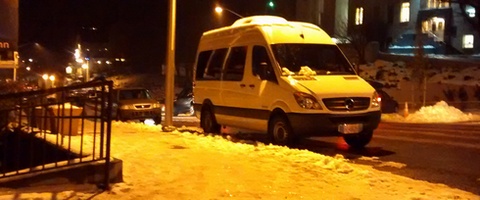 Road and Mountain Biking
After you shop, pay your bridge toll with all the money you saved, and head to Columbia Center for the Arts for two good ski movies: Pretty Faces (about awesome women) and A Dozen More Turns (about bad decision making in the backcountry).

The Clymb: free membership. Cheap gear.
Temira approves. Click to join.
Riverside / Cebu Thanksgiving Dinner!!! Yummy!!!
Enjoy Thanksgiving dinner at Riverside so you can play hard on Thanksgiving Day! Delicious plated dinners served from 11:30 am to 9 pm. Menu includes Thanksgiving Turkey dinner with all the trimmings, Prime Rib, Columbia King Salmon or Vegetarian Thanksgiving, with appropriate side dishes. (Gluten-free or other dietary restrictions always happily accommodated!) Reservations are recommended. Call 541-386-4410 or visit www.riversidehoodriver.com for the complete menu. Happy Thanksgiving!
Upcoming Events
The Kerrits friends and family sale is today, 10am – 7pm at their warehouse at 54 E Bingen Point. After you shop, pay your bridge toll with all the money you saved, and head to Columbia Center for the Arts for two good ski movies: Pretty Faces (about awesome women) and A Dozen More Turns (about bad decision making in the backcountry). And don't forget about the trail work party on the Kleeway tomorrow. Meet at 10am at Family Man to toss sticks and clear the corridor.
Have an awesome day today!
Temira