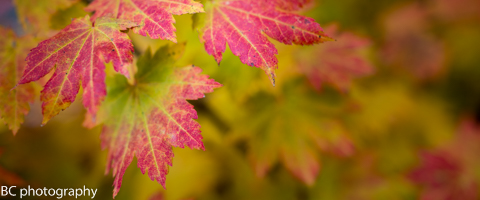 Random Morning Thoughts
Because it's Friday, I write this forecast on the bus to work. I really like the guy who drives the bus on Friday. His nickname is "Wild Bill". He's a combat veteran, and he's a veteran of lots of other stuff in his life. I've heard people say Bill's "nuts", but they obviously haven't taken the time to get to know him. He's a wise man – he thinks deeply about a lot of things. He's done a ton of work on himself. He's been there for hundreds, maybe thousands, of kids while doing various kinds of paid and volunteer work. Bill's freakin' awesome.
This idea of calling people "nuts" based on stories we've heard is, quite frankly, "nuts". What we're really saying is, "I'm too scared to try and get to know this person," or something along those lines. Guess what? The people who you're calling "nuts" are just different than you are. When we spend time around people just like us (you know, "normal" people), we stagnate. We don't learn. We don't grow.
So next time you hear someone called "nuts" (and believe me, lots of people say that about me), get to know that person. You might find a new friend. You might learn a lot about yourself. You might open your worldview to new experiences. If we don't open our hearts to people different than ourselves, we close ourselves off to a richly varied life. Go talk to someone "crazy" today.

Temira's annual birthday card request! =)
It's that time of year again. The time of year when I get a little older. It's the time of year when I let myself ask for what I need. And what I need this year, just as I did last year, is affirmation from y'all. So, I'm asking for birthday cards. Or birthday notes. Or birthday postcards. I know you're busy. This means a lot to me. Send along a card telling me why you love me, why we're friends, what kind of difference I make in your world, and whatever else you'd like to say. Thank you so much for your time, energy, and your love. My address: Temira Lital / PO Box 841 / Hood River, OR 97031
Thank you for using this forecast!
Click on my photo to support it with a donation.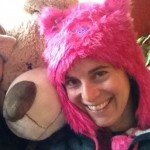 Thank you for using this forecast. Does it save you time, gas money, or help you find more wind, powder, or just plain fun stuff to do? Please make a donation to keep it going! Use it here for free or get on the mailing list for wind for the summer and Mt. Hood snow in the winter. Just click on my photo to donate. The email isn't $99/year. Not $50/year. No, just $12.34 or more gets you on the list for 12 months, and sometimes there are cool prizes. Donate via PayPal/CC by clicking on my happy photo below. Don't PayPal? You can send a check to Temira @ PO Box 841 in Hood River. Thank you for your support, and thank you for trusting my forecast. You guys mean the world to me.
---
Mt. Hood Snow Forecast – 5000′

4a-8a
8a-12p
12p-4p
4p-8p
8p-4a
Today
Tomorrow
The day after
Mt. Hood Snow
Today sees a thin high overcast to start the day, followed by thicker high overcast as the day goes on. No precip today, though, luckily. The free air freezing level (FAF) will be 10,000 all day and the wind will be W 15mph or less.
Tomorrow starts off with the snow level at 8000′ early, 6500′ by 10am, and 6000′ in the afternoon. We'll see mid-level clouds bring some mist or light sprinkles to the slopes starting around 7am and continuing for the rest of the day. Total precip will be .1-.2" water value (WV) during the day, and that will fall as mist first and maybe a few snowflakes late. No accumulation of snow. Wind will be SW 20 all day.
Sunday starts off cloudy and stays that way all day, with snow starting after 1pm. The snow level will be 4000′ early, dropping to 2500′ in the afternoon and less than 1500′ overnight. We'll see .1-.3" water value after 4pm, for 1-3" of snow Sunday night. Wind will be W 10 early and SW 10-15 in the afternoon. Monday brings a few more flurries.

Gorge Wind
It was definitely nuking in the Gorge yesterday. It was so nuking that three people texted me to let me know it was nuking. Apparently the iWind/iKite sensor was reading 60 at one point yesterday afternoon and there was a gust to 91 at Crown Point yesterday. Expect easterlies at 40-50 today, fading to 30-35 this afternoon. East wind continues tomorrow at 24-28, fading to 15-18 in the afternoon. Sunday starts with E 15-18 and picks up to 20-24 in the afternoon.

Gorge Weather
It's a cloudy start to the day today in the Gorge, with the Nothing ruling over the land. When the noting dissipates today, we'll be left with high clouds. Temps will be in the upper 30's early and the low 40's this afternoon. No rainbows.
Tomorrow starts out cloudy with a few sprinkles possible during the day with fog and low clouds possible in the upper valleys. Temps will be in the mid 30's early and the low 40's in the afternoon. Rainbow chances are 4% in the central Gorge and higher west of Hood River.
Sunday looks cloudy: inversion cloud down low and high/mid clouds above. That's a lot of layers of clouds. We'll see a dry day with some sprinkles after 1pm. With the snow level down to 1000′ or less on Sunday night, it's likely the upper valleys will get an inch or so of snow. Temps will be in the mid 30's early and the mid 40's in the afternoon. Rainbow chances are 2.5%.

White Sprinter Van of the Day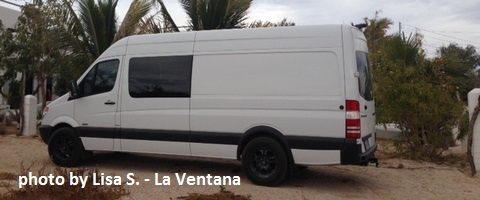 Road and Mountain Biking
I headed over to the Gorge 400 for a nice ride yesterday. There are 3 or 4 trees down, 2 of which would require a big chainsaw. The dirt was perfect. If I had time today, I would head to Syncline or maybe Columbia Hills for some good dirt. Anyone been in Post in the last 24 hours?


The Clymb: free membership. Cheap gear.
Temira approves. Click to join.
Upcoming Events
If you have time this morning (and maybe it's already too late), you can join the Donut and Coffee run at 10 Speed Coffee at 7am. Do this fun 4.5 mile run, and you'll get a free donut and coffee. There's a trail run at 8am tomorrow starting from the bottom of Post. At 3pm, there's the Cold Lap cyclocross ride leaving Dirty Fingers at 3pm.
Coming up Sunday, there's community yoga, free or by donation at 9am. At 3pm, there's ping pong at the Hood River Armory and pickup touch rugby at the Mosier School. At 4pm, Crossfit Hood River has a stretching and mobility class that's free or by donation.
Have an awesome day today!
Temira