Random Morning Thoughts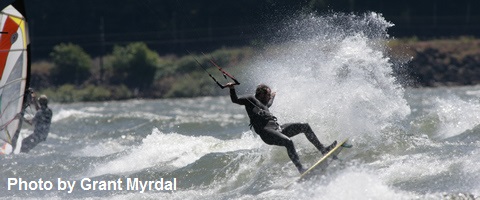 I have received several questions regarding the fact that I refer to all Sprinter Vans as White Sprinter Vans. Much like humans, who are all human inside, no matter what color they are, White Sprinter Vans are all White Sprinter Vans inside, no matter what color they are. Sprinter Vans express their internal mood through the color of their paint, much like we express mood via facial expression and body language.
Unfortunately, because they lack a limbic system, Sprinter Vans are hard-wired at the factory to have only one mood – that is why they never change color. Many Sprinter Vans are melancholy, because they, like us, are wired by fight-or-flight instinct to lean toward negative interpretations of the world. That's why so many are gray, blue, black or other dour colors. White Sprinter Vans expressing as white are content, but not necessarily happy.
Once in a while, a Sprinter Van is born into this world enlightened and is able to express itself in orange, yellow, green or other bright colors. If you are lucky enough to bear witness to such a Sprinter Van, try to take some of its inner peace along with you as you continue your day. And do the same if you encounter an enlightened human being, who shows such a mental state through kindness, compassion, equanimous presence and frequent smiles and eye contact.

Thank you for your donations during the Summer 2014 Pledge Drive!!!
Thanks to all of you for your support over the last month. You guys have shown me an incredible amount of support and love and appreciation, and I'm humbled and grateful, and my bikes will stay repaired for the rest of the year. And I'll stay caffeinated and able to forecast almost every day. You guys rock. New to this forecast? Use it here for free or make a donation and get on the mailing list for wind for the summer and Mt. Hood snow in the winter. It's not $99/year. Not $50/year. No, just $12.34 or more gets you on the list for 12 months. Do it via PayPal/CC by clicking on my photo. Don't PayPal? You can send a check to Temira @ PO Box 841 in Hood River. Thank you for your support, and thank you for trusting my forecast. You guys mean the world to me.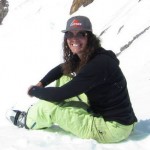 ---
Gorge Wind
I am surprised how much the weather models changed between yesterday morning and this morning on the prediction for today's wind. I think I said 17-20 for today, yesterday, and then when I looked at the models at 1am (and again at 6:30am), they were predicting 23-26+ for Dawn Patrol. Anyway, the gradient looks good for windsports: .14 (pdx-dls) and .05 (dls-psc). Expect 23-26 at Swell and Mosier this morning, picking up to gusty 26-30 from Swell to The Dalles this afternoon with a touch less at Maryhill, 15-18 at Roosevelt and 22-25 at Steven's Locks.
Tomorrow sees high pressure building inland, and that's going to knock the wind down a few notches. Expect 10-15 to start the day, likely backing off midday and picking back up to 13-16 late in the afternoon with the strongest wind near Hood River early and from Stevenson to Mosier in the afternoon with less wind further east.
Sunday's models are still leaning toward very light east wind. I'm still a bit skeptical, as offshore high pressure and weak low pressure over the desert suggest that synoptic scale wind will be onshore. I wouldn't even be fretting – I'd normally just call this a "light wind day" – but the wind direction is important when there are folks trying to get a wildfire contained. For fire information, visit the Rowena Fire Facebook page.
If you are looking for photos from yesterday, Grant was shooting at Doug's from 2:30-3:15, at Lyle from 4:00-6:00 and at the HR Sandbar from 6:30-8pm.
Coast forecast (north/central/south): Today, 10-15/15/25-30, NW 2@7. Saturday: 15-20/20-25/30-40, NW 2@14. Sunday: 15-20/25-30/light, NW 3@13.

Today's Gorge Wind – these are ranges for the average speed, not a predicted wind range. =)

Your favorite beach
Dawn
Patrol
9am-
11:30a
11:30a-
3pm
3pm-
dusk
Rooster's Rocks
tan lines:
thumbs up
or
thumbs
down?
Steven's Locks
10-14
15-18
20-23
22-25
Hatchery/White Salmon Sandbar (minus a few for Hood River)
18-22
22-25
24-27
22-25
Doug's, etc.
12-15
20-23
24-28
26-30
Rufus, etc.
12-15
12-15
26-30
26-30
Roosevelt, etc.
10-15
10-15
15-18
18-22
Temira's sail: 35-40: 2.9 / 30-35: 3.2 / 26-30: 3.5
23-26: 4.0 / 20-23: 4.5 less than 20: something bigger!
Tonia's kite: 35-40: 4m / 30-35: 4-6m / 26-30: 5-7m
23-26: 7-9m / 20-23: 8-10 / 15-20: 10-12 / 10-15: 13-15.
Advertising Worth Reading
Stoked Roasters on the Hood River Waterfront

THE MOMENT OF STOKE. For every adventurous soul, the magic moment varies. For us, that moment begins the second we drop our freshly roasted beans into the cooling tray… the stoke is born, ready to brew. Come taste the stoke right in our tasting room here in Hood River, OR at the waterfront. Don't live here? No problem. Visit the Stoked Roasters website and order some coffee today!
Gorge Weather
NOAA, the computer models, and I were all caught off guard this morning by the extent of the cloud cover from a shortwave through moving across the PNW. I can see the back end of those clouds to the west of us. These are just high clouds, and once they're gone, they're gone for the day. We'll see blissfully cool temps in the low 60's early with upper 70's this afternoon. Tomorrow looks sunny with temps in the upper 50's early and low 80's in the afternoon. Sunday starts clear and cool with temps in the low 60's. As the upper flow turns more southerly in the afternoon, expect warmer, muggier, smokier weather with temps in the upper 80's and an 87% chance of a colorful sunset.

White Sprinter Van of the Day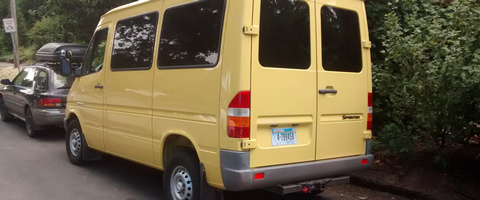 Road and Mountain Biking
All trails except Hospital Hill and Whoopdee are open. Those two are closed due to extreme fire danger. In addition, the Rowena Fire has Highway 30 closed east of Mosier, so you cannot bike to Rowena Crest. I suspect biking over Sevenmile would also be a bad idea at this time.


The Clymb: free membership. Cheap gear.
Temira approves. Click to join.
River Levels / Cheezburger update
The John Day Dam is reading 107-112kcfs. The Dalles Dam is reading 121kcfs. The White Salmon is around 2.2′, and Cheezburger, a guide at Wet Planet, is planning on watching the Perseids next week with his sweetie. He recommends you do the same. If you plan on running the White Salmon, remember that there is a riverwide log about 150 yards below Cave Wave. The Columbia River is 70 degrees.
Events – email me if I've missed any outdoor-related events
If you're in Cascade Locks today, swing by the marina and check out the Hobiecat and Wildcat North American sailing championships.
If you're looking for something to do tonight, the movie The Croods plays at Cascade Locks Marine Park. Tomorrow night at Hood River's Jackson Park it's the movie We are Marshall. On the river tomorrow, it's the Wildside Relay, downwind racing for outriggers and surfskis from Stevenson to Bingen.
Tomorrow's also the Double-Damend sailboat race from Cascade Locks to The Dalles. Hood River's event site hosts windsurfing races tomorrow, and Sunday, is the Bridge of the Gods kitefest blowout, withwindsurfers and kiters racing from Stevenson to Hood River. And off the water on Sunday, it's the inaugural Bridge of the Gods run, already sold out, which I just think is the bees knees.
Have an awesome day today!
Temira