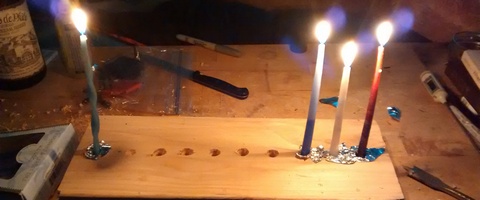 Random Morning Thoughts
I don't have room for a Christmas tree in my house. And that's a bummer, because I like Christmas trees a lot. They smell nice. They give you a chance to express yourself in sparkly decorations. And they light up the room in pleasant way.
When I was a little kid, we didn't have Christmas trees. And that made me sad, because I loved helping my friends and their families decorate trees. For a couple of years in high school, my folks gave in and let us have a tree along with our usual menorah. I loved having a tree in our house – it wasn't about religion. It was about the beauty and the fun of decorating it and the joy of taking part in something that millions of others were doing.
One year my parents refused to get a tree. By this time, I had a driver's license. So my sister and my friends and I crafted a plan. Actually, I crafted the plan. I'll cop to it. I was the instigator. At midnight on Christmas eve, we turned off the burglar alarm (who the heck has those in suburbia, anyway?), and snuck out of the house. We climbed the fence at a Christmas tree lot. And we stole a tree. In our teenage minds, this was okay, because it was Christmas and the trees were now unwanted garbage. We were giving a homeless tree a loving family.
We dragged that beautiful, pine-scented tree into the living room, pulled out the dusty tree stand and the decorations, and we spent the wee hours of Christmas decorating our tree. We were quiet, very quiet, so we didn't wake our parents. Our friends went home, my sister and I smiled at each other, and we went to sleep very, very happy. I'm smiling right now thinking about this. It's my number one favorite childhood memory. That is all. Happy holidays.

Thank you for using this forecast!
Click on my photo to support it with a donation.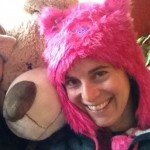 Thank you for using this forecast. Does it save you time, gas money, or help you find more wind, powder, or just plain fun stuff to do? Please make a donation to keep it going! Use it here for free or get on the mailing list for wind for the summer and Mt. Hood snow in the winter. Just click on my photo to donate. The email isn't $99/year. Not $50/year. No, just $12.34 or more gets you on the list for 12 months, and sometimes there are cool prizes. Donate via PayPal/CC by clicking on my happy photo below. Don't PayPal? You can send a check to Temira @ PO Box 841 in Hood River. Thank you for your support, and thank you for trusting my forecast. You guys mean the world to me.
---
Mt. Hood Snow Forecast – 5000′

4a-8a
8a-12p
12p-4p
4p-8p
8p-4a
Today
Tomorrow
The day after
Mt. Hood Snow
It is snowing on Mt. Hood this morning, but there really hasn't been much accumulation yet. The snow level is at 3000′ this morning, and will rise to 4000′ tonight. Expect orographic (terrain-enhanced) snow flurries today for .1-.3" water value (WV) and 1-3" of snow before 4pm. The next round of precip starts around 10pm, for .3-.5" WV by tomorrow morning, for 3-5" of snow. Wind today will be WSW 25 pretty much all day.
Saturday starts off with the snow level at 4000′, but it will rise to 6500′ by 10am and 9000′ by 4pm. Several inches of snow will fall before the switch to rain, and then it will rain and rain and rain. Expect 2.5" WV by 4pm, most of which will fall as snow, followed by 4" pineapple juice (aka "heavy rain") overnight. Wind on Saturday will be SW 35 early, rising to WSW 50 by 10am and becoming W 45-55 after 4pm.
Sunday morning starts with the snow level around 7000′, but it'll be back around 9000′ by 10am, and then will fall to 6500′ around 4pm, holding overnight. Approximately 4" of pineapple juice will fall from the sky between 4am Sunday and 4pm Sunday. Another 1" of rain will fall Sunday night.
By Monday morning, the snow level will be down to 5500′, but it will rise back to 7500′ in the afternoon. At least the pouring rain will be done! The snow level will stay a bit high for ski resort snow until Wednesday morning, at which point models suggest cold-enough air with a good shot of moisture, for 6-10" snow. Fingers crossed.
It's worth nothing that I pulled the precip totals from one specific forecast. There's another way of looking at this on another model. For the 24 hour period ending 4am Saturday, we get 1" WV. For the period ending 4pm Saturday, we get 2.5-5" WV. For the period ending 4am Sunday, we get 5-10" WV. And for the 24 hour period ending 4pm Sunday, the model shows 10" or more of rain falling on Mt. Hood. Whoa, dude.

Gorge Wind
The wind tunnel is quiet this morning, and the eagles and ospreys are no longer death-gripping tree branches. Expect light and variable wind today. Easterlies pick up for a while tomorrow at 15-18 at Steven's Locks and Rooster Rock. The wind switches to westerly Saturday night, giving us wet and gusty west wind at 22-25 on Sunday east of Hood River, dropping midday, and picking back up to gusty 16-19 in the afternoon. It will be pouring rain on Sunday along with the wind.

Gorge Weather
It's another showery morning in the Gorge. Expect showers this morning and clouds this afternoon with rain tonight. Temps will be in the upper 30's early and the mid 40's in the afternoon. Rainbow chances are 23%.
Saturday starts off with rain, progressing to steady rain, progressing to downpouring rain in the afternoon and progressing to torrential rain overnight. Temps will be in the upper 30's early and the mid 40's in the afternoon. No rainbows in Hood River. Sunday starts off with torrential rain and progresses to Biblical rain midday, before backing off to "raining hard" overnight. Temps on Sunday will be in the mid 40's early and the low 50's in the afternoon. You'll have to head east of Hood River for rainbows on Sunday.
The rain tapers off on Monday morning, for a 97% chance of rainbows. Tuesday and Wednesday look showery. Long-range forecasts show sub-freezing air arriving in Hood River on Christmas Day.

White Sprinter Van of the Day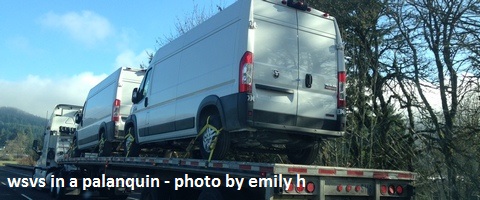 Road and Mountain Biking
I got a report yesterday that Syncline was a mess. If Syncline is a mess, Post is a mess. If Post and Syncline are both messes, Whopdee is likely a mess. That leaves you with Buck Creek, Hospital Hill, Columbia Hills (reportedly in good shape) and the Gorge 400 (definitely in good shape – I was running there yesterday). The road biking will be wet, but at least it won't be icy!


The Clymb: free membership. Cheap gear.
Temira approves. Click to join.
Freshies Bagels and Juice
Hi. I'm Matt. I'm the new owner of the bagel store, now known as Freshies Bagels and Juice. I wake up at 4am every morning to boil and bake the best bagels west of the Mississippi. I was raised in Boston so I know good bagels. I use flour from wheat grown in Washington and Oregon. Local apples and veggies for the juice and smoothies. Freshies is the perfect stop before heading to the mountain or any outdoor adventure. So come on in and say hello at 13 Oak Street, 6:30am to 3pm.
Upcoming Events
Today at 7am, join Sunshine and Rainbows, aka Sea Toad, aka Twinkieface, for a 30-60 minute run leaving 10 Speed Coffee at 13th and State. If you do the run this week, you'll be rewarded with a cup of coffee and a donut. The fun continues weekly with prize giveaways. On Saturday morning at 8am, put on an ugly sweater and run Post Canyon with the Tri Club – meet at the bottom of Post Canyon Road.
Normally on Saturday afternoon, you could ride the Cold Lap cyclocross ride with Dirty Fingers. It's canceled this week due to the Pineapple Express. Instead, on Saturday at 4pm, join the folks from Dirty Fingers for the KringleKrawl, Santacon on bikes. Or maybe not on bikes, given the weather. Dress up in your best Santa outfit and come wreak havoc in Hood River.
Also tomorrow, Saturday, Mt. Hood Meadows is having Brewfest in their lodge combined with a Pray for Snow party. Come on up and taste some brews and do some praying from 12pm to 5pm. Even if you're not there, please do your duty and pray for snow.
Have an awesome day today!
Temira