Random Morning Thoughts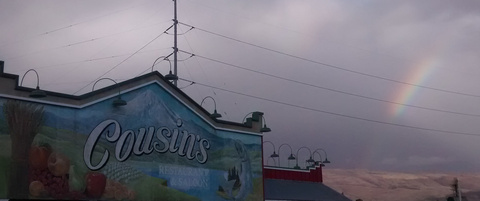 In case you were wondering, gas was $2.92 (cash price) at the Astro in The Dalles yesterday. Gas was $2.99 at Chevron. It was $3.56 at the Shell station just down the street.
I was writing the forecast this morning while listening to the Depeche Mode station on Pandora (yes, again), and that was quite nice, because that station is my mind's equivalent of my tummy's mac n' cheese. Comfort food. When I got to the Random Morning Thoughts, I couldn't come up with anything, but I felt in my gut that something wanted to be said. And I realized the music was blocking me from hearing my heart.
We do that sometimes: we turn on the music or the NPR or the FOX and let those voices drown out our voices, because sometimes our voices are sharing not words but anxiety, sadness, anger, or other things we don't want to hear. So… what would happen if you turned off the radio/TV voices and listened to the voices inside when they're shouting to be heard? Those internal voices have just as much to teach us as the voices coming in through our ears. Maybe more. Maybe those internal voices contain far more wisdom than anything we could find on the FCC spectrum…

Thank you for using this forecast!
Please donate to support it!
Thank you to everyone for using this forecast. Does it save you time, gas money, or help you find more wind, powder, or just plain fun stuff to do? Please consider making a donation to keep it going! Use it here for free or make a donation and get on the mailing list for wind for the summer and Mt. Hood snow in the winter. It's not $99/year. Not $50/year. No, just $12.34 or more gets you on the list for 12 months. Do it via PayPal/CC by clicking on my happy photo below. Don't PayPal? You can send a check to Temira @ PO Box 841 in Hood River. Thank you for your support, and thank you for trusting my forecast. You guys mean the world to me.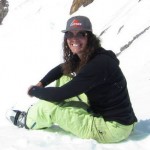 ---
Gorge Wind
We're starting off TGIF with a E .04 gradient and wind in the mid teens at Rooster. Expect the wind to ramp up today as a low pressure system swings along the Oregon coast. By afternoon, we should have rainy 26-30 at Rooster with rainy 21-24 at Steven's Locks. The east wind will crank up overnight, for 30-40 briefly at Rooster tomorrow morning. By early afternoon Saturday, we'll have light wind through the Gorge. At one point, I thought we'd see westerlies from the next system during daylight hours, but now it looks like we'll see 30+ overnight, in the deep, dark useless hours. Sunday brings leftover westerlies at 23-26 east of The Dalles and gusty 13-16 from Swell to Doug's.

Mt. Hood Snow Forecast – 5000′

4a-8a
8a-12p
12p-4p
4p-8p
8p-4a
Friday
Saturday
Sunday
Mt. Hood Snow
There's finally a bit of snow in the snow forecast. This morning starts out dry with the free air freezing level (FAF) at 5500-6000′. We'll see a mix of snow and rain start around noon, with the snow level rising to 9000′ this evening. Wind will be SW 15 early and SW 30 in the afternoon. We'll see about 1" of rain by tomorrow morning.
Saturday starts out dry, but that lasts for just a short period before more rain swings through. The snow level will be 10,000′ early, dropping to 7500′ in the afternoon and 5000′ overnight. Before the snow level drops, we'll see 1" of rain or so. Wind will be SW 35-45 early and SW 40-50 in the afternoon, becoming W 35 overnight. Sunday looks much cooler, with the snow level at 4000-5000′. We'll see around .3-.6" water value (WV) on Sunday, for 3-5" of new snow at 5000′. Wind will be WNW 35 for much of the day.
That snow will be nice to see, but probably won't last all that long as the remnants of Hurricane Ana swings through Monday night or Tuesday, sending the snow level back up around 8000′.
Gorge Wind
It's still a poopy-doopy setup for Gorge wind, and as you may have noticed, I've given up on the wind table for the season. It'll be back next summer, don't you worry. And I haven't given up on the wind. Just on the table. But for now, it's all text, all the time for the wind forecast. We started off today with an east gradient of .05 and east wind in the teens at Rooster. Don't count on those easterlies lasting a long time today, as a weather system will swing the gradient onshore. We'll see less than 10mph in the western Gorge, but the far east beaches (Arlington and further) will see some up-and-down, gusty, rainy west wind maxing out at 24-27 this afternoon. We might see some gusty 15-18 at Maryhill, but I'm not putting money on that. Is it worth the drive? Hmmm… you're going to have to make that call. Tomorrow looks a little more promising.
Tomorrow sees today's weather system head east, and that will give a little more oomph to the wind. Expect light wind in the morning, picking up after noon to gusty 11-14 in the western Gorge. Doug's, Rowena and Maryhill are up in the air with gusty 15-18 possible with a little better chance of 21-24 at Maryhill. Further east, at Arlington, Threemile, and the rest of the sagebrush beaches, expect up-and-down and gusty 25-29 after noon, lasting until dusk.
Friday starts out light and variable, but a big ol' low pressure system approaching the Oregon coast will turn the gradient sharply offshore by midday, for easterlies (very wet easterlies – very rainy easterlies) at 25-29+.
Looking ahead to the weekend, the timing of that low moving onshore is shifting around, and that's shifting the wind forecast around. As of this morning, it looks like we'll see very strong west wind Saturday night into Sunday.
Gorge Weather
I looked at the radar image this morning and it wasn't showing rain. So I put on my orange glasses, my pink hoodie, and my rainbow slippers and walked outside to check the sky cover. Dark. No stars. Low clouds. Looks like an inversion out there, which makes sense given the wet ground and east wind. Expect everyone's favorite, the Thing That Lives In The Gorge this morning. A warm front moves in from the south, bringing us rain by early/mid afternoon. Temps will be in the mid 40's early and upper 50's in the afternoon. Rainbow chances are pretty much nil today.
Tomorrow will be dry before sunrise with showery weather for the rest of the day. It'll probably be mostly cloudy. Maybe even totally cloudy. Temps will be in the upper 40's early and upper 50's in the afternoon. Rainbow chances are 47%, due to east gradients and lots of cloud cover. Sunday also looks showery, with a much better chance of sunbreaks. Temps will be in the upper 40's early and mid 50's in the afternoon with a 92% chance of rainbows.

White Sprinter Van of the Day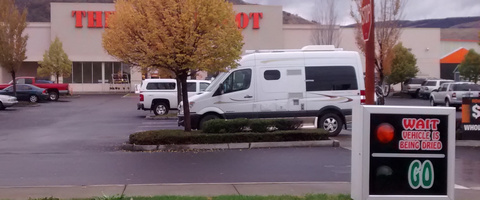 Road and Mountain Biking
I went jogging in Post Canyon after work last night and ran into Megan B. and Clint B. Different B's. The trails are really too muddy to ride, but they're okay for jogging. If you want your car to stay clean, don't bring your dog with you. If Post is too muddy, Whoopdee probably is too. You could try Ranger Jimmy T's 44 Road trails, especially if you'd like one last ride up there. With the snow level dropping to 4000-5000′ on Sunday, the trails may disappear under a white blanket soon.
Don't forget about the Kleeway fundraiser tomorrow night at Dirty Fingers!


The Clymb: free membership. Cheap gear.
Temira approves. Click to join.
River Levels / Fish Counts/Cheezburger Update
The John Day Dam is reading 71kcfs. The Dalles Dam is putting out 92kcfs. There are two river-wide logs on the White Salmon: one just below Cave Rapid on the Middle and one below Cave Wave on the Lower. I have no idea what the current level of the White Salmon is. I forgot to call Wet Planet yesterday. The Hood is at 4.2′, so it's a go, and the Klickitat is at 1150, so it's also at a good level. Yesterday's fish counts were: Chinook, 450. Coho: 2456. Steelhead: 191.
Events – email me if I've missed any outdoor-related events
Mark your calendar for the Kleeway fundraiser at Dirty Fingers and 10 Speed on Saturday night from 5pm on. The HRATS are 2/3 of the way there, having raised $21,000 out of $30,000 to build the new Seven Streams descending trail, saving you and your kids from two-way collisions from now on. The party is family friendly from 5-8pm with face-painting and apple-bobbing and candy eating. After that, break out your singing and drinking skills for a karaoke fundraiser. Socks, boards and brand-new HRATS t-shirts will be available for sale, and all donations to HRATS are tax-deductible. If you ride, jog or do whatever on Seven Streams, please come make a donation.
In other news, tomorrow is the AMS Winter Weather (tea-leaf-reading) Conference at OMSI at 10am. The Hood River Running Club (or maybe it was the Tri Club) has a costume trail run (wedding theme) meeting at Family Man at 8:30 tomorrow. And the Hood River Saddle Club has a rummage sale Saturday morning to raise money for the new horse/hike trail.
Have an awesome day today!
Temira