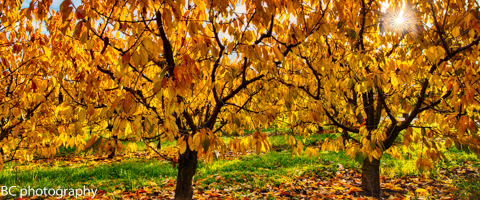 Today is the first day of spring, and in honor of that, Mother Nature has made the decision to bring on winter. It probably won't quite happen tonight, but if nothing changes in the forecast, we're looking at a very wintry start to next week.
Mt. Hood Snow Forecast – 5000′

4a-8a
8a-12p
12p-4p
4p-8p
8p-4a
Today
9000'–>5500'
Tomorrow
5000'–>5500'
The day after
5000'–>4500'
Today started off clear, but high clouds moved in quickly. We'll see a cloudy day with precip starting around 8pm. The snow level will be 9000′ early, falling to 6500′ by 8pm and dropping to 5500′ overnight. Our dear, dear weather models are having a tough time predicting precip amounts with this fast-moving system, so I'll just give you my best guess. We'll see .3-.7" of water value tonight, most of which will fall as rain. The last .1-.2" WV will likely fall as snow, for up to 2" by Saturday morning at 5000′. Wind today will be SW 30 for the morning, rising to SW 40-50 in the afternoon.
Saturday brings a few orographic (terrain-enhanced) snow flurries mixed with a lot of sunshine. The snow level will be 5000′ early, 4000′ midday and 5500′ in the evening. We'll see a total of .1" WV during the day, for an inch or so of snow. Wind Saturday will be SW 35 early, becoming WSW 30 midday and SW 25 in the afternoon.
Sunday starts off partly to mostly cloudy with snow starting around 2pm. The snow level will be at 5500′ in the morning, 5000′ midday, and 4500′ in the evening. We'll see .2" overnight, for 2" of new snow. Wind will be SSW 25-30 all day.
If nothing changes in the long-range forecast, the weather fun factor will increase exponentially on Monday. We'll see .5" WV fall as snow Monday with the snow level around 3500′, followed by another 1"+ WV Monday night into Tuesday. If that really happens, we're looking at 12-18"+ of snowfall, the biggest dump of the season. So, cross your fingers that the long-range models are correct!

Support the forecast – Donate!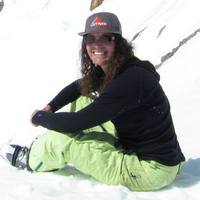 Thank you for using this forecast. Does it save you time, gas money, or help you have more fun in your life? Make a donation to keep it going! Use it here for free or get on the mailing list for wind for the summer and Mt. Hood snow in the winter. Just click on my photo to donate via PayPal or credit card. The email isn't $99/year. Not $50/year. No, just $12.34 or more gets you on the list for 12 months, and sometimes there are cool prizes.Don't PayPal? You can send a check to Temira @ PO Box 841 in Hood River. Thank you for your support, and thank you for trusting my forecast. You guys mean the world to me.
---
Gorge Wind
There's a light easterly breeze at Rooster this morning, but that is going to fade pretty quickly. We'll see westerlies at 10-13 late this afternoon, picking up a little more after 5pm. Tomorrow brings gusty westerlies at 13-16 near Hood River with gusty 25-29 east of Mosier for much of the day. Expect light wind Sunday morning followed by W 10-13 in the afternoon. River water temp is 43 degrees.

Random Morning Thoughts
I've had a few conversations in the last couple of months with people younger than I am, wondering how they can find their calling in life. These peeps all asked me the question, "How do you know when you're on the right path?"
Oh, you know. When you are on your path, the world snaps into focus. You feel conviction, confidence, and a sense of joy in what you are doing. When I'm on my path, I forget that I'm working when I'm working (like right now).
But how do you find that path? You follow your sense of curiosity. You do the things that bring you joy. You explore the intriguing parts of the pieces of your world, even if those parts are just tiny things (you like typing fast, you find pride in your ability to organize, you cook a mean medium-rare steak… whatever it is, follow it further). By teasing out the tiny pieces in your big life puzzle that bring you a sense of grounded well-being, you find your path.
(don't forget that you're supposed to be writing down something you love about yourself each day this month and putting that nice thought in a mason jar for later…)

Gorge Weather Forecast
It appears to be high overcast outside my house this morning, so let's call it a cloudy day in the Gorge today with sprinkles likely after 8pm. Temps will be in the low 40's early and the mid 60's in the afternoon. Light wind. No rainbows. Tomorrow looks partly cloudy with sprinkles. Temps will be in the upper 40's early and the upper 50's in the afternoon. Strong west wind. 97% chance of rainbows. Sunday looks cloudy with showers after 2pm. Temps will be in the upper 30's early and the low 60's in the afternoon. Light wind, 68% chance of rainbows.

White Sprinter Van of the Day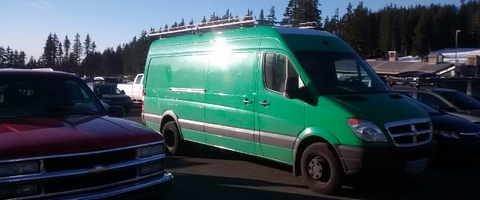 Road and Mountain Biking
Yesterday's Post Canyon report was that the lower sections had a few spots of mud. No report from up high. Steve says you can ride the Whoopdee today, but we all suspect that Post and Whoopdee will be too muddy to ride tomorrow. In addition, Syncline will be super windy tomorrow, so Nestor may be your best bet. Once again, I make the suggestion that you get your upper-elevation road rides in right now, because it looks like we might see snowfall down to 3500′ on Monday and Tuesday. Those rides might just (finally) be gone for the winter. Sunday looks like a great day to ride in the Gorge – light wind and dry weather until mid-afternoon.


The Clymb: free membership. Cheap gear.
Temira approves. Click to join.
Upcoming Events
This morning is the "Save the Baby Trees" work party on the Kleeway. Meet at Family Man at 10am. There's also the amazing 10 Speed Coffee Run at 7am (meet at the 10 Speed on State and 13th), where a 4.5 mile jog gets you free coffee and a donut. There's a trail run with the Tri Club at 8am in Post Canyon on Saturday. Coming up next weekend, it's the Gorge Roubaix bike race and Gravel Grinder fun ride.
Have an awesome day today!
Temira