Random Morning Thoughts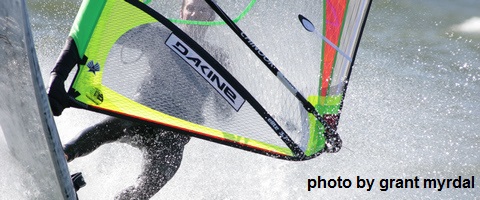 I went on a rant not long ago about student debt. My sister took on a lot of debt when she was in law school, but she used it to rent a luxury apartment in Seattle, buy art, and fill her grocery cart with high-end products at Whole Foods. I don't feel sorry for people who end up in massive amounts of debt for reasons like that. But most students aren't living like Bohemians on student loans. Most are just trying to get an education and end up shackled and duct-taped to inescapable loans. And many have loans from unscrupulous for-profit colleges that take advantage of desperate low-income folks. So, I smiled when I came across the Rolling Jubilee, a 501(c)(4) (same as the SuperPACs, it's worth noting) dedicated to purchasing bundles (aka collateralized debt obligations) of loans for pennies on the dollar and forgiving them. Unfortunately, they're not taking contributions right now, but the idea made me smile. Beautiful.

Thank you for using this forecast!
Please donate to support it!
Thank you to everyone for using this forecast. Does it save you time, gas money, or help you find more wind, powder, or just plain fun stuff to do? Please consider making a donation to keep it going! Use it here for free or make a donation and get on the mailing list for wind for the summer and Mt. Hood snow in the winter. It's not $99/year. Not $50/year. No, just $12.34 or more gets you on the list for 12 months. Do it via PayPal/CC by clicking on my happy photo below. Don't PayPal? You can send a check to Temira @ PO Box 841 in Hood River. Thank you for your support, and thank you for trusting my forecast. You guys mean the world to me.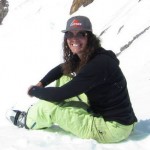 ---
Gorge Wind
We started the day with gradients of .04 (pdx-dls) and .04 (dls-psc). That's enough for something: west wind at 10-13 or so for much of the day. Models say maybe we'll see 13-16, so let's call it a chance of a bit more but likely less.
Tomorrow's a bit more cut-and-dried: East wind at 28-32 at Rooster and 24-28 at Stevenson. Easterlies at 23-26 Sunday morning at Rooster and 20-23 at Stevenson fade to glassy conditions by early afternoon and switch to west 5-10 late in the evening.
Monday brings westerlies in the gusty low to mid-twenties.
At the coast, expect wind and waves today (north/central/south): 5-10/15-20/30-35, SW 3@12 and NW 3@10. Tomorrow: NE 10-15 everywhere, W 8@12. Sunday: light N/LTV/Light S, W 5@11.

Today's Gorge Wind – these are ranges for the average speed, not a predicted wind range. =)

Your favorite beach
Dawn
Patrol
9am-
11:30a
11:30a-
3pm
3pm-
dusk
Rooster's Rocks
last
days
for
rays
Steven's Locks
5-10
10-13
10-13
10-13
Hatchery/White Salmon Sandbar (minus a few for Hood River)
10-13
13-16
13-16
10-13
Doug's, Lyle, Rowena
10-13
13-16
13-16
10-13
Rufus, etc.
10-13
10-13
5-10
5-10
Roosevelt, etc.
10-13
10-13
5-10
5-10
Temira's sail: 35-40: 2.9 / 30-35: 3.2 / 26-30: 3.5
23-26: 4.0 / 20-23: 4.5 less than 20: something bigger!
Tonia's kite: 35-40: 4m / 30-35: 4-6m / 26-30: 5-7m
23-26: 7-9m / 20-23: 8-10 / 15-20: 10-12 / 10-15: 13-15.
Gorge Weather
It will be partly cloudy this morning with a few high clouds slipping by above us in the afternoon, but other than that, it'll be a sunny day with dropping humidity. Temps will be in the mid 60's early and mid 70's in the afternoon. Tomorrow will be sunny with temps in the mid 50's early and mid 80's in the afternoon. Sunday brings temps in the mid-50's early and low 90's in the afternoon.

White Sprinter Van of the Day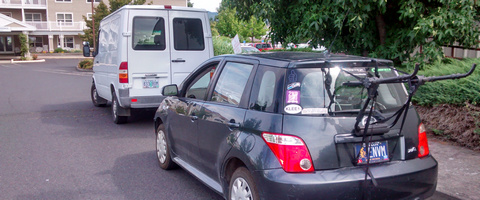 Road and Mountain Biking
If you like riding dusty trails and tacky pavement, start stockpiling mileage right now, because it's going to rain starting next Tuesday, and you'll have to ride tacky trails and wet pavement.


The Clymb: free membership. Cheap gear.
Temira approves. Click to join.
River Levels / Fish Counts/Cheezburger Update
The John Day Dam is reading 56-61kcfs. The Dalles Dam is putting out 69kcfs. The White Salmon is at 1.75′. There is a nearly river-wide log on the Middle White Salmon just after the cave rapid. There is also a river-wide log about 150 yards below Cave Wave on the Lower White Salmon. I called Cheezburger yesterday but didn't get in touch with him. There were 21,,800 Chinook, 5300 Coho and 4200 Steelhead over Bonneville Dam yesterday. Columbia river temp is 67 degrees.

Hood River Adventures – Bike Shuttles, Fishing Trips & More…
Hood River Adventures is a local company owned by Drew Scharns, master guide specializing in fishing tours, mountain bike shuttles, and well as brewery and winery tours. Biologists predict this is going to be the biggest salmon run since 1938. Get some of it: Spend a day with Drew on the Columbia fishing for salmon, steelhead, and sturgeon or try fly fishing on the Klickitat. Feeling active? Head to the trails for shuttle laps with end-of-day car retrieval. Want to taste the local libations? Take a brewery or winery tour with HRA: no more arguments over who's going to be the designated driver – that's Drew's job! Fish counts are way up. Call Drew if you want to go: 541-400-1216

Events – email me if I've missed any outdoor-related events
There's not much going on for events tonight, but tomorrow is the Northwest Homesteading Fair in Lyle, your chance to learn about beekeeping and homeschooling and butchering chickens and all sorts of do-it-yourself stuff. The Ride-row-run relay is in Maupin tomorrow, and the Hood River Running Club has a Post Canyon trail run at 8am.
Sunday is the Grominator Skate Contest at the Hood River Skate Park, for kids 15 and under – that's happening at 9am. There's the Gorge Kids Triathlon at the Waterfront Park in Hood River at 10am, and there's a rafting trip and lecture on the LowerLower White Salmon, brought to you by Gorge Owned.
Finally, today's most exciting piece of news is the rain in the long-range forecast which is starting next Tuesday and continuing through Friday. The fishermen, the mountain bikers and firefighters have all been begging for rain, and it looks like we'll finally get some next week.
Have an awesome day today!
Temira