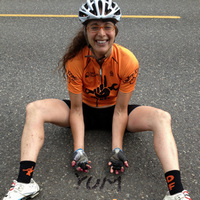 This is Temira!
Thank you all for your donations and kind words during last month's pledge drive. Whew. Glad that's over. I always feel a little weird asking for donations. That said, should you like to get on the daily email list (where you can occasionally win cool stuff), please take the time to click on the sun below and make a donation of $12 or more. That gets you a year's subscription, and it makes me smile, because I know then that the hard work I put into this is worth a lot to you. Thank you for reading my work, and thank you for donating. Have a wonderful day!

Random Thoughts you may or may not regret reading…
There's absolutely nothing better for polishing off a not-so-great-day than a perfect-dirt Post Canyon sunset shuttle with the boys. Thank you, Dirty Fingers, for saving my yesterday and making it my best shuttle run ever. Never mind that I've only shuttled once or twice before. It was great.
Support this local business
Lance Koudele Photography (LKP) has captured product/lifestyle photography for local businesses Celilo Restaurant, TREW Gear, Slingshot Sports, Dakine, Insitu, North Pacific Surfboards and shot international advertising campaigns for Patagonia, Keen, Adidas. Lance understands branding and how to convey it's message precisely through photography. If you need a fresh perspective to lift your buisness to new heights contact LKP.
Wind forecast guess paragraphs
We're still stuck in that coastal low pressure weather pattern today, with another weak weather system moving through. Light west wind early picks up to widespread (you know, like, everywhere) 13-16 this afternoon after these clouds burn off.
Tomorrow starts with light east wind that picks up to 22-25 at Stevenson and Rooster midday with 5-15 elsewhere, except up on the higher ridges, where the easterlies always seem to blow a touch stronger – call it 10-20 in the woods. On Sunday, we'll see westerlies at 17-21, maybe 21-24 if we're lucky, as a front approaches. It'll probably be strongest at Stevenson, but it's a little early to make that call. Btw, there will be no forecast on Sunday, as I'll be pedaling my bike home from Portland.
Today's Gorge Wind

Your favorite beach
Dawn
Patrol
9am-
11:30a
11:30a-
3pm
3pm-
dusk
Steven's Locks
light
light
5-10
13-16
Hatch (subtract a few mph for Event Site)
5-10
5-10
13-16
13-16
Doug's / Rowena / Lyle
5-10
5-10
13-16
13-16
Maryhill / Rufus / The Wall
5-10
5-10
13-16
13-16
Arlington / Roosevelt
5-10
5-10
13-16
13-16
The Clymb: free membership. Cheap gear. Temira approves. Click to join.
Mountain biking news you must read
Yesterday morning's thundershowers worked miracles in upper Post Canyon. At sunset yesterday, the dirt was 90% tack up on 170. Borderline, Bad Motor Scooter, and GP (133/158) were also stellar. And just in time for hero dirt, there's a new shuttle company in town, hauling your lazy ass up to Kingsley Reservoir for $10 for your first lap and $5 for additional laps. 828-773-1653 and 541-400-1216. hoodriveradventures.com. And why do they get a mention? Because they showed up at the Post n' Pint last night, unannounced, and shuttled OUR lazy butts for free to Kingsley.
Btw, I'm kidding about the "lazy" thing. My legs are more sore this morning than they would have been had I pedaled to Kingsley and then bombed back down. Don't get it. Don't care. It was so much fun, and I will pay for that when I ride 108 miles on Sunday.
Now, remember, all the 44 Road trails are reopened, and they got rained on yesterday too. So, one of you be-atches is going to have to go up there and ride today (may I recommend the shuttle from Bennett Pass to Sawtooth Pub?) and let me know about the dirt conditions.
Sports, activities, and other stuff
Coming up tomorrow, the ultra-running crowd has the Bunker to Bonneville race, starting at Whistle Punk Trailhead and finishing up in North Bonneville. Saturday's was the final race of the Gorge Cup Series for the windsurfing crowd, wind permitting, but it's been postponed to Sunday. If you've never raced before, it's free to enter, and as a bonus, there's an end-of-season party at this one. In Cascade Locks on Saturday, there's the open Bic Unregatta sailboat event.
The on Saturday night, open to all Windance Customers, it's the annual customer appreciation party with food, beer, and live music by Walter and the Conquerers.
If you've got too much gear in your garage or you want to add some new gear to your collection, mark you calendar for Sunday, 8am, for the last swap meet of the season, happening at Luhr Jensen. Also Sunday, if you're in the upper valley, keep your eyes open for the riders in the Dirty Sellwood, a 108 mile ride from Sellwood Bikes in Portland to Dirty Fingers in Hood River.
Have an awesome day today!
Temira