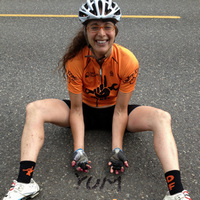 This is Temira!
Thank you all for your donations and kind words during last month's pledge drive. Whew. Glad that's over. I always feel a little weird asking for donations. That said, should you like to get on the daily email list (where you can occasionally win cool stuff), please take the time to click on the sun below and make a donation of $12 or more. That gets you a year's subscription, and it makes me smile, because I know then that the hard work I put into this is worth a lot to you. Thank you for reading my work, and thank you for donating. Have a wonderful day!

Random Thoughts you may or may not regret reading…
Think rain. It might happen Sunday, and we sure could use it up in the woods.
Random Local Advertising
Let's advertise trail closures. See below.
Wind forecast guess paragraphs
If you're a windsurfer or kiter or downwind SUPer, you will like today. If you happen to be battling fires or under an evac order, my thoughts are with you. We have a solid marine layer this morning and west gradients of .07 and another .07 out east. This starts us with WSW-westerlies at 21-23.
A front approaching the coast combines with high pressure down south and a low off Vancouver Island for westerlies at 25-29 after 11am today. Expect the strongest wind to be at Stevenson and Doug's, with gustier conditions near Hood River (which won't stop me from sailing near the Hatchery). I expect the Maryhill section to hit the mid-twenties and the far east to be in the low twenties. If you're a cyclist or part of a fire crew, expect the upper valleys and ridges to be windy too, with gusts over 30mph.
Tomorrow sees a strong marine push as a coastal trough shoves clouds across the Coast Range. We'll start with 15-18 and see 21-24 in the afternoon as a weak system pushes inland. Sunday starts with 15-18, but as that previously mentioned BC low pressure system moves inland, we'll see a short-lived, but strong, late-day burst of SW wind in the hills and W wind on the river.
Don't forget: It's time to nominate folks for the Gorge Windsurfing Awards.
You can do that at CGWA's website through the 28th. Your award choices are: Dale Cook (big air), Grom of the Year, Windsurfer of the Year, Most Selfless Windsurfer, and Most Stoked.
Also, don't forget that new windsurfing windows are 15% off this month at Northwave if you mention "that darn chick Temira and her totally inaccurate forecast".
Today's Gorge Wind

Your favorite beach
Dawn
Patrol
9am-
11:30a
11:30a-
3pm
3pm-
dusk
Steven's Locks
20-23
20-23
24-27
24-27
Hatch (subtract a few mph for Event Site)
20-23
22-25
25-29
19-23
Doug's / Rowena / Lyle
13-15
21-23
25-29
25-29
Maryhill / Rufus / The Wall
13-15
15-18
25-29
24-27
Arlington / Roosevelt
13-15
15-18
24-27
24-27
The Clymb: free membership. Cheap gear. Temira approves. Click to join.
Sports, activities, and other stuff
In Cascade Locks tonight, it's Movies in the Park at Marine Park, showing Wreck-it Ralph, starting at dusk. Hood River's movie tomorrow night, at Jackson Park, is Herbie Goes to Monte Carlo. These are the last movies of the season, so be there.
Coming up this weekend, it's the Bigfoot Bash and Bounty in Home Valley all day on Saturday. Also on Saturday, CGWA is making another attempt at running the King of the Hook. It's old-school windsurfing competition starting at 5:30 Saturday. Then on Friday through Sunday, it's the White Salmon summer concert series with a campout, poker, music, a pig roast, and a salmon feed, brought to you by several local business and my favorite mayor, Dave. Sorry, Arthur, but you didn't get me free tickets to a pig roast.
Fire Information
The Mt. Hood National Forest has closed the following trails: Surveyor's, Oak Ridge, 8 Mile, Zig Zag, Da Kine, Knebal, Bottle Prairie, Dog River… basically, anything north of the 44 Road is closed. The 17 Road between Surveyor's and the 44 Road is closed, and they'll be conducting back burns along that road today. The not-yet-open SuperConnector trail is also closed. Closure map is here.
Why? During the east winds over the last couple of days, the fire jumped the western fire line and grew in a westerly direction. The crews are attempting to establish a new fire line on the west side of the fire. If you want to see the fire boundaries, head here for all 12 maps associated with the fire.
Have an awesome day today!
Temira