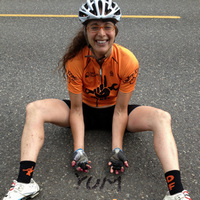 This is Temira!
Thank you all for your donations and kind words during last month's pledge drive. Whew. Glad that's over. I always feel a little weird asking for donations. That said, should you like to get on the daily email list (where you can occasionally win cool stuff), please take the time to click on the sun below and make a donation of $12 or more. That gets you a year's subscription, and it makes me smile, because I know then that the hard work I put into this is worth a lot to you. Thank you for reading my work, and thank you for donating. Have a wonderful day!

Random Thoughts you may or may not regret reading…
I have nothing to say this morning.
Wind forecast
A very solid, deep, and chilly marine layer slid into Hood River yesterday evening, just about the time I was standing atop Mitchell Ridge in full summer spandex kit. This cold air will combine with desert sunshine today for another round of west wind. Morning gradients are .08/.07, giving us upper teens early. Expect the wind to build from a slow start to 25-28 today from Lyle to Rufus. We'll see gusty upper teens to low twenties from Stevenson to Hood River, and 22-25 at Arlington this afternoon.
Warmer weather, less marine layer, and higher pressure tomorrow kicks the wind down a bit. I think 21-24 looks reasonable for the morning, strongest near Hood River and filling in at Stevenson midday. Models suggest the wind will back off to 15-18, but I'm not buying it. Models suggest very light wind on Sunday, but I'm going with the gut instinct call of W 15-18. Stronger westerlies look set to return on Monday.
If you need photos this weekend, Grant Myrdal and his team will be out taking photos. Look for the blue flags along the beach. You can purchase photos at his booth at the Event Site, or you can scan the photos at his website.
If you need a new window in one of your sails, you can get one at Northwave for 15% off through August by mentioning you read about it here.
Today's Gorge Wind

Your favorite beach
Dawn
Patrol
9am-
11:30a
11:30a-
3pm
3pm-
dusk
Stevenson
5-10
10-15
15-18
17-21
Hatch (subtract a few mph for Event Site)
17-21
17-21
21-24*
21-24*
Doug's / Rowena / Lyle
17-21
17-21
24-28
24-28
Maryhill / Rufus / The Wall
17-21
17-21
24-28
24-28
Arlington / Roosevelt
17-21
17-21
22-25
22-25
The Clymb: free membership. Cheap gear. Temira approves. Click to join.
Other News
This evening is First Friday in Hood River, with lots of art on display, and plenty of time to catch up with your friends while you're walking around. Please dress up a little. It's more fun for everyone if everyone looks pretty. Or slutty. Or dapper. Or… anything but board shorts and T's, folks. Make Temira happy with a little class n' style! Free "The Gorge is my Gym" stickers or "You can't spell Temira without TMI" stickers if you look pretty tonight!
If you're around this weekend, make plans to check out some sailboat racing: Cascade Locks hosts the Tasar North American Championships, along with lots of other sailboat races. Hood River is hosting the Moore 24 championships on Saturday and Sunday. Also this weekend, there's the Bridge of the Gods Kite Fest blowout race from Stevenson to Hood River, and there's Gorge Cup Windsurfing races at Hood River's Event site.
Also on Saturday at the Waterfront Park, Big Winds has a free standup paddle race at noon – there are no entry fees and no tropies, and it should be a great, fun event. On Sunday, CGWA has a swap meet at the Luhr Jensen parking lot – if you're headed to the swap, consider joining CGWA while you're there – your local advocacy organization does a lot for you and deserves your support.
Have an awesome day today!
Temira