Please support this forecast by clicking on the photo of the forecaster!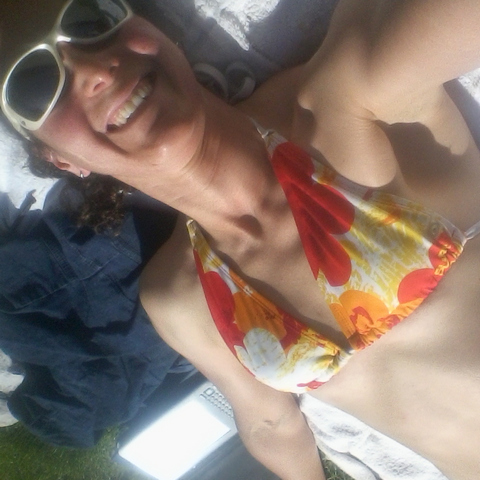 Your forecaster. Click on her to donate. Thank you!
Thank you for using this forecast. Please tell your friends about it! And if you or your friends think this service is awesome/useful/saves you gas money/makes your life more fun, make a donation by clicking on my photo above. Is more fun worth $50/year? $20/year? Donate what it's worth to you (and thank you!), but $12 minimum gets you on the email list (with occasional giveaways) for a year. Thank you for your support, and have fun today!
Random Morning Thoughts
I don't like adrenaline.
Mt. Hood Snow Forecast
The models are kinda back and forth on precipitation on Mt. Hood tomorrow. I'm leaning towards light sprinkles rather than no precip, but for the real answer, you can check the Meadows website tomorrow, because their snow reporting team is as honest as Abe Lincoln on truth serum. The ski resorts will likely get a few inches of snow on Saturday night, but Timberline will be the only resort left open come Sunday.
Today's Gorge Wind

Your favorite beach
Dawn
Patrol
9am-
11:30a
11:30a-
3pm
3pm-
dusk
Rooster's Rocks
W 5-10
W 5-10
W 5-10
W 5-10
Steven's Locks
W 5-10
W 5-10
W 13-15
W 15-18
Hatchery (minus a few for Hood River)
15-18
light
15-18+
23-26+
Doug's, etc.
15-18
24-27
26-30
24-28
Rufus, etc.
15-18
21-23
24-28
24-28
Roosevelt, etc.
15-18
21-23
24-28
24-28
Gorge Wind
We're starting off this morning with good, solid, gradients: .10 (pdx-dls) and .10 (dls-psc). With gradients like that, it should be ripping windy, but it's not, because this isn't an ideal setup. Instead, we have upper teens everywhere. But don't you worry – the wind will pick up, even if it is a bit gusty today. You can expect the wind to pick up to 21-24 near Hood River and 26-30(+?) at Doug's by mid-morning, picking up to 24-28 east of The Dalles after 2pm. The Columbia is at 263,000cfs at The Dalles, which seems to be an okay level for Rufus.
Tomorrow starts with 15-18 through the whole Gorge, with the possible exception of Steven's Locks. The wind will pick up to 24-27 in the afternoon, strongest from Hood River to Doug's. Sunday starts with westerlies at 10-15 or so, maybe a bit less, picking up to gusty, rainy 21-24 in the afternoon.
Gorge Weather
We have high clouds this morning, no surprise given the offshore low pressure system. We'll see high clouds and some filtered sun today with temps rising into the low 70's and increasing west wind. Saturday starts off cloudy with temps in the upper 40's, rising to the upper 60's with light westerlies early picking up in the afternoon. We'll probably see some showers overnight.
Sunday also looks cloudy. Temps will be in the mid-40's early and low 60's in the afternoon with light westerlies early and moderate westerlies in the afternoon with a decent chance of thunder, lightning, and downpours after noon.
Road and Mountain Biking
Today is National Bike to Work Day. So bike to work. And then ride dirt. The dirt's holding up pretty well in Post Canyon, with just a few patches of ball bearings. If the forecast is correct, we'll see some sprinkles in there Saturday night, for really good dirt on Sunday. And if that doesn't pan out, we'll probably see some precip from the convective clouds on Sunday afternoon and evening. Did I mention that Knebal is open? I think so, but I'll mention it again. Apparently there's not a lot of snow on 8 Mile, but there are a lot of downed trees.
The Clymb: free membership. Cheap gear. Temira approves. Click to join.
River Levels
The White Salmon is at 4.25′, and JDL says that's an awesome level for rafting. Thanks for the report, girl. The Hood is at 5.1′ and the Klickitat's at 2430cfs.
Events – email me if I've missed any outdoor-related events
Coming up Saturday, there are a bunch of events. It's the last day of ski season at Meadows, rain or shine, and it looks like the resort might get lucky and see the rain hold off until the afternoon. The Washougal Motorcross track hosts the Race for the Future mountain bike race, benefiting the Evergreen Student Mountain Bike League. Windsurfers have a slalom race at Hood River's event site.
Also on Saturday, there's a meeting about the future of the Lower Lower White Salmon at the Husum fire house at 9am. There's a free youth fishing clinic at Middle Fork Pond on Laurance Lake Road from 8 to 1, and the Hood River Running Club has a trail run meeting at the bottom of Post Canyon at 8am.
Coming up Sunday, Windance has a swap meet in the morning and Big Winds has a free standup paddle clinic for all kids ages 7 to 14. That clinic's from 1 to 4.
Have an awesome day today!
Temira