Please support this forecast by clicking on the photo of the forecaster!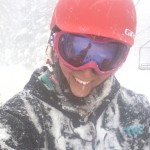 Your forecaster. Click on her to donate. Thank you!
Thank you for using this forecast. Please tell your friends about it! And if you or your friends think this service is awesome/useful/saves you gas money/makes your life more fun, make a donation by clicking on my photo above. Is more fun worth $50/year? $20/year? Donate what it's worth to you (and thank you!), but $12 minimum gets you on the email list (with occasional giveaways) for a year. Thank you for your support, and have fun today!
Random Morning Thoughts
The New York Times mentioned my blog in an article about Hood River yesterday. I can die happy now. After reading the article, I emailed them and asked them to link to me, because what's a mention without a link? We'll see how that goes. =)
Mt. Hood Snow Forecast – 5000′

4a-8a
8a-12p
12p-4p
4p-8p
8p-4a
Friday
Saturday
Sunday
Mt. Hood Snow Forecast
Sadly, we didn't get 5-7" last night like I thought we would. That makes me especially sad because I wanted hoards of people to head to Skibowl bearing cans of food in exchange for free skiing. There's still enough new snow to make it worth heading over for free skiing. Why wouldn't you? It's Skibowl, home to the Upper Bowl and the best nachos around!
Anyway, today starts off snowy on Mt. Hood, becoming increasingly sunny during the day. The snow level will be 3000′ early and 4000′ in the afternoon. A total of .1-.2" water value (WV) will fall during the day, for 1-2" additional snow. No snow tonight. Wind will be SW 25 early, fading a little bit midday, and then becoming W 20-30 in the afternoon.
Saturday starts off partly cloudy or maybe clear, but an approaching front sends clouds over Mt. Hood midday. Precip starts around 5pm, with .6-.8" falling by Sunday morning. The snow level will be 3000′ early, 5500′ around 5pm and 6500′ by 2am Sunday. So yes, we have a bit of a problem here. This is subtropical moisture, but it's taking a chilly detour north before dropping down to Mt. Hood. Even so, I suspect we're going to see mixed rain and snow on Saturday night, with the optimistic possibility of the precip just falling as very wet snow. That happens a lot this time of year. Anyway, let's call this 2-3" of snow. Wind will be WSW 15 early on Saturday, rising to W 25 late afternoon and WNW 35+ overnight.
Sunday starts off partly cloudy with some orographic sprinkles likely. Rainbows are likely too. The snow level will be 6500′ early, 5500′ mid-morning, and 7500′ in the afternoon. Wind will be WNW 35+ early, fading to NW 20-30 in the afternoon. Monday looks clear and warm with light wind.
Gorge Wind
Light west gradients are starting the day. We'll see them pick up just a bit, giving us W 9-12 in the western Gorge and W 15-18 east of Mosier later on today. Saturday starts with W 15-18 most places and picks up to gusty 21-24 at Lyle and Maryhill in the afternoon. Sunday brings light west wind early and W 24-27 east of The Dalles in the afternoon with less wind near Hood River – it really depends on cloud cover Sunday, and I'm not guessing this far out!
Gorge Weather
It's looking like a partly cloudy start to the day with some showers, but we'll be back to mostly clear by this afternoon. If the showers stick around long enough this morning, we'll see rainbows. It's been a few days since I saw a rainbow, so I have my fingers crossed. Wind will be light this morning, increasing to moderate W. Temps will be in the mid-40's early and mid-50's later.
Saturday starts partly cloudy, becoming just-plain-cloudy in the afternoon with rain after 4pm. Wind will increase out of the west during the day. Temps will be in the low 40's early and low 50's in the afternoon.
Sunday looks partly cloudy early, becoming clear in the afternoon with moderate west wind. Temps will be in the 50's early and upper 50's late. Monday should be in the 70's, and Tuesday should be a bit cooler and cloudier.
Road and Mountain Biking
I went for a road ride yesterday, and the further west I went, the more drenched I got. That leads me to suspect that Post Canyon also ended up drenched yesterday. 8:20am update: Whoopdee is a muddy mess. Please don't ride it. And now it's rainy, so Syncline is probably muddy too. *sigh* Guess we're all going running, Spinning, and road biking today.
River Levels
The Hood is at 5.2′. The Klickitat is at 2180 cfs. The White Salmon is at 4′. And the kayakers are talking about starting up happy hour paddles next Wednesday. Speaking of river activities, Wednesday night sailboat races start up on April 16th and continue through September 24th.
The Clymb: free membership. Cheap gear. Temira approves. Click to join.
Events – email me if I've missed any outdoor-related events
Today is Sunshine Division free ski day at Skibowl if you show up with 8 cans of food. Over the last 26 years, Skibowl has donated 57 TONS of food through this event. Yay Skibowl! Tomorrow is the King and Queen of the mountain race at Skibowl and the Full Sail Banked Slalom at Meadows. Sunday is Hood River Appreciation Day at Meadows, taking place AT THE MAIN LODGE. More importantly, or maybe not, Dirty Fingers is showing the Tour de Flanders bike race at 3pm on Sunday. They'll be serving up food and beer and doing whatever else people do in a bikeshopbar.
Have an awesome day today!
Temira