Please support this forecast by clicking on the photo of the forecaster!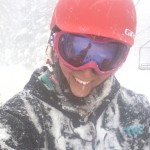 Your forecaster. Click on her to donate. Thank you!
Thank you for using this forecast. Please tell your friends about it! And if you or your friends think this service is awesome/useful/saves you gas money/makes your life more fun, make a donation by clicking on my photo above. Is more fun worth $50/year? $20/year? Donate what it's worth to you (and thank you!), but $12 minimum gets you on the email list (with occasional giveaways) for a year. Thank you for your support, and have fun today!
Random Morning Thoughts
When I grow up, I want to be a trustfunder so I can spend more time volunteering for the causes I care about and less time working to pay my bills.
Mt. Hood Snow Forecast – 5000′

4a-8a
8a-12p
12p-4p
4p-8p
8p-4a
Friday
Saturday
Sunday
Mt. Hood Snow Forecast
Mt. Hood received a couple inches of snow last night. That's a nice treat, and within yesterday's prediction of 1-3" overnight. It's always nice to get it right in spring – this is a really tough time of year to forecast on Mt. Hood. Anyway, today starts with a few terrain-enhanced snow flurries (orographic, my favorite word), becoming sunnier midday with high clouds in the afternoon. The snow level will be 2000′ early, 4000′ midday and 6000′ in the afternoon. No accumulation. Wind will be NW 30-35 early and W 15-20 in the afternoon.
Saturday starts off partly cloudy, quickly becoming cloudy, with precip starting after 11am and likely finishing by 5pm. The snow level will be 8000′ early, 6000′ at 11am, 5500′ at 2pm, and then will fall to 2500′ overnight. Models predict about .3" water value (WV) between 11am and 5pm, and I suspect, despite the warmer-than-freezing air, that it'll all fall as snow. Call it 2" of new. After all, it was snowing at 35-38° on Mt. Hood yesterday. Wind on Saturday will be SW 15-20 early, SW 30-40 midday, WSW 35-45 mid-afternoon, and W 35-45 overnight.
Sunday looks partly cloudy. The freezing level will be 2500′ early, 6000′ midday, and will rise to 8000′ in the afternoon. Wind will be W 25-30 early and SW 20-30 in the afternoon.
Looks like we'll see a series of weather systems next week.
Gorge Wind
The 5am gradients were .05 and .09 this morning, enough for mid-teens at many places and an errant 30mph reading at Arlington. We'll see the wind slowly die today, dropping to W 5-10 this afternoon. Your best bet for wind will be Mosier to Maryhill before 1pm.
Saturday looks exciting: We start with east wind at 22-25 before 8am, quickly dying, and then switching to W 28-32 after 2pm. We'll probably see the strongest and steadiest wind from Lyle to Arlington (and I recommend you drive preemptively), but I suspect we'll see a couple hours of gusty 23-26 near Hood River as well. Steven's Locks too.
Expect light west wind Sunday morning becoming just-plain-old-light in the afternoon.
Gorge Weather
It's partly to mostly cloudy outside my window this morning with clouds drifting from the west to the east. We'll see that kind of weather this morning, more sun midday, and then high clouds late in the afternoon. Temps will be in the mid-40's early and mid-50's late with light west wind.
Saturday starts off cloudy, becoming showery after 11am. Rainbows are possible after 2pm. Temps will be in the low 40's early and the low 50's in the afternoon. Sunday looks partly cloudy, becoming sunny, with temps in the low 40's early and upper 50's or low 60's in the afternoon.
Road and Mountain Biking
It rained enough yesterday that the Post n' Pint got canceled, much to my dismay. The question now is whether the trails have dried enough to make them good today. I suspect Whoopdee or Buck Creek are your best bets today, or Syncline this afternoon after the wind dies. I'll go check out Post Canyon for you. How's that? =) Road biking will be better this afternoon than this morning, as it'll be windy early.
Tomorrow looks good for road biking in the morning before nuclear-force west winds drive you off the road in the afternoon. And Sunday looks GREAT for road biking! Remember that it's Blossom Fest weekend, and there will be lots of traffic on the roads. Please ride single-file.
And don't forget about the Short Track Race tomorrow in Cascade Locks. Serious fun.
River Levels
The Hood is at 5.2′, the Klickitat is at 2230 cfs, and the White Salmon is at 4′.
The Clymb: free membership. Cheap gear. Temira approves. Click to join.
Events – email me if I've missed any outdoor-related events
Tonight at 7pm, come to Hood River Middle School for the local screening of the award-winning film "DamNation" about dams and dam removal, including Condit Dam on the White Salmon. This should be a great film, and I'm going to recommend it. If you want to see a quick short about Condit Dam, check out local filmmaker Andy Maser's brilliant work on the subject.
Saturday is the Gorge Short Track mountain bike race at Cascade Locks' EasyCLIMB trail. I rode in the Thursday night series last year, and it was pretty much awesome. If you have Saturday free (sadly, I'm working), I'd highly recommend doing the race. You can get more information here. Also at EasyCLIMB on Saturday, the DimWits (the trail builders) are having a campout and night ride. Riverkeeper has a cleanup at Mayer Park on Saturday from 10am to 2pm. If you're interested in participating, shoot them an email at volunteer@columbiariverkeeper.org
And finally, one reminder, the Hood 2 River Relay is May 31st. It's like Pole-Pedal-Paddle, only way cooler. And closer, and run by radder people. So check it out, and get yourself or your team signed up now.
Have an awesome day today!
Temira