Please support this forecast by clicking on the photo of the forecaster!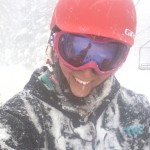 Your forecaster. Click on her to donate. Thank you!
Thank you for using this forecast. Please tell your friends about it! And if you or your friends think this service is awesome/useful/saves you gas money/makes your life more fun, make a donation by clicking on my photo above. Is more fun worth $50/year? $20/year? Donate what it's worth to you (and thank you!), but $12 minimum gets you on the email list (with occasional giveaways) for a year. Thank you for your support, and have fun today!
Random Morning Thoughts
I got my first sunburn of the season yesterday!
Ski to Defeat ALS
Coming up this Saturday at Mt. Hood Meadows, it's ski to defeat ALS. This fun and fantastic fundraiser is doing an amazing job raising funds to defeat a horrible disease. As you've probably heard, Fred Noble, doer of so many good things for the Gorge, was diagnosed with ALS in 2010. You can help him reach his goal at this year's event, his last, by making a donation. Thanks for your support!
Mt. Hood Snow Forecast – 5000′

4a-8a
8a-12p
12p-4p
4p-8p
8p-4a
Friday
Saturday
Sunday
Mt. Hood Snow Forecast
Sun will have to substitute for snow on Mt. Hood for the next several days, but that's okay by me if Superbowl is open. Expect the freezing level to be around 10,000′ today with NW wind at 15 in the morning and 25 in the afternoon.
Models are saying interesting things about the temps on Saturday: They predict the freezing level will be 8000′ early and 5500′ in the afternoon. I suspect the afternoon temps will be higher, keeping the freezing level around 8000′. Wind will be NW 25 early, becoming NNW 20 in the afternoon.
On Sunday, the freezing level starts at 3500′ and rises to 10,000′ in the afternoon. Wind will be N 25 early and NE 20 in the afternoon. Sunday is Ski Free day at Skibowl. You can ski for free with no strings attached or you can (guilt trip follows) bring four or more cans of food for the Portland Police Bureau's Sunshine Division.
Gorge Wind
As of 5am, the gradient across the Cascades was .09. As a weak weather system heads to the east today, we'll see the westerlies bump up a bit. You can expect 16-19 from Hood River to Mosier this morning with 21-24 at Stevenson and the Lyle beaches this afternoon. We might see a bump to the low 20's near Hood River in the early afternoon as well.
Tomorrow starts with 18-23 from Hood River to Mosier, but backs off to 5-10 or less in the afternoon. Sunday brings east wind at 30+ at Rooster and 24-28 at Stevenson.
Out on the coast, the fun continues. The north coast may see some drizzle today, but the central coast sees northerlies at 30. Expect 30-40 at the south coast. 5′ swell at 10 seconds today. Saturday sees 20mph at the north coast 25mph at the central, and 30+ on the south coast with a 6′ swell at 11 seconds. The wind turns more offshore on Sunday. Hard to tell if it will be good for either wind sports or surfing at this point. But the waves will be my absolute favorite: 6′ at 16 seconds.
Gorge Weather
Sunshine, sunshine and more sunshine. Temps will be in the upper 40's this morning and mid 60's this afternoon with moderate west wind. Saturday starts with temps in the upper 30's and moderate west wind. By afternoon, we'll see temps around 60 with light west wind. Sunday looks sunny with temps in the mid to upper 30's early and upper 50's late with no wind early and light east wind, becoming stronger the higher you go, in the afternoon.
Road and Mountain Biking
I don't get it. Yesterday morning I was talking about how muddy it was in Post. When I rode at 6pm yesterday, there were ball bearings all over the place. How in the world does dirt dry out that fast? And how is it possible for my legs to be as destroyed as they are today? Oh… yeah… I tried to keep up with men. Fast men. Men who carried on conversations while I simply struggled to get enough oxygen. Why, oh why, did I let myself gain ten pounds this winter? Why am I telling you this? Just go ride your bike. The dirt is in great shape. And the road biking should be great tomorrow afternoon and Sunday morning. Oh yeah, and Woody says they swept Tucker Road a few days ago, so that's great news!
River Levels
The Hood is at 5.2′, the Klickitat is at 2400 cfs, and the White Salmon, as of yesterday, was at 4.6′. That's a pretty awesome level for whitewater rafting, so maybe take advantage of this nice, sunny weekend and go for a rafting trip.
The Clymb: free membership. Cheap gear. Temira approves. Click to join.
Events – email me if I've missed any outdoor-related events
Coming up on Saturday, it's Ski to Defeat ALS at Mt. Hood Meadows. The Cherry of a Ride, benefiting St. Mary's Academy, is happening in The Dalles – they should have perfect weather. Its also the Northwest Creeking Competition on the East Fork of the Lewis River and on Canyon Creek. Sunday is Ski Free Day at Skibowl. You can ski 100% for free, or you can be a good human being and bring 4 or more cans of food for the Portland Police Bureau's Sunshine Division.
Have an awesome day today!
Temira