Please support this forecast by clicking on the photo of the forecaster!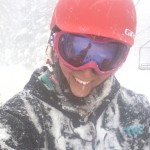 Your forecaster. Click on her to donate. Thank you!
Thank you for using this forecast. Please tell your friends about it! And if you or your friends think this service is awesome/useful/saves you gas money/makes your life more fun, make a donation by clicking on my photo above. Is more fun worth $50/year? $20/year? Donate what it's worth to you (and thank you!), but $12 minimum gets you on the email list (with occasional giveaways) for a year. Thank you for your support, and have fun today!
Interesting Local Opportunity
The Hood River Sister City Committee is immediately seeking candidates for a unique position that places a Hood River County resident in Japan for one year starting this summer. The Coordinator of International Relations position comes with a competitive salary and benefits package and living arrangements in Tsuruta, Japan, Hood River's longtime sister city. The CIR works at the Tsuruta town office and is responsible for helping with exchange activities, maintaining communications between cities and teaching basic English to the townspeople. For more information or to get an application, contact Sister City President Niko Yasui at nyasui@hoodriver.k12.or.us or call 541-490-2876. You can also contact me, Temira, if you have more questions about what the position involves.
Random Morning Thoughts
Know how I'm always saying not to rely on long-range models? I'm trying to plan a bike ride to Vancouver next week based on long-range models. They keep changing and messing up my plans. Let this be a lesson to us all. Don't rely on long-range models. And start thinking happy thoughts for a warm, sunny, no-wind Friday next week. Maybe we can generate the weather I want!
Mt. Hood Snow Forecast – 5000′

4a-8a
8a-12p
12p-4p
4p-8p
8p-4a
Friday
Saturday
Sunday
Mt. Hood Snow Forecast
It looks like we'll see some snow on Mt. Hood in the middle portion of next week. Until then, we'll see sunshine mixed with partly cloudy periods.
We'll see a sunny day on Mt. Hood today with cloudy periods mixed in. Or we'll see a cloudy day with sunny periods mixed in. The free air freezing level (FAF) will be around 500′ this morning (or maybe at the surface – not really sure if there's an above-freezing layer out there), rising to 5000′ this afternoon in the March sun. Wind will be light and variable (LTV) today.
Saturday looks sunny. The FAF will be 1000′ early and 6000′ in the afternoon. Wind will be LTV becoming W 10 in the afternoon.
Sunday looks clear and sunny. The FAF will be 4000′ early, 5500′ midday and 6500′ in the evening. Wind will be WNW 15 early becoming NW 20 in the afternoon.
Monday looks warm and sunny, with high clouds moving in during the afternoon. The freezing level will be around 8000′. Wind will be light W in the morning becoming SW 30 in the afternoon.
Gorge Wind
It doesn't look like we'll see much wind in the Gorge over the next few days, meaning the road bikers and kayakers and folks with big hair will be quite happy. More specifically, we'll see light wind today with a midday bump to E 15-18. Tomorrow brings E 21-24 for a short time. Sunday just looks light. If you are in need of wind sports, try the coast. 20-30 everywhere today (more at the central coast) with a 7′ swell at 13 seconds. Tomorrow looks lighter on the north coast, but the central coast should see 20-25 with 8′ at 15 seconds.
Gorge Weather
Gorge weather looks nothing short of spectacular the next few days. We'll see sunny weather today with some high clouds in the afternoon. Temps will be in the low 30's early and upper 40's in the afternoon. Saturday looks clear with light wind and temps in the low 30's early and mid 50's in the afternoon. On Sunday, expect clear sky, light wind, and temps in the mid-30's early and low 60's in the afternoon.
Road and Mountain Biking
I'm not sure how much damage the sub-freezing temps did yesterday morning, but as always on a freeze-thaw day, it's best to avoid the sunny trails. The roads, however, will be perfect. And I suspect you'll find epic dirt too.
Next, an announcement about Hospital Hill: The Kreps will be putting cattle out on our spring pasture starting Monday the 24th and would appreciate it if people would avoid using the area from Spring Creek Corrals down to the Hospital from noon to 5 pm so we can move and distribute the animals. So, no parking there from the 24th thru 31st. Also, NO DOGS from now thru July 1.
The Clymb: free membership. Cheap gear. Temira approves. Click to join.
Events – email me if I've missed any outdoor-related events
Coming up this weekend, it's the Snow Beach Party at Skibowl, with pond skimming and wing easting and beer drinking. On Sunday, Mt. Hood Meadows has the spring demo day, with free demos of next year's gear.
Have an awesome day today!
Temira