Please support this forecast by clicking on the photo of the forecaster!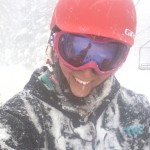 Your forecaster. Click on her to donate. Thank you!
Thank you for using this forecast. Please tell your friends about it! And if you or your friends think this service is awesome/useful/saves you gas money/makes your life more fun, make a donation by clicking on my photo above. Is more fun worth $50/year? $20/year? Donate what it's worth to you (and thank you!), but $12 minimum gets you on the email list (with occasional giveaways) for a year. Thank you for your support, and have fun today!
Random Morning Thoughts
I slept in 'til 6:50 today. That must be a record. Sorry about the late forecast.
Cool Local Business – Please Support It
ReRack, a 6-year-old Portland business, is your place to buy, sell, and trade your Yakima and Thule rack parts. Brilliant idea, right? They provide free advice and free basic installation too. Head to ReRack, 2240 NE Sandy Blvd, to buy your first rack, sell your old rack or better yet make your old rack work on your new vehicle! Check out www.rerackpdx.com or Call (503) 875-6055 for more information. Go check it out. What a brilliant idea!
Mt. Hood Snow Forecast – 5000′

4a-8a
8a-12p
12p-4p
4p-8p
8p-4a
Friday
Saturday
Sunday
Mt. Hood Snow Forecast
The next several days bring a very complicated weather setup to the region, making predicting the weather for Mt. Hood equally as difficult as predicting the weather for the Gorge, one of the most difficult places to predict in the world. Figures that I'd try. I'm a glutton for punishment. Basically, models are predicting snow for Mt. Hood all weekend without any real organized weather systems moving through. Last time this happened, we saw several inches of easterly-driven orographic snowfall. So, I'm going to hedge a bit on what the models are saying, but still go with snow.
This morning looks partly cloudy on Mt. Hood, with low clouds down low and some high clouds moving in. By afternoon, it'll be cloudy, and by 7pm, it'll be snowing. We'll see the snow level at 3500′ early, dropping to the surface by 10pm. We'll see .2-.4" water value (WV) between 7pm today and 4am Saturday, for 2-4" of new snow. Wind will be light and variable early, becoming S at 10-15 this afternoon.
Saturday starts off mostly clear with some low and mid-level clouds, possibly rising above ski area base elevations for foggy conditions. Temps will be in the low double-digits at 5000′ and in the 20's at 8000′. Models claim these mid-level clouds will produce snowfall in the afternoon, for .2-.4" WV overnight and 2-4" of new snow. Okay. Let's go with it. But one other prominent feature shows in the Saturday models: heavy precip about 50-100 miles south of Mt. Hood. If that shifts between now and reality-time, we'll see very heavy snowfall on Mt. Hood on Saturday. Wind will be W 15 early, rising to W 30-40 in the afternoon.
Sunday looks fascinating. Mt. Hood starts with mid-level clouds and snowfall, and then a warm front moves in during the afternoon. Temps at 5000′ will slowly warm during the day, but will remain below freezing until 10pm or so. However, I think we'll see snow in the morning starting around 10am, followed by a switch to sleet, freezing rain and rain sometime between 4pm and 7pm, as temps rise above freezing at 6000′. So, we'll see .4-.6" water value (WV) before the switch for 2-3" of heavy, dense snowfall. After the switch, models are insisting on an impressive 2" of water value that falls as rain, snow, sleet and freezing rain. Yuck. Wind on Sunday will be WSW 35-40 during the day, rising to WSW 40-50 after 4pm.
On Monday, models show the snow level at 6000-6500′ with 2-3" WV. Wet. Very wet. And windy, with westerlies at 40mph.
Gorge Wind
The NOAA AFD this morning was talking about limited east wind today with only a .03 gradient, but that gradient is up to .11 as of 7am. So take that, NOAA. Wind speeds are currently in the mid-20's at Steven's Locks and upper 30's at Rooster. They will stay there, or maybe increase a bit. Saturday brings east wind at 40-50 at Rooster and Sunday brings easterlies at 30-40. By Monday midday, we'll be back to west flow.
Gorge Weather
We're expecting cold air to move into the Gorge today or tonight. If you'd like to watch the progress of the cold air, check this map of temps.
Gosh this is a tough one. Models are all over the place with how much cold air we'll get, when we'll get it, and what the p-type will be when moisture encounters this cold air. So, let's take this one piece at a time. Today will bring temps in the upper 30's this morning, going to the low 40's this afternoon and dropping below freezing sometime tonight. The Gorge will spend the day under an inversion cloud that's topped with high clouds. Precip will start between 7pm and 10pm. It may start as rain, but will switch to snow overnight for a trace to 2" by morning. Roads will be very slick Saturday morning.
Saturday looks cloudy, with mid-level clouds blocking the sun from the chilly Gorge. Temps will be in the 20's all day. At this point, it looks like the majority of the precip in Oregon tomorrow will stay south of Mt. Hood, meaning we'll see a mostly dry day in the Gorge. However, if anything changes between now and then, we could see a very snowy day. We will see snow after 4pm, for another 1-3" by Sunday morning.
Things get really difficult Sunday. If the GFS sounding is correct, we'll stay sub-freezing through early Monday morning. It's actually been scouring the cold air out too slowly this year, in sharp contrast with the other models. So, I suspect that we'll see snow starting mid-morning Sunday, switching to freezing rain after 4pm and switching to plain-old-rain after midnight. Sunday will not be a good day to drive through the Gorge.
Monday looks much warmer, and very, very wet.
Road and Mountain Biking
If you like riding in above-freezing temps, today is your day. If you like riding roads that aren't covered in snow and ice, today is your day. If you like tacky Syncline, today is your day.
The Clymb: free membership. Cheap gear. Temira approves. Click to join.
Events – email me if I've missed any outdoor-related events
Coming up March 8th, it's Bowl For Kids' Sake, the annual fundraiser for Big Brothers, Big Sisters. Now look, folks. This program saves lives. Kids who have a "big" have lower dropout rates, better mental health, better grades and more success in life. Trust me on this one, and please make a donation. Any amount helps. And if you want to be involved, there are about 20 boys looking for a Big. Just 2 hours a week can change a kid's life. Call 541-436-0306 for more information.
Have an awesome day today!
Temira