Random Morning Thoughts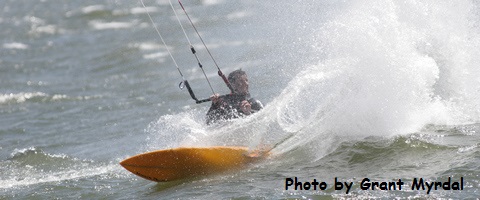 I had a conversation a couple weeks ago with my therapist about money and my fear of ending up broke and homeless because I don't have a family support network. Yes, I know that fear is irrational. Anyway, that's not really the point – the point is that for many years this fear kept me from spending money and supporting my sporting habits in style. I just found the best deal I could on equipment that would do the job.
Last night I ran into a friend in the grocery store, and she was talking about getting a new mountain bike. This got me thinking about how we make these big purchasing decisions. We say that we "can't afford" to buy (insert really nice piece of sports equipment), but what are we really saying? Are we saying, "I don't deserve something that nice?" Are we saying, "That's not what money should be spent on," and shaming ourselves for buying ourselves nice things? Or are we afraid to spend the money for some not-quite-visible reason?
Remember this: windsurfing, kiting, biking, kayaking, and all these other sports are your passion. Sporting makes you happy. You live in the Gorge (or spend your hard-earned vacation time here) because you love to bike, kite, windsurf, etc. Show that passion the respect it deserves, and treat yourself to the gear you really want. Gear lasts a long time, and the joy you'll get from having the perfect piece of equipment, the toy you really wanted, will make the time you spend pursuing your passions even more fun. Every time you use that piece of gear, you'll feel like a kid at Hanukah or Christmas. I promise. And that's a damned good feeling.
One more way to look at this: If you needed a piece of equipment for work, you'd buy exactly the piece of equipment you needed, wouldn't you? So give yourself permission to do the same with the things you need to make your free time as fun and fulfilling as possible. Ask yourself this question: "What can I afford, and how did I really arrive at that number?"
End of rant. (not paid for by local shops)
Thank you for your donations during the Summer 2014 Pledge Drive!!!
Thanks to all of you for your support over the last month. You guys have shown me an incredible amount of support and love and appreciation, and I'm humbled and grateful, and my bikes will stay repaired for the rest of the year. And I'll stay caffeinated and able to forecast almost every day. You guys rock. New to this forecast? Use it here for free or make a donation and get on the mailing list for wind for the summer and Mt. Hood snow in the winter. It's not $99/year. Not $50/year. No, just $12.34 or more gets you on the list for 12 months. Do it via PayPal/CC by clicking on my photo. Don't PayPal? You can send a check to Temira @ PO Box 841 in Hood River. Thank you for your support, and thank you for trusting my forecast. You guys mean the world to me.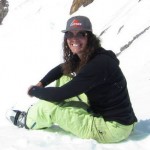 ---
Gorge Wind
It's a bit on the cloudy side out there this morning, and that's not a great sign for wind, because we are not looking for a destabilized atmosphere. Anyway, we do have .06 (pdx-dls) and .02 (dls-psc) gradients this morning, enough to support a bit of a breeze. Expect 10-13 this morning, rising to gusty 17-21 after 2pm and 22-25 late, strongest near Hood River today, with a bit less at Stevenson, Mosier, and Rowena (the Lyle stretch won't join in until late afternoon). I got a text from Grant last night saying that Greg from CGWA is planning on heading to the Hatch today with burgers and hot dogs to promote tomorrow night's CGWA/CGKA slideshow at the Hood River Hostel. Grant will be there shooting photos.
Tomorrow starts with a better marine push into Portland and a nice high pressure off the coast. We'll see 15-18 early, slowly rising during the day until we see 24-28 from Stevenson to Mosier early afternoon, filling in at the Lyle stretch and Rufus later in the afternoon and possibly hitting 26-30 for periods at Doug's/Rowena. Afternoon instability may make the wind gusty.
Sunday also sees a nice marine push into western Oregon. Wind will be 17-20 early, rising to 21-24 by early afternoon, strongest near Hood River and Mosier before noon. By mid-afternoon, we'll get 23-26 from Stevenson to Doug's, with a pretty good chance of Rufus joining in. Same thing goes with the afternoon atmospheric instability – it may end up gusty as the day goes on.
This general pattern looks to continue through next week, meaning the westerlies aren't going to stop. That's unfortunate for me, because I'm actually quite ready to take just one day off from getting up early and forecasting!
Out on the coast, expect (north/central/south) this today: 15-20/20/25-30, NW 5@7. Tomorrow: light/10-15/25-30, NW 4@7. Sunday: light/15-20/30-40, NW 4@7.

Today's Gorge Wind – these are ranges for the average speed, not a predicted wind range. =)

Your favorite beach
Dawn
Patrol
9am-
11:30a
11:30a-
3pm
3pm-
dusk
Rooster's Rocks
clouds
don't
protect
you
from
sunburn
Steven's Locks
light
8-11
17-21
22-25
Hatchery/White Salmon Sandbar (minus a few for Hood River)
8-11
10-13
17-21
gusty
22-25
Doug's, etc.
8-11
10-13
17-21
gusty
22-25
Rufus, etc.
5-10
5-10
5-10
5-10
Roosevelt, etc.
5-10
5-10
5-10
5-10
Temira's sail: 35-40: 2.9 / 30-35: 3.2 / 26-30: 3.5
23-26: 4.0 / 20-23: 4.5 less than 20: something bigger!
Tonia's kite: 35-40: 4m / 30-35: 4-6m / 26-30: 5-7m
23-26: 7-9m / 20-23: 8-10 / 15-20: 10-12 / 10-15: 13-15.
Advertising Worth Reading
Hood River U-Pick Organic Farm

Hood River U-Pick Organic is a certified organic family farm located at 4320 Royal Anne Drive. Wind not blowing? Trails too dusty? Maybe you just want to do something fun and relaxing for you (and the kids too!). Come on up and pick Dahlias, roses, raspberries, kale, heirloom tomatoes, basil and garlic. Other seasons have other fantastic organic crops. Self-Serve: cash and checks.
Gorge Weather
I did not wake up in time to see the sunrise this morning, but I bet it was lovely, given all the clouds in the sky. We'll see a partly to mostly cloudy morning as a weak weather thingie sets off convection over the Cascades. We'll might see more sun later today as this thing clears the area, but we might just see afternoon convection. Temps this morning will be rather warm: low 70's. They'll rise to the upper 80's this afternoon with a slight chance of thunder, rain, and rainbows. Tomorrow and Sunday both start with temps in the low 60's with low 80's in the afternoon and a chance of afternoon thunderstorms both days.
White Sprinter Van of the Day – ACTION SHOT!!!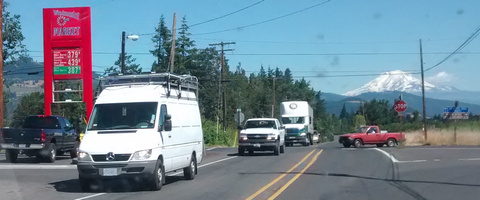 Road and Mountain Biking
I went on a nice (well, actually, it was really f'ing hot and not very pleasant, except for the sprinklers) road ride yesterday afternoon, and was stunned to see quite a few people not wearing helmets, including one person who had a helmet dangling from his handlebars. I would like to take this moment to remind all of you that a helmet will save you from traumatic brain injury (TBI) and/or death. And that a helmet must be on your head and buckled for it to work. Even when it's hot, folks. You're much more likely to die/get a TBI from crashing than you are to die from heatstroke because you put a helmet on your head.

The Clymb: free membership. Cheap gear.
Temira approves. Click to join.
River Levels / Cheezburger update
The White Salmon is at 2.25′. Cheezburger did not answer my Facebook PM last night. The John Day dam is putting out 118-169kcfs and The Dalles dam is reading a very low 108kcfs. Columbia river temp is 68.9 degrees at The Dalles Dam.
Events – email me if I've missed any outdoor-related events
Today is the first day of the Trout Lake Fair, and tonight's First Friday in Hood River with art and music and lots of people walking around socializing. There's a windsports slideshow at the Hood River Hostel on Saturday night at 7, featuring photographer Grant Myrdal's work. He's been here all summer shooting photos of kiters, windsurfers, and mountain bikers, and, finally, there's a swap meet at Luhr Jensen Sunday morning starting at 8, so clean out your garage, bring that old gear down, and pick up something newer and better!
And that leads into this weekend's wind events, both of which should go off without a hitch. Cascade Locks hosts One-Design sailboat races Friday, Saturday and Sunday, and Hood River hosts a windsurfing race at the Event Site on Saturday.
Have an awesome day today!
Temira