Random Morning Thoughts
I canceled all my work yesterday (except the forecast, of course), and decided I'd just hang out in the coffee shop, read a book, and talk to friends. I did that for a while, and then I did some other stuff, and then around 4:30, I realized I'd puttered away almost the entire day without doing anything that involved enjoying the snow. I couldn't find anyone to go sledding with (and it's just not that much fun alone), so I drove over to Post Canyon to take a walk in the woods.
I was wearing my ski pants and ski jacket, because it was snowing, duh, so I was warm and cozy. But at some point, I realized that the material was making a lot of noise while I walked. So I stopped walking and listening. It was dead calm. No wind. It was dark. My breath dissipated in the light of my (1200 lumen) headlamp. I could hear the snowflakes landing and the trickle of water in the creek. It was very peaceful. I plan to take more walks in the dark and snowy woods in the future.

Thank you for using this forecast!
Please donate to support it!
Thank you to everyone for using this forecast. Does it save you time, gas money, or help you find more wind, powder, or just plain fun stuff to do? Please consider making a donation to keep it going! Use it here for free or make a donation and get on the mailing list for wind for the summer and Mt. Hood snow in the winter. It's not $99/year. Not $50/year. No, just $12.34 or more gets you on the list for 12 months. Do it via PayPal/CC by clicking on my happy photo below. Don't PayPal? You can send a check to Temira @ PO Box 841 in Hood River. Thank you for your support, and thank you for trusting my forecast. You guys mean the world to me.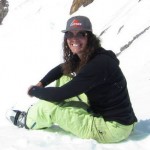 ---
Mt. Hood Snow Forecast – 5000′

4a-8a
8a-12p
12p-4p
4p-8p
8p-4a
Today
Tomorrow
The next day
Mt. Hood Snow
I wasn't on the mountain yesterday, so I don't know if the snow ever switched to freezing rain, even briefly. I did see temps at 6500' hit 30 degrees at one point, 5 degrees warmer than it was at the time here in Hood River. That's always interesting to see. Anyway, Mt. Hood got about 10" of snow yesterday at 5000', for a pretty base layer.
You can expect sunshine on Mt. Hood today. The free air freezing level (FAF) will be at the surface and temps in the teens. Expect wind out of the WNW at 20 early and NE 15 in the afternoon.
Tomorrow looks sunny and dry, with temps in the mid teens to low twenties. The FAF will be at the surface in the morning and around 500' in the afternoon. Wind will be E 20-25. Temps warm up on Sunday, hovering right around freezing early and rising to near 40 degrees between 3000' and 10,000' with the FAF around 10,000'.
Next chance for precipitation is on Wednesday or Thursday, with the snow level currently predicted to be 5000-6000'.
Gorge Wind
Expect easterlies at 30-35 today and 35-45 on Saturday and Sunday. The river temp is 54 degrees right now, so it's much warmer in the water than it will be out of the water. I wonder if you could put on SCUBA gear and windsurf or kite from below the surface?
Gorge Weather
Okay. Let's check in. I said 4-6" plus some ice yesterday. I missed the ice call – I never saw any freezing rain, but I've seen reports of 4-7" for the Hood River area, so I'll say I guessed well yesterday. It's always fun when that happens. I wish I was that close every time!
Now, the road report. The folks in the Hood River Weather chatroom are saying that 14 is way better than I-84 this morning. I like to refer to I-84 as the icebox freeway; being north-facing, it gets no sun and stays icy much longer than 14. So take that news with a grain of salt (or deicer, or gravel or sand) and drive safely.
For the next few days, our weather will be rather boring, assuming you have the ability to avert your eyes from the snow on the ground. Expect clouds this morning and some sun this afternoon as the air dries out and the inversion clouds dissipate. Temps will be in the mid 20's early and the mid 30's this afternoon.
Expect a chilly, but most likely partly cloudy to clear, start tomorrow with temps in the low 20's. Temps will rise to the mid 30's in the afternoon. Sunday looks almost exactly like Saturday.
In the long-range forecast, we're looking at sub-freezing nights and cool days until a weather system blows through on Wednesday and brings us warmer temps, a bit of rain, and west wind.
White Sprinter Van of the Day – please send photos of snowy Sprinter Vans or Sprinter Vans getting snow tires.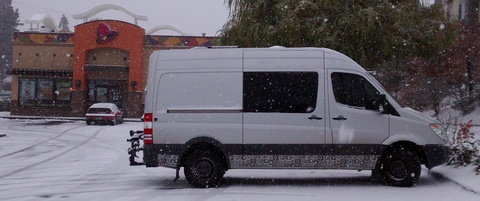 Road and Mountain Biking
Apparently snowy trails are no reason not to go mountain biking. I was out in Post Canyon for a walk at dusk yesterday, and there were people riding their bikes. I even saw some people riding in the dark with no lights. That seemed a little weird to me, but each to his own. If you would like to go for a ride, I guess you can go in Post, because other people are, and it must then be a good idea.


The Clymb: free membership. Cheap gear.
Temira approves. Click to join.
In events tomorrow, the Columbia Gorge Tri Club has their weekly run at 8am. They meet at the bottom of Post Canyon Road. The snow hasn't stopped anyone else from running or biking, so I assume they will still go. There's also supposed to be a work party on the Cold Creek trail at Camas tomorrow from 9am-noon, but I'm not sure if it's still on, given the snow on the ground. You'll have to check the Cold Creek Facebook page for info. On Sunday, there's community yoga, free or by donation, at Yoga Samadhi in White Salmon at 9am. Then there's ping pong at the HR armory at 3pm. I have no idea if rugby people will be playing rugby in the snow at the Mosier School at 3pm. Probably. They're rugby people.
Have an awesome day today!
Temira