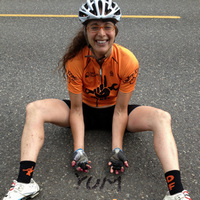 This is Temira!
Thank you all for your donations and kind words during last month's pledge drive. Whew. Glad that's over. I always feel a little weird asking for donations. That said, should you like to get on the daily email list (where you can occasionally win cool stuff), please take the time to click on the sun below and make a donation of $12 or more. That gets you a year's subscription, and it makes me smile, because I know then that the hard work I put into this is worth a lot to you. Thank you for reading my work, and thank you for donating. Have a wonderful day!

Random Thoughts you may or may not regret reading…
Just a reminder to the Oregonians out there: You get a $50 political contribution tax credit in this state. That's a credit. You get it back when you file your taxes. Next time there's a $50 "high roller" event in town, I expect to see lots more people in attendance.
Support this local business
Lance Koudele Photography (LKP) has captured product/lifestyle photography for local businesses Celilo Restaurant, TREW Gear, Slingshot Sports, Dakine, Insitu, North Pacific Surfboards and shot international advertising campaigns for Patagonia, Keen, Adidas. Lance understands branding and how to convey it's message precisely through photography. If you need a fresh perspective to lift your buisness to new heights contact LKP.
Wind forecast guess paragraphs
It's going to be a gorgeous, sunny day today. With high pressure inland and low pressure over the Pacific, we'll see east winds that build to 18-22 at Stevenson and Rooster and 10-13 (in the afternoon) through the rest of the Gorge.
Tomorrow sees a solid cloud push into Portland, switching the wind around and giving us west 13-15 early near Hood River, picking up to 20-23 from Stevenson to Maryhill in the afternoon. On Monday, we'll see west wind at 10-13 early and 17-21 in the afternoon.
Today's Gorge Wind

Your favorite beach
Dawn
Patrol
9am-
11:30a
11:30a-
3pm
3pm-
dusk
Steven's Locks
light
E 10-13
E 17-21
E 17-21
fading
Hatch (subtract a few mph for Event Site)
light
light
E 5-10
E 5-10
Doug's / Rowena / Lyle
light
E 5-10
E 10-13
E 5-10
Maryhill / Rufus / The Wall
light
E 5-10
E 10-13
E 5-10
Arlington / Roosevelt
light
E 5-10
E 10-13
E 5-10
The Clymb: free membership. Cheap gear. Temira approves. Click to join.
Mountain biking news you must read
Today's events include the annual Bunker to Bonneville 50k trail ultra-marathon, starting at Whistle Punk and finishing in North Bonneville. Good luck to the runners. Also today, there's sailboat racing in Cascade Locks. The final Gorge Cup windsurfing race was scheduled for today, but the organizers moved it to tomorrow for better wind. If you've never raced, give it a shot – your first race is free, and there's an end-of-season party after tomorrow's race.
You windsport folks have a couple more parties this weekend. Saturday night, Windance has their annual customer appreciation party, with beer and bbq and music by Walter and the Conquerers and Toy Gun Conspiracy.
On Sunday, after the final swap meet of the season, happening at Luhr Jensen, CGWA and Northwave have an end-of-season BBQ starting at noon. If you're going to the BBQ, please consider joining CGWA and supporting windsurfing in the Gorge.
Also on Sunday, the Dirty Fingers folks team up with the Sellwood Bikes folks for a short ride from shop to shop: 108 miles and 11,000′ of climbing, followed by a party at the shop. Due to this ride, there will be no forecast tomorrow, and Monday's will likely be late. Luckily, we're stuck in this offshore low weather pattern, meaning Saturday, Sunday, Monday, and Tuesday will be very similar.

Have an awesome day today!
Temira