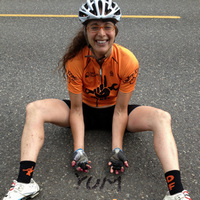 This is Temira!
Thank you all for your donations and kind words during last month's pledge drive. Whew. Glad that's over. I always feel a little weird asking for donations. That said, should you like to get on the daily email list (where you can occasionally win cool stuff), please take the time to click on the sun below and make a donation of $12 or more. That gets you a year's subscription, and it makes me smile, because I know then that the hard work I put into this is worth a lot to you. Thank you for reading my work, and thank you for donating. Have a wonderful day!

Random Thoughts you may or may not regret reading…
Why do people from Portland love the word "penultimate"?
Wind forecast
The ideal Gorge setup we saw for the past couple of weeks is a thing of the past, as an upper level low's presence over the PNW has tamped down gradients. We're at .04 this morning with a shallow marine layer in Portland. That should be just enough to bump the wind up to 13-15 this morning and 15-18 late in the day. Strongest (probably not the right word, eh?) wind will be from Stevenson to Mosier today, with just a gentle breeze out east. Thank goodness for the gentle breeze, because the upper low will make it a bit on the humid side of dry-as-a-bone today.
That upper low wreaks more havoc tomorrow (although Brad Urban will be stoked), giving us light wind all day long, with just a chance of some light easterlies at 10-13. But then again, this is the kind of setup where models don't perform well, so it's just as likely we'll see light westerlies at 7-11. Looks like westerlies will return Monday afternoon at 15-18.
The coast won't be much help today or tomorrow either – 15-18 at best (don't drive based on this), with a 2′ NW swell at 9 seconds.
If you need photos this weekend, Grant Myrdal and his team will be out taking photos, wind permitting. Look for the blue flags along the beach. You can purchase photos at his booth at the Event Site, or you can view the photos at his website. Or just go to the booth and visit him, because he's fun.
If you need a new window in one of your sails, you can get one at Northwave for 15% off through August by mentioning you read about it here.
Today's Gorge Wind

Your favorite beach
Dawn
Patrol
9am-
11:30a
11:30a-
3pm
3pm-
dusk
Stevenson
5-10
10-13
10-13
15-18
Hatch (subtract a few mph for Event Site)
5-10
10-13
13-15
15-18
Doug's / Rowena / Lyle
5-10
10-13
10-13
10-13
Maryhill / Rufus / The Wall
5-10
5-10
5-10
5-10
Arlington / Roosevelt
5-10
5-10
5-10
5-10
The Clymb: free membership. Cheap gear. Temira approves. Click to join.
Other News
Hood River is hosting the Moore 24 sailboat racing championships today and tomorrow. Cascade Locks is hosting the Tasar North American Championships, along with a bunch of other sailboat races, this weekend. Good luck to my friends Simon and Craig.
Today's also (theoretically) the Bridge of the Gods blowout race, where kiters head 17 miles downwind from Stevenson to Hood River. That'll jibe well with the fifth Gorge Cup windsurfing race, happening today (theoretically) at Hood River's Event Site. Go Toshi!
It's definitely busy at Hood River's waterfront today, with those two races and Big Winds putting on a free standup paddle race, definitely happening, at the Waterfront Park at noon. I don't know any standup paddle racers to cheer for.
Coming up tomorrow, it's the penultimate swap meet of the season, brought to you by CGWA, and happening at the Luhr Jensen parking lot. While you're down there, don't forget to join CGWA and support windsurfing in the Gorge.
Also, all SDS/Longview/Kreps lands are now closed to ALL users due to extreme fire danger. That means you. No hiking, biking, walking or running on Hospital Hill, Puke Hill, East Ridge trail and Whoopdee. There will be patrols, and you will be cited. These are all private lands, so please respect the wishes of the landowners and don't trespass. Your trespassing will jeopardize access for everyone.
Have an awesome day today!
Temira