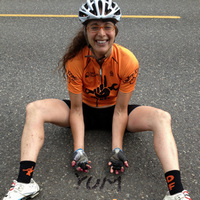 This is Temira!
Thank you all for your donations and kind words during last month's pledge drive. Whew. Glad that's over. I always feel a little weird asking for donations. That said, should you like to get on the daily email list (where you can occasionally win cool stuff), please take the time to click on the sun below and make a donation of $12 or more. That gets you a year's subscription, and it makes me smile, because I know then that the hard work I put into this is worth a lot to you. Thank you for reading my work, and thank you for donating. Have a wonderful day!

Random Thoughts you may or may not regret reading…
Looks like we'll see some rain in the western Gorge today as a weather system swings across the Cascades. Well, maybe "sprinkles" is a better word (both because it conjures up images of self-decorated bowls of ice cream and because it describes today's precipitation better). Most of the rain, at this point, sadly, is staying west of the Cascade crest.
Support this local business
Lance Koudele Photography (LKP) has captured product/lifestyle photography for local businesses Celilo Restaurant, TREW Gear, Slingshot Sports, Dakine, Insitu, North Pacific Surfboards and shot international advertising campaigns for Patagonia, Keen, Adidas. Lance understands branding and how to convey it's message precisely through photography. If you need a fresh perspective to lift your buisness to new heights contact LKP.
Wind forecast guess paragraphs
Expect light wind all morning, picking up to widespread, gusty, up-and-down 20-23 from Stevenson to Arlington this afternoon. Tomorrow brings a light west wind start, picking up to 10-13 midday and staying there. You'll find what wind there is to be centered on the Central Gorge.
Saturday brings east wind in the low twenties, and Sunday looks like west wind of some sort. Probably west wind in the low twenties, but maybe stronger west wind. You know… these weather models are a bit unreliable that far out.
Today's Gorge Wind

Your favorite beach
Dawn
Patrol
9am-
11:30a
11:30a-
3pm
3pm-
dusk
Steven's Locks
light
light
15-18
20-23
Hatch (subtract a few mph for Event Site)
light
light
15-18
20-23
Doug's / Rowena / Lyle
light
light
15-18
20-23
Maryhill / Rufus / The Wall
light
light
15-18
20-23
Arlington / Roosevelt
light
light
15-18
20-23
The Clymb: free membership. Cheap gear. Temira approves. Click to join.
Sports, activities, and other stuff
Tonight's my favorite bike ride of the week, the Post and Pint. Meet at Dirty Fingers at 5:30 for a two hour race-pace mountain bike ride, followed by food and beer at the shop til late in the evening. Your first beer is free. Food is $5. Also this evening, starting at 7pm, Big Man's Rotisserie on the 141 in Husum is showing a free whitewater rafting documentary. Live music starts at 7, and the movie should start about 8:30.
Saturday's the final race of the Gorge Cup Windsurfing series at the Event Site in Hood River. Registration opens at 8:30 with the skipper's meeting at 10, and it's free to enter if you've never raced before. After the race, there's an end-of-season party.
Also this weekend, it's the Bunker to Bonneville 50k trail run and the Open Bic Unregatta in Cascade Locks. On Saturday evening, Windance has their annual customer appreciation party with food and drinks for all wind Johnnies, and then on Sunday, it's the final Swap Meet of the season, happening at Luhr Jensen.
Have an awesome day today!
Temira