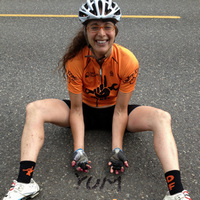 This is Temira!
Thank you all for your donations and kind words during last month's pledge drive. Whew. Glad that's over. I always feel a little weird asking for donations. That said, should you like to get on the daily email list (where you can occasionally win cool stuff), please take the time to click on the sun below and make a donation of $12 or more. That gets you a year's subscription, and it makes me smile, because I know then that the hard work I put into this is worth a lot to you. Thank you for reading my work, and thank you for donating. Have a wonderful day!

Random Thoughts you may or may not regret reading…
I'm just wondering how long it will take for us to switch to east gradient today, and then how smoky it will get near Hood River.
Random Local Advertising
Three Corner Rock is not an especially rad mountain bike ride. Chanterelles, however, are rad mushrooms.
Wind forecast guess paragraphs
It's a calm and mellow start to the day near Hood River, with a very weak lingering west gradient. That will switch to east today, as a ridge of high pressure shifts inland and a low hangs off the California coast. Expect easterlies to build to 17-21 at Steven's Locks and Rooster Rock with east wind building to 9-13 elsewhere.
Tomorrow starts with light east wind, building briefly to 15-18 midday. But that won't last long, as an upper low crosses southern Oregon, turning the wind 180 degrees and giving us west wind at 10-15, maybe 15-18, late in the afternoon. Watch out for a chance of thunderstorms and a beautiful sunset tomorrow.
In the wake of that upper low's exit, Friday looks quite windy, with westerlies at 24-28. Saturday also looks windy. This far out, I'm not sure about Sunday.
Today's Gorge Wind

Your favorite beach
Dawn
Patrol
9am-
11:30a
11:30a-
3pm
3pm-
dusk
Steven's Locks
Light and
variable
E 13-15
E 17-21
E 14-17
Hatch (subtract a few mph for Event Site)
light
light
E 3-5
E 5-8
Doug's / Rowena / Lyle
light
light
E 5-8
E 5-8
Maryhill / Rufus / The Wall
light
light
light
light
Arlington / Roosevelt
light
light
light
light
The Clymb: free membership. Cheap gear. Temira approves. Click to join.
Fire Weather Forecast
We're still at W .01 gradient this morning, but all the models indicate we'll switch to east by mid-morning. So, let's call it delayed E 5-10 starting soon, until maybe early afternoon, when it'll likely pick up to 15-18 on the ridges with a few higher gusts possible.
Tomorrow looks really troublesome: We start with E 10-15, but a low pressure system off the California coast is going to swing inland sometime in the afternoon or evening. The models keep the low (and the strongest associated WEST wind) south of us, but… counting on that and having guys and gals in the field is scary. If the low tracks close enough, we'll see very strong, very gusty westerlies in the hills as it's passing. If it stays further south, call it west wind building to 17-21 with higher gusts in the afternoon. In addition, the passage of the low could trigger some thunderstorms tomorrow afternoon.
At least the humidity will be up a bit today and tomorrow.
Sports, activities, and other stuff
In events tonight, there's by-donation yoga at Flow in Hood River at 4pm. At 5:30, there's the Kayak Shed's shop paddle at Husum, there's Families at Family Man, Pickup Ultimate at Wy'East Middle School, and then there's sailboat racing at the Hood River Marina and Tai Chi at Wilson Park at 6. There's also Qi Gong at Wilson Park at 5:30.
Coming up this weekend, it's the White Salmon Concert Series starting with a campout on Friday night followed by all sorts of fun stuff on Saturday. There's the Bigfoot Bash and Bounty in Home Valley on Saturday, and there's another round of pickup Rugby at the Mosier School at 3pm Sunday.
Have an awesome day today!
Temira