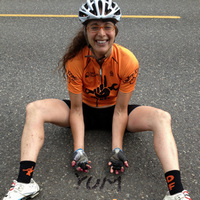 This is Temira!
Thank you all for your donations and kind words during last month's pledge drive. Whew. Glad that's over. I always feel a little weird asking for donations. That said, should you like to get on the daily email list (where you can occasionally win cool stuff), please take the time to click on the sun below and make a donation of $12 or more. That gets you a year's subscription, and it makes me smile, because I know then that the hard work I put into this is worth a lot to you. Thank you for reading my work, and thank you for donating. Have a wonderful day!

Random Thoughts you may or may not regret reading…
I'm looking forward to no wind tomorrow. Not because I want to ride my bike. Because I want the fire crews at Gov'y Flats and the residents of Mill Creek Rd. to catch a break. The fire is at 5000 acres, and is only 10% contained, with 50 homes under a level III evacuation. These people will be in my thoughts today. Please keep them in your thoughts.
Random Local Advertising
Sandy Ridge sure is rad… I finally rode there yesterday. Yeah, I know. I should have done it long ago.
Wind forecast guess paragraphs
With a little stronger marine push than expected this morning, there's a little more gradient (.09 at 5am) than I expected, meaning we'll have a bit more wind than I expected. If you get out early, you'll catch some low twenties at the Hatch or near Hood River. With the clouds predicted to dissipate quickly, the wind will also dissipate, backing to 13-15, or maybe even less, as the day goes on.
An offshore low positions itself off the Oregon coast tomorrow for an east wind day: low to mid-twenties at Stevenson and Rooster (and on the higher ridges – be careful, fire crews), with 5-10 through the rest of the Gorge.
Thursday starts with light wind, possibly picking up out of the west late, if the timing is right. If it's not, Friday's the day, as the offshore low exits east and high pressure builds offshore. At this point, it looks like we'll see afternoon westerlies on the weekend, but we all know that's a long ways out to be predicting wind…
Today's Gorge Wind

Your favorite beach
Dawn
Patrol
9am-
11:30a
11:30a-
3pm
3pm-
dusk
Steven's Locks
0-10
9-11
10-13
15-18
Hatch (subtract a few mph for Event Site)
17-21
21-23
briefly
13-15
13-15
Doug's / Rowena / Lyle
5-10
5-10
10-13
10-13
Maryhill / Rufus / The Wall
5-10
5-10
5-10
5-10
Arlington / Roosevelt
5-10
5-10
5-10
5-10
The Clymb: free membership. Cheap gear. Temira approves. Click to join.
Sports, activities, and other stuff
If you want a workout tonight, the Tri Club has their weekly practice: 6pm, probably at Mayer Park. Check their FB page to confirm. Rugby folks have a pickup game at 5:30. In food and fun news, there's the Ruins ($3 cover keeps you safe) and prime rib at Cebu ($12 makes your belly full).
Looking ahead to tomorrow night, the workouts start at 4pm with Karma Yoga, by donation, at Flow Yoga. At 5:30 tomorrow night, there's QiGong at Wilson Park, followed by Tai Chi at 6. Also at 5:30, all girls are welcome at the women's Post n' Pinot bike ride at Dirty Fingers, there's whitewater paddling at Husum, family-friendly mountain biking at Family Man, and pickup touch rugby at the Hood River Marina. Also at the Hood River Marina tomorrow night, there's sailboat racing, wind permitting.
Coming up this weekend, you'll find fun times at Home Valley with the Bigfoot Bash and Bounty, a celebration of all things Bigfoot along with food, music and beer. Head to Home Valley Park between 9am and 8pm to get in on the fun.
Also this weekend, starting with a camp out on Friday night, it's the White Salmon Summer Concert Series. Join mayor Dave and the rest of the 509 crowd for music, fire dancing, poker, a pig roast, and a salmon feed, all happening on Saturday.
Have an awesome day today!
Temira