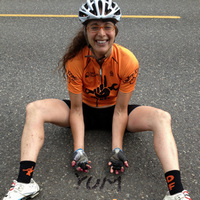 This is Temira!
Thank you all for your donations and kind words during last month's pledge drive. Whew. Glad that's over. I always feel a little weird asking for donations. That said, should you like to get on the daily email list (where you can occasionally win cool stuff), please take the time to click on the sun below and make a donation of $12 or more. That gets you a year's subscription, and it makes me smile, because I know then that the hard work I put into this is worth a lot to you. Thank you for reading my work, and thank you for donating. Have a wonderful day!

Random Thoughts you may or may not regret reading…
You probably noticed the big cloud of smoke rising south of the Columbia River yesterday? That's the Government Flats wildfire, located about 10 miles due east of Toll Bridge Park (in Parkdale) or 10 miles SW of The Dalles. The fire is 15% contained, and currently measures 1500 acres. Be safe out there, Garth and the rest of you.
Random Local Advertising
I don't feel like advertising anything today.
Wind forecast guess paragraphs
Since I learned yesterday that the beaches between The Dalles and the Lyle Sandbar were closed, 24 hours after it happened, and didn't let you know, I'll now let you know, 12 hours late, that the beaches have all reopened. Here's what happened: on Friday, a powerful storm struck The Dalles, dumping enough rain that the sewage plant went into bypass mode for about 15 minutes. A small quantity of raw sewage went into the large-volume river. Remember, test results take 24 hours, so they closed the beaches as a precaution. Saturday's test results came back yesterday morning with innocuous readings, and so the beaches have reopened… just in time for more wind.
Portland is clear this morning, and the gradient between us and them sits at .08. That's enough for 15-18 this morning from HR-Mosier, picking up to 17-21 midday, dropping a bit a peak heating, and coming back at 20-23 this afternoon from Steven's Locks to Arlington. This afternoon's wind is brought to you courtesy of a weak BC weather disturbance. Expect gusty conditions, strongest at Steven's Locks and east of Hood River, but likely gusty in town.
Tomorrow may start with 10-15, and it may hold all day, but most likely it won't. Building inland high pressure will probably give us glassy conditions in the afternoon with temps in the low 90's. Looks like we'll see east wind on Wednesday.
Today's Gorge Wind

Your favorite beach
Dawn
Patrol
9am-
11:30a
11:30a-
3pm
3pm-
dusk
Steven's Locks
0-10
9-11
15-18
20-23
Hatch (subtract a few mph for Event Site)
13-16
15-18
18-22
16-20
Doug's / Rowena / Lyle
15-18
15-18
15-18
20-23
Maryhill / Rufus / The Wall
5-10
10-13
13-15
17-21
Arlington / Roosevelt
5-10
10-13
13-15
17-21
The Clymb: free membership. Cheap gear. Temira approves. Click to join.
Sports, activities, and other stuff
If you need a workout tonight, there's the Ride Around the Gorge – they were thinking of Sevenmile hill or Whatum Lake – check their Facebook page for the decision. Also tonight, there's the booze cruise to Mosier, leaving Mountain View at 6:30 and returning after dark. Bring lights and a helmet and an appetite for Thirsty Woman french fries.
Coming up next Saturday, it's The Bigfoot Bash and Bounty, starting at 9am with the Bigfoot Berry Breakfast and finishing up at 8 with live music. Remember, it's against the law to harm a Bigfoot in Skamania County. Take all the pictures you want and post them on the Bash and Bounty's Facebook page, but don't harm the Sasquatch.
Also next weekend, White Salmon has the summer concert series with music and a car show. Along with all that, there's a pig roast/salmon feed on Saturday with proceeds benefiting a local cause that's slipped my mind on this fine, early morning. I need a cup of coffee.
Have an awesome day today!
Temira