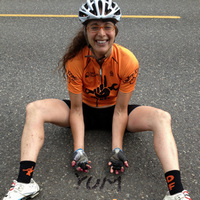 This is Temira!
Thank you all for your donations and kind words during last month's pledge drive. Whew. Glad that's over. I always feel a little weird asking for donations. That said, should you like to get on the daily email list (where you can occasionally win cool stuff), please take the time to click on the sun below and make a donation of $12 or more. That gets you a year's subscription, and it makes me smile, because I know then that the hard work I put into this is worth a lot to you. Thank you for reading my work, and thank you for donating. Have a wonderful day!

Random Thoughts you may or may not regret reading…
Last week's rain is stuck in the gathering part of my brain like Rick Astley's song "Never gonna give you up" gets stuck in the music part of my brain. It also gets stuck in the math part of my brain. Anyway, visions of chanterelles are dancing in my head. Anyone found any yet? The rain was enough to turn the 44 Road trails tacky. It should be enough to pop a few chanterelles into my frying pan. God do I love living here – yesterday I went huckleberry gathering (with my forest product permit, of course), and ate huckleberries, thimbleberries, salmonberries, and black raspberries. Anyway… told you regret was possible from reading this paragraph. Enjoy Rick Astley.
Random Local Advertising
Lance Koudele Photography (LKP) is focused on exposing your business via engaging photography and videography. Whatever your industry- be it travel, hospitality, food and beverage, manufacturing, LKP has the experience and ability to capture the essence of your services. Take a look at his work online – five minutes of photographic beauty is a great way to start your day.
Wind forecast guess paragraphs
The offshore upper level low continues its wind-blocking influence today, but a weak frontal system will come to the rescue of wind lovers. Expect light wind this morning, followed by a slow build to up-and-down 15-18 from Steven's Locks – Mosier by midday. This afternoon, as the front slowly moves inland, we'll see the wind rise to 22-25, probably strongest at Steven's Locks, but possibly not happening until after dark.
Tomorrow looks similar: light start, slow rise to 15-18 in the afternoon, but toss in a slight chance of thunder late in the day. Also toss in a decent chance for a beautiful sunset.
Saturday and Sunday both start off relatively light, but both pick up to 21-24 or better in the afternoon. If the long range models happen to be correct this week, we're about to move back into a North Pacific High – Desert Low combo (way better than burger-fries-soda combo), giving us stronger, steadier, Temira-likes-this kind of wind.
If you want new windows in your wind-sails, they are 15% off all month at Northwave. Put in a new window, and you'll be able to see again. It's not just about not running people over: a new window allows you to see the view.
Today's Gorge Wind

Your favorite beach
Dawn
Patrol
9am-
11:30a
11:30a-
3pm
3pm-
dusk
Stevenson
5-10
13-15
15-18
22-25 late
Hatch (subtract a few mph for Event Site)
5-10
13-15
15-18
17-21 maybe
Doug's / Rowena / Lyle
5-10
5-10
13-15
15-18
Maryhill / Rufus / The Wall
5-10
5-10
10-13
10-13
Arlington / Roosevelt
5-10
5-10
10-13
10-13
The Clymb: free membership. Cheap gear. Temira approves. Click to join.
Non-sports, but still important, news
Don't forget your important meetings tonight: From 5-7pm, Oregon State Parks has a meeting at the west end of the Twin Tunnels Trail to discuss plans for recreation in the Gorge. Come give input (let's get the Gorge 400 connected poach-free between Cascade Locks and Wyeth).
Also tonight, Cover Oregon (the folks providing your soon-to-be-active health care exchange) has a meeting at the Hood River Inn. Want health insurance? Who doesn't? If you're a single person making under 45k, the ACA will give you subsidies to buy good (not crappy) insurance. If you're part of a family, the cutoff is much higher. 6pm. Worth your time, for sure.
Sports news
Also tonight, it's the weekly Post n' Pint ride at Dirty Fingers Bikes. Joint the boys and men for a race-pace ride through the trails of Post Canyon. After the ride, you'll be rewarded with a cold pint of beer.
Coming up this weekend, the Naish Paddle Challenge comes to Hood River's Waterfront Park, with races for both pros and amateurs, along with free standup paddle lessons and free standup paddle demos. Also this weekend, on Saturday, the Skamania County Fair has a 5k running and walking race at 8am.
Don't forget that the following weekend is the Bigfoot Bash and Bounty in Home Valley. Food, fun, and all things Bigfoot, along with local musicians including Bigfoot himself: Mr. Rick Huelett.
Have an awesome day today!
Temira