Please support this forecast by clicking on the photo of the forecaster!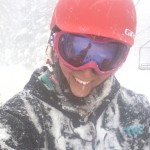 Your forecaster. Click on her to donate. Thank you!
Thank you for using this forecast. Please tell your friends about it! And if you or your friends think this service is awesome/useful/saves you gas money/makes your life more fun, make a donation by clicking on my photo above. Is more fun worth $50/year? $20/year? Donate what it's worth to you (and thank you!), but $12 minimum gets you on the email list (with occasional giveaways) for a year. Thank you for your support, and have fun today!
Random Morning Thoughts
If the world revolved around my drug tolerances, Rainier would come in 3oz cans, marijuana pipes would come in 1/4-hitters (preferably with no marijuana), and an Old Fashioned would contain ½ oz of whiskey and 10 Amarena cherries.
The Hood 2 River Relay is a one-day event on May 31st. This fun and all-inclusive event is designed for almost any level of skill and fitness, yet competitive enough for the hardcore athlete where participants compete in teams, pairs, or individuals to race from the high slopes of Mt. Hood down to the mighty Columbia River. There will be six Legs that consist of; Alpine ski, nordic ski, mountain bike, road bike, road run, boating (kayak/canoe/SUP) and a 500 meter sprint to the finish line after boating. Open to individuals and teams. Visit their website for more information. And Pole-Pedal-Paddle, eat your heart out. You got nothin' on the Hood 2 River!
Today's Gorge Wind

Your favorite beach
Dawn
Patrol
9am-
11:30a
11:30a-
3pm
3pm-
dusk
Rooster Rock
E 35-40
E 30-35
E 23-25
E 10-15
Steven's Locks
E 20-25
E 25-29
E 20-25
E 5-10
Hood River Eastward
E 5-10
E 7-11
E 5-8
E 0-5
Mt. Hood Snow Forecast
We're not on track for The Last Powder Day of the Season IV, but we're probably going to see snow on Sunday. Today, however, looks warm and sunny. The freezing level will be 14,000′ with SW wind at 20mph. Friday also looks clear with the freezing level at 11,000 and SW wind at 20mph early and 30mph in the afternoon.
Saturday starts off clear, becoming cloudy by midday. The freezing level will be 6500′ early, dropping briefly to 4500′, and then rising to 6000′ with a second weather system in the afternoon. We'll see a chance of sprinkles or wet snow (likely the latter) in the afternoon, with .1-.2" water value (WV) possible overnight, for maybe an inch of snow. Wind will be SW 30.
Sunday sees the snow level around 5500′ with .4-.5" WV during the day. That'll give us 2-3" of new snow. Wind will be SW 40-50 for much of the day.
Gorge Wind
Today's starting off with a big east gradient: .17 from Portland to The Dalles. We'll see easterlies near 40mph this morning at Rooster with 25-29 at Steven's Locks. The east wind will fade to light wind this afternoon. Tomorrow sees a weak weather system move through, giving us gusty westerlies at 10-15 early and 23-26 in the afternoon, likely good for 90 minutes near Hood River and Lyle with steadier, longer-lived wind at Stevenson and Avery.
Saturday brings westerlies at 11-14 near Hood River and 15-18 in the eastern Gorge. Sunday starts off light, with gusty west wind at 11-14 near Hood River and 21-24 east of Mosier after noon.
Gorge Weather
Today looks like a beautiful, sunny day with a few high clouds. I know this because I'm looking out my window. Yep. I'm a hell of a weather forecaster, aren't I? Temps will be in the mid 40's this morning and near 80 degrees this afternoon with east wind at 5-15 (fading in the afternoon) near Hood River.
Friday starts off with a few high clouds, becoming increasingly cloudy. Temps will be in the mid-50's early and right around 70 in the afternoon. Wind will increase out of the west as the day goes on.
Saturday looks cloudy for much of the day with a very slight chance of showers. Rainbows are unlikely due to the extent of the clouds. Temps will be in the upper 40's early and mid 50's in the afternoon with light west wind. Sunday looks showery with a good chance of rainbows.
Road and Mountain Biking
The tack alert is still on for Post Canyon. Syncline is pretty good too, although Moab has way too much loose gravel for my taste right now. Dog River is riding great. Has anyone ridden Surveyor's? Help me out here, folks. I need a trail report!
The Clymb: free membership. Cheap gear. Temira approves. Click to join.
River Levels
The Hood is at 5.0′, the Klickitat is at 2100cfs, and the White Salmon, well, I don't know. What's the White Salmon at, anyone? Are you going to make me call Wet Planet today? I think you are!
Events – email me if I've missed any outdoor-related events
Today is the first day of the Hood River Farmer's Market, happening at the Hood River Middle School from 4-6pm. Just a heads up: Dogs are no longer allowed at the market. So leave Fido at home and come do some shopping. 4-6pm.
In other events, tonight is the soul-crushing (for me, anyway – for men, it's easy) Post n' Pint mountain bike ride out of Dirty Fingers at 5:30. Finish the ride and you earn a pint of beer. There's pickup rugby at 3:30 at Henkle Middle School, and there's an Oregon State Parks advisory board meeting at the Hood River Fire Station at 5:30.
There's nothing on my schedule for Friday, but Saturday's busy: The Oregon Trail Rally is in town. Visit their website for information on spectator zones. They're having a fan party at Double Mountain on Saturday night starting at 7:30. Also this weekend, Water's Edge in The Dalles has a duathlon, 10k and half marathon on Saturday and the Dog River Super D is on Saturday and Sunday.
Have an awesome day today!
Temira