Please support this forecast by clicking on the photo of the forecaster!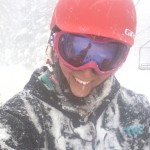 Your forecaster. Click on her to donate. Thank you!
Thank you for using this forecast. Please tell your friends about it! And if you or your friends think this service is awesome/useful/saves you gas money/makes your life more fun, make a donation by clicking on my photo above. Is more fun worth $50/year? $20/year? Donate what it's worth to you (and thank you!), but $12 minimum gets you on the email list (with occasional giveaways) for a year. Thank you for your support, and have fun today!
Random Morning Thoughts
Last frost date better hurry up and get here. My house is very full of plants.
Ski to Defeat ALS
Coming up this Saturday at Mt. Hood Meadows, it's ski to defeat ALS. This fun and fantastic fundraiser is doing an amazing job raising funds to defeat a horrible disease. As you've probably heard, Fred Noble, doer of so many good things for the Gorge, was diagnosed with ALS in 2010. You can help him reach his goal at this year's event, his last, by making a donation. And be sure to come to Columbia Center for the Arts tonight at 6:30 for the movie Noble Spirit, a documentary on Fred. Thanks for your support!
Mt. Hood Snow Forecast – 5000′

4a-8a
8a-12p
12p-4p
4p-8p
8p-4a
Wednesday
Thursday
Friday
Mt. Hood Snow Forecast
What fell from the sky this morning was not snow. It's wasn't quite rain either. It was just wet, drizzly mist. And now it's mostly clear, so forget all about the drizzle, which was supposed to continue through midday, and now apparently won't. Instead, it will be sunny on Mt. Hood. The freezing level will be 6000′ early, rising to 7500′ later in the day. Wind will be W 20-30 this morning and W 10-15 this afternoon.
Thursday looks sunny and warm. The freezing level will be 7500′ early and 10,000′ in the afternoon. Wind will be NW 20-25 early and W 10-15 in the afternoon. Friday starts with some high clouds and sunbreaks, continuing that way through the day. The freezing level will be 10,000-11,000′. Wind will be WNW 20-25 early and 25-30 in the afternoon. Saturday looks sunny and warm with north wind.
Gorge Wind
This morning's gradients are decent as a cold front moves through: W .10 (pdx-dls) and W .06 (dls-psc). As high pressure builds off the coast behind this weather system, we'll see 15-18 all day in the western Gorge, with 21-24 possible mid-morning on, given the early morning cloud line, and 22-25 this afternoon from Lyle to Maryhill with a bit less wind at the far east beaches. River water temp is 46 degrees.
Tomorrow brings westerlies at 7-11. Friday looks like a good setup, with high pressure off the coast and low pressure in the desert. A weather weather system might make the wind gusty, but you can still expect W 22-25 in the central and near east Gorge.
Out on the coast, today through Friday still look fantastic pretty much anywhere you go. Today: North coast, 20. Central, 20-25, South 30. Swell 7′ at 12 seconds. Tomrorow: North, 20-25. Central: 25-30. South: 30. 6′ at 11. Friday: North, 20. Central: 30. South: 30-40. 7′ at 11.
Gorge Weather
It was mostly clear and warm enough to be barefoot when I walked outside to check the weather. There are some low clouds in the western Gorge and clear sky overhead. I give us a forecast, then, of sunshine today, no rainbows, and moderate west wind. Temps will be in the upper 40's early and upper 50's to low 60's this afternoon.
Tomorrow looks sunny. Temps will be in the upper 30's early and low 60's in the afternoon with light west wind. Friday looks a bit warmer, with some high clouds thrown into the mix. Temps will be in the mid-40's early and mid-60's in the afternoon with moderate west wind. The weekend looks sunny.
Road and Mountain Biking
The dirt right now is perfect for both riding and digging. The trailbuilders have a request: You know all those ruts that are in the trail from people riding through mud? If you're riding today, please stop just once and jump up and down on one rutted area or use your bike tire to pound just one rutted area flat. You'll keep those ruts from turning to concrete. If each of us does just one rut, we'll get the whole trail system. Thank you for helping! As for road biking, it's going to be a bit windy today, but tomorrow, Saturday and Sunday look great for road riding.
River Levels
The Hood is at 5.7′, the Klickitat is at 2350 cfs, and the White Salmon is around 4′.
The Clymb: free membership. Cheap gear. Temira approves. Click to join.
Events – email me if I've missed any outdoor-related events
Tonight at Columbia Center for the Arts, it's the movie Noble Spirit, about local volunteer and adventurer Fred Noble. 6:30. $5. Tonight is ping pong at the armory at 6:30, $5. There's Karma Yoga at Flow at 4pm (free or by donation). Tomorrow is supposed to be the first Post & Pint ride of the season, leaving Dirty Fingers at 5:30, but nothing has been said on their Facebook page about it. They told me last week it was starting this week, so …
Have an awesome day today!
Temira