Please support this forecast by clicking on the photo of the forecaster!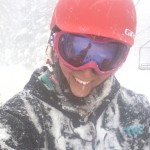 Your forecaster. Click on her to donate. Thank you!
Thank you for using this forecast. Please tell your friends about it! And if you or your friends think this service is awesome/useful/saves you gas money/makes your life more fun, make a donation by clicking on my photo above. Is more fun worth $50/year? $20/year? Donate what it's worth to you (and thank you!), but $12 minimum gets you on the email list (with occasional giveaways) for a year. Thank you for your support, and have fun today!
Random Morning Thoughts
I found this opinion piece on the evolution of language fascinating. If our language is truly becoming kinder and more conscious of others' feelings, then there's like, totally some hope for our society.
Mt. Hood Snow Forecast – 5000′

4a-8a
8a-12p
12p-4p
4p-8p
8p-4a
Monday
Tuesday
Wednesday
Mt. Hood Snow Forecast
There is snow on Mt. Hood, that's true, but there won't be much more falling this week. Expect a warm and sunny day on Mt. Hood today with the free air freezing level (FAF) at 9000′ early and 11,000′ in the afternoon. Temps at 5000′ will be around 50 degrees, and wind will be W 15 in the morning becoming SW 20-25 in the afternoon.
Tuesday starts off clear with the FAF around 10,000′, falling to 6500′ around 11pm. Clouds move in late in the day, and some precip starts around 11pm. We'll see .2-.4" water value (WV) overnight, and that will likely fall as rain. Wind will be SW 20 early, SW 30 in the afternoon and W 25 overnight.
Wednesday starts off partly cloudy or maybe clear. The FAF will be 3000′ in the morning and 6000′ in the afternoon. No precip. Wind will be W 30 in the morning, NW 20-25 mid-morning and NW 10-15 in the afternoon. Thursday looks clear and warm with high clouds in the afternoon and light wind.
Gorge Wind
Today looks like a light wind day all day in the Gorge, meaning the majority of standup paddlers will be quite happy. Tomorrow starts with W 5-10 and picks up to gusty W 22-25 at Stevenson and in the eastern Gorge in the afternoon. We'll probably see a short-lived burst of 20-23 at the Hatchery and around Lyle, but it's going to be quite gusty. Wednesday brings light west wind.
Looking westward, high pressure off the coast later this week will likely set up Wednesday and Thursday as good days for salt water wave time. The central coast gets 20-25 Wednesday with 30-40 at the south coast with a 7′ swell at 12 seconds. On Thursday, the north coast sees 15-20, the central 25-30 and the south 30-40 with a 6′ swell.
Gorge Weather
Does 70 degrees with sunshine and light wind sound good to you? It sounds good to me, and that's what we'll have here today. Tomorrow also looks sunny, with high clouds moving in during the afternoon. Temps tomorrow will be in the mid-40's early and low 60's in the afternoon with increasing west wind during the day and showers overnight. Wednesday looks a bit cooler with a partly cloudy start, temps in the low 40's early, and temps in the mid-50's in the afternoon with light west wind. No rainbows, unless we get really lucky Wednesday morning.
Road and Mountain Biking
I don't think road biking gets any better than it will be today. And I suspect the dirt will be prime all week too. I'll go check it out for you, okay? And tomorrow I'm going to ride to Vancouver, wind permitting. It's looking a little borderline…
River Levels
The Hood is at 5.6′, the Klickitat is at 2150 cfs, and the White Salmon is around 4′.
The Clymb: free membership. Cheap gear. Temira approves. Click to join.
Events – email me if I've missed any outdoor-related events
Tonight at 6:15pm, Shortt Supply presents their weekly speaker series, this time with Cassie Nobbs talking about your feet. Not her feet, because, although I'm sure they are lovely, nobody wants to hear about them for an hour. Your feet. And shoes. And biomechanics. And injury prevention. At 6pm, you can play outdoor pickup ultimate at May Street Elementary. Can you believe it's still light out at 8pm? Yay!
Have an awesome day today!
Temira