Please support this forecast by clicking on the photo of the forecaster!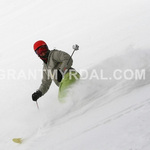 Your forecaster. Click on her to donate. Thank you!
Thank you for using this forecast. Please tell your friends about it! And if you or your friends think this service is awesome/useful/saves you gas money/makes your life more fun, make a donation by clicking on my photo above. Is more fun worth $50/year? $20/year? Donate what it's worth to you (and thank you!), but $12 minimum gets you on the email list (with occasional giveaways) for a year. Thank you for your support, and have fun today!
Random Morning Thoughts
I had the most sublime ski run of my life last night. After I got home from Meadows, I skinned up Hospital Hill as twilight fell. At the top, it was dark. It was snowing. I could see the lights of Bingen below. And the snow. Oh the snow. Two feet of light powder. Sure, I hit a few rocks, but it was magical skiing down with my friend, headlamps lighting the way, snow falling all around us. I am sure we made a pretty sight coming down the hill with our headlamps. Magical. Truly magical.
Mt. Hood Snow Forecast – 5000′

4a-8a
8a-12p
12p-4p
4p-8p
8p-4a
Sunday
Monday
Tuesday
Mt. Hood Snow Forecast
As expected, Mt. Hood saw a mix of snow, sleet and freezing rain since around 8pm last night. We're seeing freezing rain now, with temps in the upper 20's at 5000′. .2-.3" water value (WV) falls between 4am and 4pm with lighter accumulations overnight. Models suggest we'll see the precip type switch back to mixed snow for a period midday, so call that 1" of snow if that really happens. Unlikely. And then we'll switch back to freezing rain after 4pm or so, with another possible switch to snow early Monday morning. Wind today will be W 30-40 early, WNW 30-35 midday and W 20 in the evening.
Tomorrow morning sees the snow level around 4500′, but it will rise to 5500′ around 10am. Then it will fall to 5000′ around 4pm and fall further to 3500′ around 7pm. Precip will be light early, picking up after 10am, for .4-.6" WV between 4am and 4pm. That's going to fall as a mix of snow and rain, so call it 1-2" of new at 5000′. After 4pm, we'll see another .4-.6" WV with colder temps, for 4-6" of new snow by Tuesday morning. Wind Monday will be SW 25 early, 35 mid-morning, 40 mid-afternoon, and W 40 overnight.
Tuesday morning starts with the snow level around 3500′, rising to 5000′ in the afternoon and 8000′ in the wee hours of Wednesday morning. We'll see .2-.3" WV Tuesday morning for 2-3" of new snow. Then we'll see very heavy rain after 10pm… hard to say exactly what's going to happen this far out, but it seems like we'll see several inches of rain Tuesday night.
The rest of the week looks very wet, with alternating periods of heavy rain and heavy snow. Great base-building stuff.
Gorge Weather
When I walked out of my house this morning, I noticed that the snow was much heavier than it was last night. So much for pow skiing. It's still just as cold as it was yesterday – 22 degrees, but the snow is heavier. Interesting. Anyway, we'll see temps in the 20's today, with light precip increasing after 11am. I suspect, given the fact that it's already freezing rain in Parkdale, that today's precip will fall first as sleet and then as freezing rain at river level. We'll see .1-.2" of the slick stuff, followed by periods of light freezing rain tonight. This is a good night to stay home by the fire with a good book.
Tomorrow morning brings continued sub-freezing temps in the Gorge. This is very, very bad, as models show .2-.3" WV between 10am and 4pm, which will give us a decent coating of ice before we see a switch to rain with above-freezing temps sometime around 4pm. Then we'll see another .2-.3" WV between 4pm Monday and 4am Tuesday, which please-oh-please should fall as rain. Please?
Expect light rain Tuesday morning followed by very heavy rain Tuesday night into Wednesday. Make sure you've shoveled the snow off the storm drains before this happens. The rest of the week looks milder, with temps in the 40's, maybe low 50's at times, with lots of rain.
Gorge Wind Forecast
The Rooster Rock sensor this morning is reading 9mph, but I bet ya anything that's because it's iced up. Betcha it's really blowing 30+. There's an E .12 gradient, and it's blowing 16-26 at Troutdale. The east wind will pick up at Rooster today to 30-40 in the afternoon .We'll start off Monday with east wind at 30-35 in the morning switching to west wind sometime around 4pm. Thank god, because that's when we'll see We'll see light west wind on Tuesday.
Road and Mountain Biking
Are you kidding me? Fat bikes. Kani and Clint have them.
The Clymb: free membership. Cheap gear. Temira approves. Click to join.
Events – email me if I've missed any outdoor-related events
I'm assuming ping pong is still on for 3pm at the Armory. $5. Maybe it's a good day for a movie?
Have an awesome day today!
Temira