Please support this forecast by clicking on the photo of the forecaster!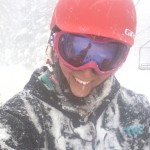 Your forecaster. Click on her to donate. Thank you!
Thank you for using this forecast. Please tell your friends about it! And if you or your friends think this service is awesome/useful/saves you gas money/makes your life more fun, make a donation by clicking on my photo above. Is more fun worth $50/year? $20/year? Donate what it's worth to you (and thank you!), but $12 minimum gets you on the email list (with occasional giveaways) for a year. Thank you for your support, and have fun today!
Random Morning Thoughts
I lied about the previous "Last Powder Day of the Season". Sorry. I'm sure you're devastated to know there will be another.
The Hood 2 River Relay is a one-day event on May 31st. This fun and all-inclusive event is designed for almost any level of skill and fitness, yet competitive enough for the hardcore athlete where participants compete in teams, pairs, or individuals to race from the high slopes of Mt. Hood down to the mighty Columbia River. There will be six Legs that consist of; Alpine ski, nordic ski, mountain bike, road bike, road run, boating (kayak/canoe/SUP) and a 500 meter sprint to the finish line after boating. Open to individuals and teams. Visit their website for more information. And Pole-Pedal-Paddle, eat your heart out. You got nothin' on the Hood 2 River!
Mt. Hood Snow Forecast – 5000′

4a-8a
8a-12p
12p-4p
4p-8p
8p-4a
Friday
Saturday
Sunday
Mt. Hood Snow Forecast
First off today, I'm wondering who's coming to The Last Powder Day of the Season on Sunday. I created a Facebook event. Please join, and please share with friends! You're all invited!
As for the forecast, today looks cloudy on Mt. Hood with snow flurries and thunderstorms possible this afternoon. Maybe some hail too. The snow level will be 2500′ early and 4000′ in the afternoon. We'll see maybe .1-.2" water value (WV) between 2pm today and 5am Saturday, for up to 2" of new. Wind will be NW 10ish all day.
Saturday starts off clear, quickly becoming cloudy, with snow starting mid-afternoon. The snow level will be 1500′ early, 3000′-4000′ in the afternoon and 3000′ overnight. Saturday night sees .4-.6" WV for 4-6" of new snow. Wind will be W 15 early, SW 15 early afternoon and SW 35 overnight.
Sunday looks snowy. The snow level will be 2000-2500′. We'll see .4-.6" WV during the day, for 4-6" of snow. Snowfall tapers off overnight, leaving Monday as a sunny day. Wind will be W 35 for much of the day Sunday.
Gorge Wind
Looks like we'll see W 10-13 in the western Gorge for much of the day with a late bump to 23-26 east of Mosier this afternoon. A chance of thunderstorms later will make water time rather… sketchy. Tomorrow starts with W 10-15 and picks up to W 23-26 briefly midday from Lyle to Maryhill, maybe Arlington, before dropping to W 10-15 in the afternoon. Sunday starts with W 15-18, and then as a front moves through and high pressure builds off the coast, the wind picks up east of Hood River to 26-30. It should be pretty steady, and should last for much of the day.
Gorge Weather
Cool and showery weather is the rule for the weekend. It'll be cloudy today with showers and t-storms possible this afternoon. Temps will be in the mid 40's this morning and mid 50's this afternoon. West wind increases during the day. Tomorrow starts off sunny, and gets progressively more cloudy, with rain after 4pm. Temps will be in the upper 30's early and mid 50's in the afternoon with increasing westerlies. Sunday looks showery with rainbows likely for much of the day. Temps will be in the low 40's early and low 50's in the afternoon with strong west wind. Coming up Tuesday-Thursday, we're looking at temps in the mid 70's. Tanning weather.
Road and Mountain Biking
Wet, wet, wet trails. Make them dry out, please. Oh well. They'll be nice when it's 75 degrees the middle of next week. Until then, the road biking should be a bit wed and windy, and Syncline should ride ok.
The Clymb: free membership. Cheap gear. Temira approves. Click to join.
River Levels
The Hood is at 6.1′, the Klickitat is at 2680 cfs, and the White Salmon is at 4.2'ish.
Events – email me if I've missed any outdoor-related events
Obviously the most important event this week is The Last Powder Day of the Season, happening Sunday at Mt. Hood Meadows. They have some Pond Skim thing happening Saturday, but why would you ski on water when you could ski powder?!??
In other news, there's a birding festival at Conboy Wildlife Refuge in Trout Lake today through Sunday. Speaking of, I saw the world's biggest Osprey in the snag across the freeway yesterday. It was bigger than a bald eagle. Mutant Osprey. But you don't care about the Osprey. You want events.
There's a cleanup on the Sandy River (which involves riding in a raft, apparently) at 8:30 on Saturday, meeting at Lewis and Clark Park. There's the weeding party at the Waterfront Park in Hood River (you can adopt a plot, too) at 9am tomorrow. There's the annual Teddy Bear Parade in The Dalles (bears go to local emergency services) tomorrow at 9:45, followed by a poker run on the roads east of The Dalles.
Windance has a swap meet on Sunday. The Bear Spring Trap mountain bike race is Saturday and Sunday, with short track Saturday and XC (in the snow) on Sunday. Brrrrrr. I'll stick with The Last Powder Day of the Season.
Have an awesome day today!
Temira