Please support this forecast by clicking on the photo of the forecaster!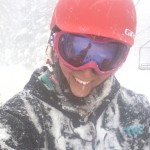 Your forecaster. Click on her to donate. Thank you!
Thank you for using this forecast. Please tell your friends about it! And if you or your friends think this service is awesome/useful/saves you gas money/makes your life more fun, make a donation by clicking on my photo above. Is more fun worth $50/year? $20/year? Donate what it's worth to you (and thank you!), but $12 minimum gets you on the email list (with occasional giveaways) for a year. Thank you for your support, and have fun today!
Random Morning Thoughts
Oh. Yeah. It's the Last Powder Day of the Season, and I'm writing this forecast sitting on the bus to Meadows. I'm gonna go shred me some pow and spend me some time in the white room. My thanks to my therapist for letting me move my appointment from 8:30am today to tomorrow, because I plan on being in the lift line at 8:30am today waiting for Mt. Hood therapy. You people must think I'm nuts because I talk about my therapist so much…
Hood 2 River Relay

The Hood 2 River Relay is a one-day event on May 31st. This fun and all-inclusive event is designed for almost any level of skill and fitness, yet competitive enough for the hardcore athlete where participants compete in teams, pairs, or individuals to race from the high slopes of Mt. Hood down to the mighty Columbia River. There will be six Legs that consist of; Alpine ski, nordic ski, mountain bike, road bike, road run, boating (kayak/canoe/SUP) and a 500 meter sprint to the finish line after boating. Open to individuals and teams. Visit their website by clicking above for more information. And Pole-Pedal-Paddle, eat your heart out. You got nothin' on the Hood 2 River!
Mt. Hood Snow Forecast – 5000′

4a-8a
8a-12p
12p-4p
4p-8p
8p-4a
Wednesday
Thursday
Friday
Mt. Hood Snow Forecast
Anyway, this morning looks awesome on Mt. Hood. The snow level will be 3000′ early, 4000′ for much of the morning, and then will rise to 5500′ around 2pm, 6000′ around 5pm and 6500′ around 8pm as a warm front moves in. The snow falling from the sky will get progressively heavier as the day goes on, likely switching to rain overnight (although, it is spring, and it's possible, although unlikely, that we'll see warm, wet snow all night). We'll see .5" water value (WV) between 5am and 2pm (when it gets warm), for 3-5" of additional snow. Then we'll see an impressive 1.5"+ of WV overnight, mostly as rain. Wind today will be WSW 40ish for much of the day, with some W wind throw in mid-morning.
By tomorrow morning around 5am, the snow level will be back down to 5500′ as a cold front follows the warm front. Depending on exactly when the snow level drops, we'll probably have a couple inches of new on the ground. The snow level will be 5500′ early, 5000′ around 8am, 4000′ around 11pm, and 3000′ overnight. We'll see .2-.4" WV between 5am and 5pm for another 2-4" of snow, followed by orographic snow showers with no significant accumulation overnight. Wind will be WSW 50-55 early, SW 40 midday and WSW 20 in the afternoon.
Friday brings snow showers and sunbreaks. The snow level will be 3000′ early and 4000′ in the afternoon with light and variable wind becoming NW at 10mph. We'll probably see a couple inches of snow on Friday night.
Gorge Wind
Gradients are minimal this morning: .03 and .04. We'll see gusty westerlies at 5-13 today through the whole Gorge. Tomorrow, in the wake of a cold front's passage midday, brings afternoon westerlies at 22-25 east of The Dalles with gusty 9-13 in the western Gorge. Friday isn't looking like much on the models, but I suspect they are under-predicting. Let's call it 21-24, probably strongest from Mosier to Maryhill, and wait and see.
Gorge Weather
It's partly to mostly cloudy with sprinkles this morning, and that means we have a good shot at rainbows this morning. We'll see continued rain showers this morning followed by very heavy rain after 2pm. Temps will be in the upper 40's early and mid 50's this afternoon with light west wind. Tomorrow looks partly cloudy with sprinkles and rainbows early. Temps will be in the upper 40's early and mid 50's in the afternoon with moderate weest wind. Friday looks partly cloudy. Temps will be in the upper 30's early and mid 50's late with moderate west wind.
Road and Mountain Biking
It's way too wet to ride the trails today, with the possible exceptions of Syncline, Columbia Hills, and Dog River. Please leave Post and Whoopdee alone. Post n' Pinot (the women's mountain bike ride) is canceled tonight. Post and Pint will likely be canceled tomorrow.
The Clymb: free membership. Cheap gear. Temira approves. Click to join.
Events – email me if I've missed any outdoor-related events
The Post n' Pint is canceled tonight, as is the bike repair clinic. There's Karma Yoga at Flow at 4pm, and there's sailboat racing at 6pm at the Hood River Marina.
Coming up this weekend, there's the annual weeding party at the Hood River Waterfront Park at 9am on Saturday. There's a cleanup on the Sandy River, meeting at Lewis and Clark Park at 8:30 Saturday. Along with the Cherry Festival in The Dalles this weekend, on Saturday, it's the annual Teddy Bear motorcycle parade. Bring your bike and a stuffed animal to donate, and meet at KMART at 9:45. After the parade, there's a poker run motorcycle ride thing on the roads east of The Dalles.
Have an awesome day today!
Temira